What is ANNA money?
As an online business current account, Anna money provides digital assistance to small and medium-sized enterprises. Moreover, it undertakes business financial administration with efficiency and accuracy. Anna offers a business debit card and an application that is helpful when you want to manage your banking activities and invoices. As a result, ANNA ends up performing the admin tasks for you.
How ANNA works
Anna gives you a chance to open a business account in 3 minutes. The registration process is quick and efficient. Also, you do not have to deposit any minimum amount in the account. The following are the other features included of the simple registration process.
Business account. This account gives you services that you expect from a traditional current account. This includes direct debits. However, overdrafts are not allowed.
Debit card. You will have a MasterCard debit card that allows you to make transactions freely. Moreover, ANNA provides you with additional debit cards that you can give to other employees and manage the individual spending controls.
Application. Just like the regular digital banking apps, ANNA app gives you advantageous features, including personalized spending reports.
Cash-back. You will have 1% cashback on various business expenses you make.
Invoice service. ANNA creates invoices for you. More so, it politely gives reminders for due payments. Therefore, you can keep your account in good order as it matches invoices with the payments.
24/7 customer care support. The customer service team based in the UK gives you support through the chatbox on the app. They aim to get back to you in less than 10 minutes.
Connection service for all accounts. You can connect the ANNA app to other personal or business accounts. Thus, you will efficiently and quickly supervise transactions and budget in one place.
How do you sign up on ANNA?
The simple registration process includes the following steps:-
Enter your mobile number on the sign-up page on the website
Download the app
Verify your ID using your driving license or passport
Answer some straight-forward questions about your business
You are all set
What does it cost for the business account?
ANNA has different pricing tiers that you can choose from, as shown below.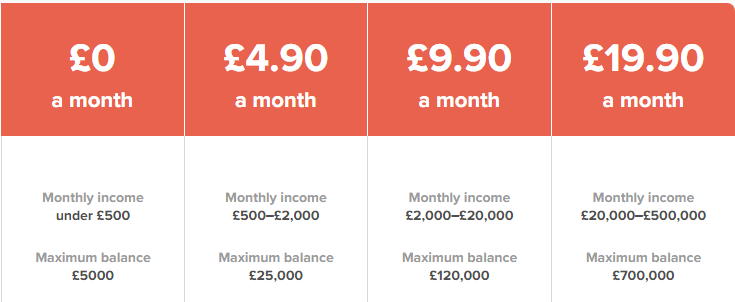 The first tier is the basic version with no charges and includes two debit cards. It also has app features such as tax reminders, invoicing and their auto-matching payments. For the second tier, you have four local transfers in the UK that are free. Moreover, you get three debit cards and ANNA application features. The third tier includes five debit cards, app features, 35 bank transfers, as well as free ATM withdrawals of cash which is less than 2,000 pounds monthly. The top tier comes with free bank transfers, additional cards and unlimited users. All ANNA admin features are included, and you have 10,000 pounds free ATM withdrawal per month.
Is ANNA right for your business?
If you live in the UK, ANNA is suitable for you as a sole trader and for SMEs as well. However, if you do overseas transactions or travel a lot, ANNA charges foreign fees. Also, you will not have any international bank transfer services. Most importantly, the app includes the most innovative features. The invoices and expenses support you get goes unmatched.
How safe is ANNA?
The fact that ANNA is regulated by the Financial Conduct Authority makes your account secure. Wirecard Card Solutions company is responsible for issuing the cards. It also has a license for electronic money. Furthermore, you will have a private and secure PIN for the MasterCard debit card that protects your account. In case you lose the card, or it gets stolen, you can block it on the app.
Pros of ANNA
With the free version, you can give ANNA a trial without having to invest any amount. At the same time, you get to enjoy the admin features.
You will have an easy registration process and a quick set up that is uncommon for business accounts.
The app is easy to use.
The expense and invoice services are well integrated into the ANNA application. This saves you from the trouble and inaccuracy involved when creating invoices.
The reminder feature on the app is advantageous to you because you will always remember the due dates. More so, you don't have to keep on following up on payments as the app does that for you.
The customer service support team is available 24/7and gives you a response within 10 minutes. You are assured of a refund in case no customer support is offered.
Open banking allows you to connect other accounts through the app.
Cons
In case you are making transactions in foreign currency, extra charges apply.
As much as it offers plenty of services for your business account, ANNA is not a bank. Therefore, other business financial requirements will need you to have a traditional bank account.
Services that are useful for traditional business current accounts are available in ANNA like debit transactions. However, credits and overdraft services are not available.
Conclusion
While you will find other online business account services, ANNA prides itself in the fact that it efficiently and accurately integrates banking with invoicing and management of expenses. To a degree, the app features accounting services. The tiers are affordable as compared to its competitors. Finally, ANNA provides you with a competitive and acceptable choice if you are looking for administrative work and banking services from the same platform as a tech-savvy business owner.