As Bitcoin continues to gain popularity in Ghana, it is important to know how to buy bitcoin in Ghana safely. This article will help you understand how bitcoin works and where you can buy or sell bitcoin in Ghana.
Interesting Facts
Jack Dorsey, Co-Founder and CEO of Twitter, attended bitcoin meetup in Ghana in 2019 to discuss the adoption of Bitcoin payments in Ghana and Nigeria.
Bitcoin is a is cryptocurrency legal in ghana that can be sent from user to user on the Bitcoin network without the need for intermediaries.
Bitcoin was invented in 2008 by an unknown person or group of people using the name Satoshi Nakamoto and started in 2009.
Bitcoins are created as a reward for a process known as mining. They can be exchanged for other currencies, products, and services.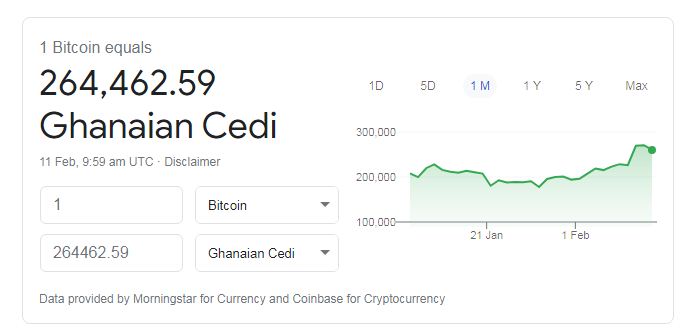 ---
---
How Bitcoin Works
What You Need Before Buying or Selling Bitcoin in Ghana
Is cryptocurrency legal in Ghana?: Cryptocurrency is neither legal or illegal in Ghana. However, the Bank of Ghana has issued warnings against crypto trading because crypto assets are not regulated. However, since cryptocurrency is a decentralised digital currency, it does not require a central authority to trade.
As stated above, bitcoin transactions require a Bitcoin wallet. Your transactions, however, will take place in a bitcoin exchange for Ghana, a digital marketplace where traders can buy and sell Bitcoin or peer-to-peer market place where a buyer directly pays to the seller. There are many crypto wallets out there, some are hot wallets (desktop, mobile or hybrid) while others are hardware wallets (cold wallets).
You will then need either fiat money (if you want to buy) or bitcoin (if you want to sell). Like other traditional financial transactions, you have to choose your preferred payment method such as credit/debit card, bank transfer, Western Union, Moneygram, gift cards, cash in person, or mobile money.
Things to Consider Before Selling or Buying Bitcoin in Ghana
When you want to sell or buy cryptocurrency in Ghana, you need to take into consideration several key factors. When choosing a cryptocurrency exchange in Ghana, make sure you conduct necessary due diligence to find out, for instance, its reputation in the Bitcoin industry, how long it has been in the market, the team behind it, its insurance status, etc.
Another key piece of information you need to find out from the exchange is their fees. Review their trading fees, withdrawal fees, deposit fees etc. In addition, know the transaction limit. Transaction limits vary between exchanges.
If you decide to use peer-to-peer market place to sell or buy your Bitcoin, you need to be extra careful because with this option you will be conducting your transaction with a stranger. Find out if the person has verified details, the level of trusts he commands on the platform, if he has been blocked by users, etc. If you have to meet physically, choose a public place and ask a friend or a relative to go with you.
When choosing a wallet, you need to consider features such as security, access to private keys, mobile app integration, anonymity features (if you want to transact anonymously) and the exchanges where the wallet can be used on. Your exchange of choice may also recommended wallets to use.
Exchanges offer different payment methods. Choose an exchange that offers a payment method that is convenient and available to you . Note that the method you choose will determine the time it will take for your transaction to be completed.
Bitcoin prices vary worldwide. You need to compare rates from major Bitcoin exchanges with the exchange you have choosen. You can use CoinDesk to make the comparison.
We have selected best cryptocurrency exchanges in Ghana where you can sell or buy bitcoin.
---
---
Yellow Card Ghana
Yellow Card is a cryptocurrency startup that you can use to buy bitcoin safely in Ghana. It is the best platform if you are not an experienced bitcoin buyer. You can buy bitcoin using a number of payment methods such as bank transfer and mobile money. Buying bitcoin in Ghana using MoMo is one of the most popular methods on the platform.
How to Buy Bitcoin in Ghana with Mobile Money
To buy bitcoin Ghana with mobile money via Yellow Card, follow these steps.
Login to your Yellow Card account
Tap Deposit on your dashboard
Select MoMo and choose your preferred network provider
Input your MoMo number and the amount to be deposited
Confirm details
Input your MoMo PIN
Done
LocalBitcoins Ghana
LocalBitcoins is a Bitcoin company based in Helsinki, Finland. It was founded in 2012. It facilitates peer to peer Bitcoin exchanges. It has a reputation and feedback mechanism for users and an escrow and conflict-resolution service. With LocalBitcoins Ghana, you can buy bitcoin in Ghana with mobile money, bank transfer, debit card, Eversend, etc.
Payplux Ghana
PayPlux is one of the oldest bitcoin exchangers in Ghana. It was established in order to make digital currency accessible in Africa. PayPlux allows users in Ghana and beyond to buy, sell and exchange various digital currencies such as Bitcoin, Litecoin and Ethereum using mobile money.
eBitpoint Ghana
eBitpoint is a digital currency exchange platform based in Accra, Ghana. You can buy and sell Bitcoin, Ethereum, Bitcoincash, Litecoin , etc.
BitPesa Ghana
Founded in 2013, BitPesa is a cryptocurrency exchange for individuals and institutions across Africa. BitPesa licensed by the UK's Financial Conduct Authority in the UK and follows stringent KYC practices. With BitPesa, you are able to buy bitcoin in Ghana with mobile money.
Coindirect Ghana
Coindirect was founded in 2017 in South Africa. It accelerates African cryptocurrency adoption by building a bridge between the decentralised world of crypto and the centralised world of traditional finance. The platform supports over 40 different coins and altcoins.
Remitano Ghana
Remitano is incorporated in Seychelles. Remitano Ghana provides escrowed P2P bitcoin marketplace where you can buy bitcoin in Ghana easily and safely. It also has service in the United States, Australia, Malaysia, Nigeria, Vietnam, Cambodia and China.
Paxful Ghana
Paxful is one of the best exchanges to sell and buy bitcoins in Ghana with many payment options including Chipper Cash, bank transfers, gift cards, Paypal, debit/credit cards, etc. You can also buy bitcoin with mobile money in Ghana with Paxful.
Often our biggest problems revolve around money, earning it and transporting it. We are dedicated to unlocking the power of people by building a global peer to peer payment logistics platform of the future. Paxful is PayPal + Uber and the people's Wall Street.
Coinbase Ghana
Coinbase was founded in June of 2012 in the United States. It is a digital currency wallet and platform where merchants and consumers in Ghana can transact with digital currencies like Bitcoin, Ethereum, and Litecoin.
SpectroCoin Ghana
Based in the UK and Lithuania, SpectroCoin is an all-in-one solution for bitcoin in many countries including Ghana. It offers an exchange platform and a secure bitcoin wallet in Ghana.
Final Thoughts on Cryptocurrency in Ghana
Buying and selling bitcoin in Ghana should not be a complex task. With these 9 crypto exchanges for Ghana, you now know where to buy bitcoin in Ghana or where to sell bitcoin in Ghana safely and securely. It is also interesting to know that with the growth of mobile money usage in the country, you can buy and sell bitcoin in Ghana with mobile money.
As cryptocurrencies grow in popularity in Ghana and elsewhere, take your time to learn more about crypto investments and do a bit of research on the platforms we have listed here. You should look for the platform's fees, payment methods, available cryptos, KYC requirements, etc.