Business bank account is important if you have a business in the UK. In this article, we will look at how to open a business bank account in the UK, documents needed, some of the better or cheap accounts that you can open.
The United Kingdom (UK) is one of the leading economies in Europe. It has more than 300 banks. The country is known for its entrepreneurial spirit. One in every ten people in the UK has registered a business.
Types of Business Entities in the UK
The type of business account that you have will partly depend on the size and scale of your organization. In general, there are three main types of business entities that you can start in the UK. First, there is a sole proprietorship. This is the most basic type of company. It is ideal for individuals who run very small companies.
Second, there are business partnerships. This happens when a team of people decide to register a company. In a partnership, the members share the profits amongst one another. A partnership can be a relatively small company or a very big one. For instance, in the past, Goldman Sachs used to operate using a partnership model.
Third, there is a limited company. A limited company is where the liability is transferred from the business owner to the company. For example, if a company takes a loan and defaults, the business owner's home cannot be auctioned. Limited companies are the most common types of businesses.
---
---
Why Open a Business Bank Account?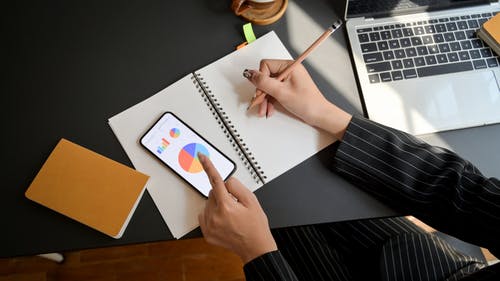 Sole traders are not mandated to have a bank account. They can use a personal checking account. A limited company is required to have a business bank account. This makes your administrative life easier as you can separate your personal bank account with your business account. There are several other benefits of having a good bank account. These are:
Organisation. Having a separate bank account helps you be more organised.
Tax reasons. When you have a business bank account, you ease the process of paying taxes.
Credit and debit card acceptance. With a business bank account, you can accept these cards in your company.
You look professional. New people will trust you more if they see money going to your business bank account.
Accept cheques. As with credit cards, having a professional bank account will make it easy for you to accept cheques.
Business financing. Banks will lend you money if you have a business account with them.
Best Banks for Business Account in the UK
The UK is the financial capital of the world. The country has more than 300 banks. Some are small banks that operate in small cities and rural areas. Others are some of the biggest banks in the world. Some of the biggest banks in the UK are HSBC, Barclays, Lloyds, Royal Bank of Scotland, and Standard Chartered among others.
There are several types of banks in the UK. There are investment banks that deal with large companies and investors. Examples of these banks are Goldman Sachs and Morgan Stanley. There are private banks like Coutts and HSBC Private Bank. These are divisions that serve the wealthy. There are retail banks like HSBC and Barclays.
Another relatively new type of banks in the UK is virtual banks. These are companies that operate online with no branches. The biggest online-only banks in the UK are Revolut, Monese, Monzo, Starling Bank, and Wise bank, formerly TransferWise.
What would be the better business bank accounts that you can open in the UK? In our list, we will include both traditional and online-only banks or virtual bank accounts. These virtual accounts are different in that there are no branches. You can open the bank account online and without much paperwork. With these virtual banks you can open a business bank account online.
Wise Multicurrency Account
TransferWise started as a remittance company. Its goal was to make it easy for people to send money abroad. As the company grew, it started providing the TransferWise Borderless account. This account is recommended for companies that employ many people abroad. With the account, you can send payments to these people cheaply. They get the funds direct to their accounts instantly.
Wise for e-Commerce Businesses. Wise is now a member of the Amazon payment service provider program, which means that any business selling on Amazon can now officially use Wise to receive their sales earnings in multiple currencies. You can also connect your Wise business account to eBay and Stripe.
Monzo
Monzo offers business accounts to help small businesses in the UK to stay on top of their finance. You can open Business Lite account from your phone with no monthly fees. For Monzo Business Pro account, the monthly fee is £5. You can apply for a business bank account if you're a sole trader or a registered limited company by shares (Ltd), based in the UK, and if you're an Ltd also a tax resident only in the UK.
In October 2021, Monzo introduced payment links – a new way for businesses to request payment with Monzo Business. You simply create and send a link in just a few taps. Your customers will see what the request is for, who it's from and how much it's for and they can pay from the same link too.
Tide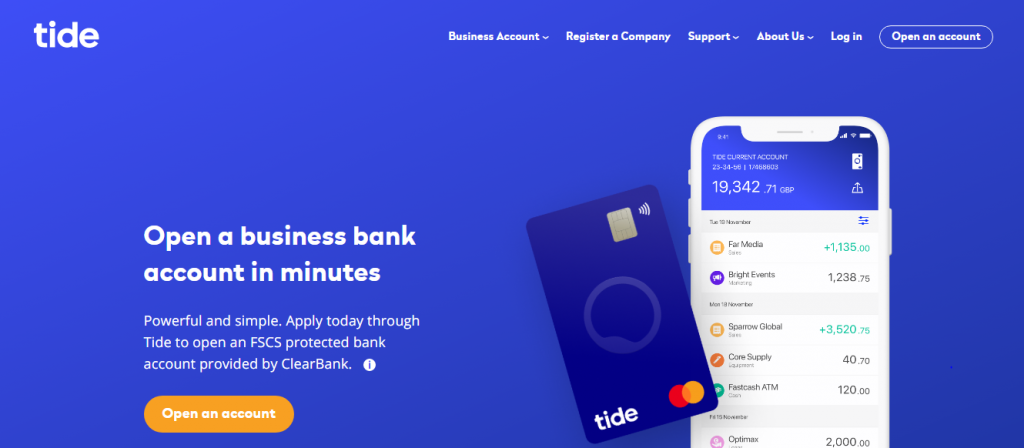 Tide is a relatively new online bank that targets businesses. The company has raised more than $95 million from investors. The bank's main features are: free card payments, free transfers between tide accounts, free replacement cards, and £1 ATM withdrawal fee. It does not have monthly maintenance fees.
Revolut
Revolut is an online-only company that has raised more than $836 million to investors. Initially, the company focused on retail customers. The business bank account lets you save money in 28 currencies. Its key features is that it simplifies accounting, automates your workflows by being compatible with key apps like Slack, Dropbox, and Zero. It also gives you corporate cards. As with the other accounts we have mentioned, this one is targeted at small and medium-sized enterprises. The monthly fees start at $0 and rises to €100 per month.
Starling Bank
Starling Bank is an online-only bank that was started in 2014. The bank has raised more than £323 million from investors. The company has business accounts for sole proprietors and limited liability companies. The main features are the ease of creating an account, integrating the account with accounting software, multi-director accounts, and ease of deposits. The bank also offers various types of overdrafts to companies.
HSBC
HSBC is the biggest bank in the United Kingdom. The bank is valued at more than $146 billion. It has more than 300 branches in the UK. The bank offers a number of business bank accounts. It has accounts for start-ups and large organizations. These accounts have various monthly charges that start at £5.50.
---
---
Conclusion
If you have a registered business in the UK, be it a sole proprietorship, partnership or a limited company, you can open a business bank account with the UK banks we have reviewed here. A business bank account will make it easier for you to manage your business finances, file for tax, apply for business financing, etc.