Bitcoin was first introduced globally in 2009. With time, it has significantly grown across the globe. Bitcoins are digital coins that are created using computer processes known as mining. Cryptocurrencies are taking root in Ethiopia.
Based on the Ethiopian cryptocurrency regulation report, crypto activities have a safety rank of 0.8/10. Ethiopia ranks 236 out of 249 countries in the safety rank. There are no exchange offices for Bitcoin in Ethiopia.
Bitcoin is not recognized as legal tender by the Ethiopian government and the central bank does not regulate the operations of Bitcoin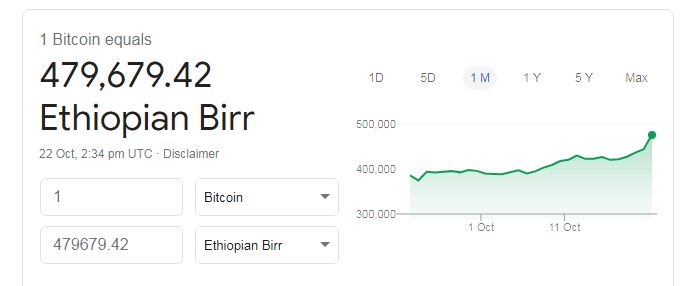 With some individuals becoming millionaires by trading in cryptocurrencies, many Ethiopians are wondering if they too could trade in the digital currencies. However, the trade of cryptocurrencies remains to be the most unregulated activity in Ethiopia.
Though I first heard about Bitcoin in 2015, I was hesitant. I understood the necessity of it after I traveled to some countries, where ATMs can give you conventional currencies for Bitcoin. After I first bought Bitcoin, many things changed. Now I can buy from Amazon. I pay in Bitcoin, then Fedex or DHL can deliver to me. I can import a Toyota Vitz for between ETB340,000 to ETB345,000 and rent it for ETB300 a day. However, I earn ETB400 to ETB460 profit a day from Bitcoin. – says Shiferaw Tamirat, a car importer based in Addis Ababa.
Buying Bitcoin in Ethiopia
One of the best ways you can trade in Bitcoin in Ethiopia is through Paxful. Besides, it has several payment methods that you can use to buy or sell in Bitcoins. Some of them include bank transfers, gift cards, PayPal , Western Union, Moneygram and credit/debit cards. Another good option for buying Bitcoin in Ethiopia is LocalBitcoins.
To buy Bitcoin from these exchanges, first, you need a Bitcoin wallet. Once you have a wallet, you can use several payment methods to make payment for the Bitcoin you wish to buy. Among them are the traditional payment methods such as bank transfers and debit cards. However, the availability of the payment methods depends on the exchange you are going to use.
Selling Bitcoin in Ethiopia
It is possible to sell Bitcoin for fiat currency. However, depending on the country you are in, options for selling Bitcoin vary. In Ethiopia, you can sell your Bitcoin by just selecting the best offer from the vendors near you using exchanges such as LocalBitcoins, and SpectorCoin.
What Determines the Price of Bitcoin?
You may wonder what determines the price of Bitcoin; many factors affect their prices. The main one is demand and supply. When demand increases, the price increases as well and when demand falls, the price falls. Other factors include momentum caused by growing interest, regulations of Bitcoin in a country and also Bitcoin price predictions by analysts.
Conclusion
With the trade in cryptocurrency still a controversial issue in Ethiopia and with no regulations by the government, traders must be extra careful to prevent themselves from possible scams. Nevertheless, people are making billions from the trade and nvestment in Bitcoin and therefore, you too can be one of them. All you need is due diligence while making any transactions.