Cryptocurrencies are some of the best assets to trade in today because of their volatility. It is not uncommon to see the price of Bitcoin rise and fall by more than 5% within a single day. As we have written before, this volatility is the best thing for traders because of the many opportunities it brings.
For example, a recent report showed that Renaissance Technologies, a hedge fund known for algorithmic trading has risen by more than 30% this year. In this article, we will look at the best cryptocurrencies to trade in during the current coronavirus pandemic.
By trading, we refer to the act of buying and selling cryptocurrencies within a very short duration. Trading is very different from investing, which is the act of buying and holding assets for a considerable amount of time. As such, we don't even recommend investing in some of the currencies we have recommended in this report.*
How to Trade Cryptocurrencies
Before we look at the best cryptocurrencies to trade in, let us summarize how you can trade these currencies. First, we recommend that you start trading with funds that you can afford to lose. This means that you should not trade in funds you will regret if you lose them. This can be particularly difficult especially now that most of us have lost their jobs.
Second, we recommend that you take time to learn about how to trade. Fortunately, there are many resources that can help you learn how to trade cryptocurrencies and other assets. Some of our recommended options are:
Third, you should find a good broker who offers margin trading. There are many such brokers. Some of the best ones are Capital.com, FxPro, OctaFx, and eToro among others.
Finally, you should use the trading strategies you have learned to trade the currencies. Ensure that you protect your trades using a stop loss and reducing your leverage.
Best Cryptocurrencies to Trade in Today
There are thousands of cryptocurrencies today. According to Coin Market Cap, there are more than 1500 cryptocurrencies in the world today. Not all of these cryptocurrencies are worth your time since most of them are usually very small. In this article, we will look at the best cryptocurrencies to trade in during the coronavirus pandemic.
In compiling this list, we looked at currencies that have significant volatility, volume, and those that are offered by multiple brokers.
Bitcoin
Bitcoin is the biggest cryptocurrency in the world with a market value of more than $140 billion. It is also the best-known digital currency in the world and is offered by hundreds of brokers. While the exact volume of BTC traded every day is not well-known, it is estimated that BTC worth more than $26 billion is traded every day.
Other than volume, there are several benefits of trading in Bitcoin. These are:
There is a lot of Bitcoin-related news that is released every day. This is unlike other smaller cryptocurrencies that are not covered by the media.
Volatility. Bitcoin is relatively volatile, which is a good thing because it leads to many tradable opportunities.
Many brokers. Bitcoin is offered by many brokers. Indeed, it is offered by virtually every broker who offers cryptocurrencies.
Information. Finally, there are so many Bitcoin-related educational materials that you can find in the internet.
The main challenge for trading Bitcoin is its price. When writing this, a single Bitcoin is trading at about $7,000. This means that most of you cannot afford a single BTC. To solve this, we recommend that you take advantage of leverage. These are funds offered by brokers to help you trade. You should also take advantage of fractional ownership.
Ethereum (ETH)
Ethereum is the second-biggest cryptocurrency in the world. According to CoinMarketCap, the currency is worth more than $21 billion. While ETH is widely known as a cryptocurrency, it is a decentralised platform that helps developers build applications that use the smart contract technology. As of this writing, one ETH is trading at about $195, making it less expensive than Bitcoin.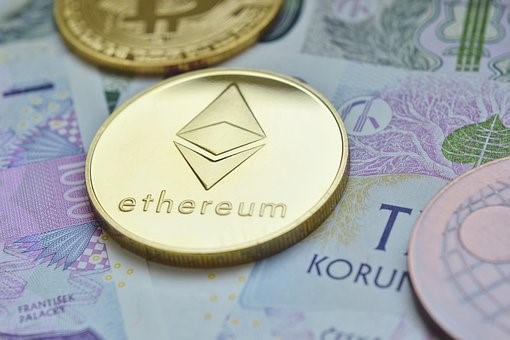 There are several benefits why you should consider trading Ethereum. Most of them are very similar to those of trading Bitcoin.
News. There are many news sources that publish ETH-related news every day.
Information. There is a lot of information on ETH in the internet. We recommend that you read this book if you want to learn more about ETH: Ethereum: Blockchains, Digital Assets, Smart Contracts, Decentralized Autonomous Organizations by Henning Dietrich
Available. ETH is provided by most online brokers unlike a vast amount of other cryptocurrencies.
ETH is relatively cheaper. ETH is cheaper than BTC, which means that you can make more money.
Volume. ETH has the second-biggest volume after BTC. According to Coindesk, more than 3 million of ETH are traded every day.
Ripple (XRP)
Ripple is the third-biggest cryptocurrency in the world with a market value of more than $8 billion. This value is $3 billion lower than that of Deutsche Bank, the giant German bank. It is also much higher than that of AllianceBernstein, the giant investment bank valued at $1.8 billion.
Ripple, the company that developed XRP, has received millions of dollars in venture capital. In the most recent funding, the company raised more than $200 million from venture funds. The goal of Ripple is to help financial companies simplify cross border transactions. The product is used by many banks such as Banco-Santander and money remittance firms like MoneyGram. Ripple describes XRP as:
XRP is a digital asset built for payments. It is the native digital asset on the XRP Ledger—an open-source, permissionless and decentralized blockchain technology that can settle transactions in 3-5 seconds.
There are several benefits of trading in XRP:
Volume. XRP is one of the most popular digital currencies in the market. According to Ripple, the average trading volume of XRP is more than 3 million per day.
Available. XRP is available in most trading platforms such as Bitstamp, eToro, and Capital.
Relatively cheaper. A single XRP goes for less than a dollar. This means that you can trade in XRP even when you don't have a lot of money.
Information. XRP is covered by many digital platforms, including Bloomberg and the Financial Times.
Tether (USDT)
Tether is a popular and controversial cryptocurrency that is valued at more than $6.36 billion. The currency was launched in 2017. The currency is different because of how it works. As a stablecoin, each tether is backed by a dollar. The company behind it has also launched alternatives that are backed by other currencies like the euro and yuan. As of this writing, each Tether is worth about $0.99.
There are several benefits of trading in Tether. Some of these are:
Cheap. Tether is a good currency to trade in because of how cheap it is. This means that you can trade it with minimal financial resources.
Backed by currencies. Unlike other digital currencies, USDT is backed by real fiat currencies.
Available. USDT is offered by several popular broker such as Binance and Kraken.
Final Thoughts
There are other credible digital currencies that you can trade. We recommend that you go to CoinMarketCap and see the top ten currencies. These are usually the best you can use. Trading digital currencies can be a good thing especially now that you are staying at home. Before you start, we recommend that you take time to study more about trading. We also recommend that you allocate only a small amount of your money on this trading. Finally, you should find a good and reputable broker.
More Information About Coronavirus