A great way to combine a European bank account with a Bitcoin wallet is with Nuri. This new German bank might offer the easiest way to invest in Bitcoin today, with your own crypto based Nuri bank IBAN, your personal integrated Bitcoin Savings Account to set up recurrent investment as well as a Bitcoin interest account. Opening the Nuri Bitcoin bank account is free.
Nuri filled for insolvency on August 9, 2022 due to "the current challenging market developments and subsequent effects on financial markets." The company says, "This does not affect our services, customer funds or investments with Nuri." Current customers can access their deposits because of ts partnership with Solarisbank AG, which keeps customers' funds. Find FAQ regarding the issue here.
What you can do with Nuri
With Nuri you can easily transfer your euro between bank accounts, buy Bitcoin, transfer your Bitcoin to your own hardware wallet or keep it save on their platform.
You can also schedule an automatic Bitcoin investment schedule. They call this their Bitcoin Savings Account.
Finally, there is even an additional interest earning account. You can earn 3-5% annual extra Bitcoin through this Bitcoin interest saving account. This product is temporarily suspended.
Nuri bank was formerly branded as Bitwala. It is a blockchain banking solution based in Germany that allows residents from the European Union and Switzerland as well as the larger European Economic Area to open a real Bitcoin bank account. The Bitcoin bank account is hosted by the Berlin-based solarisBank. Bitwala was founded by Jörg von Minckwitz, Jan Goslicki, and Benjamin P. Jones in October 2015.
How to Open Bitcoin Bank Account
You can open your account via the web or download the Nuri apps for Android and iOS and follow their simple on-boarding steps, which include the use of a video call for identification. You can do this in either English or German.
Opening your Bitcoin bank account with Nuri is for free. Once your account is opened, you will be able to receive, convert funds and send Bitcoin to other people all around the world, as well as send and receive your Euro's via any other European bank acount.
What Can You Do With Nuri Bitcoin Bank Account?
Bitcoin Wallet
Nuri gives you a Bitcoin and optional also an Ethereum wallet linked to your virtual bank account. This wallet allows you to invest, send, receive, store and trade Bitcoin as well as Euros to crypto exchange and vice versa. The wallet offers your own public and private key.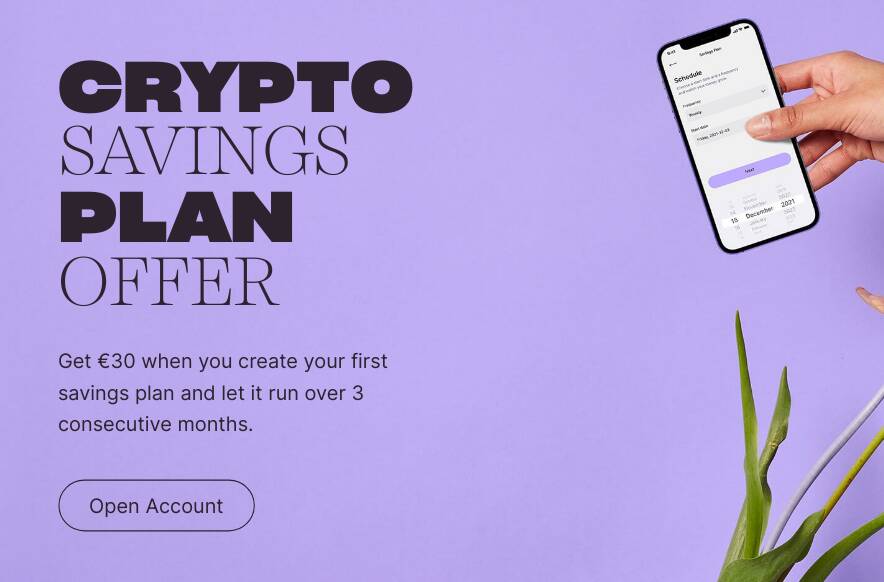 Euro bank account
You can send and receive Euro's through your normal European bank account that comes with a German IBAN. You can receive your salary and make transfers. With the added Visa based debit card (a prepaid credit card) you can also make payments and withdraw money.
Sending Bitcoin
You can use your Bitcoin bank account to receive and send Bitcoin payments to anyone. Or even to your own hardware wallet. You get your own personal Bitcoin address and the Bitcoins can be truly yours to hodl, send and to receive (unlike Revolut or Paypal where you're not the real owner). You don't have to exchange them back to Euro in order to send money around. You can simply send your Bitcoins to any wallet in the blockchain. Their are yours to keep and yours to own.
Crypto Investment
Nuri crypto interest account is not available at the moment after its partner, Celsius Network, paused withdrawals. Read Nuri's full statement. Other Nuri's crypto products are not affected.
With your Nuri account, you can also invest via your Bitcoin Interest Account. This happens via a partnership with Celsius Network. In order to earn interest for you, Celsius Network invests your assets in the crypto credit and lending markets. Interest are paid every Monday. All of this is fully integrated into the Nuri app.
Some of the interesting features of Nuri crypto investment include the ability to add and withdraw funds anytime (no lockup), weekly payouts every Monday, minimum investment of €10 in Bitcoin, no fees for investing or withdrawing (only network fees apply).
In addition to this there is also a new Bitcoin Savings Plan. This allows your to create a monthly savings plan for Bitcoin and/or Ethereum in the Nuri app and select the day and amount to fit your goals. You can start saving from as little as €30 with a 1% fee.
Nuri Card
The Nuri Visa is a plastic prepaid credit card linked to your Nuri Euro bank account. You can only use the card to spend the Euro's that's on your account. To spend Bitcoin with this debit card you first need to trade Bitcoins for euros. Your Bitcoins are saver this way, but there are also other solutions for a Bitcoin Credit Card.
Good to know about Nuri bank
Nuri also offers free integrated crypto tax reporting solutions to users through its partnership with CryptoTax.
Nuri Schufa: When opening an account with Nuri, the bank will not request any of your data from Schufa Holding AG.This is because the bank does not offer an overdraft and thus the creditworthiness doesn't need to be checked. You can only spend the money you have on your account.
Bitwala Fees / Nuri Fees
Nuri offers competitive fees as shown in the table below.
| Nuri Service | Nuri Pricing |
| --- | --- |
| Account opening | Free |
| Account management | Free |
| SEPA transfers (outgoing and incoming) | Free |
| Card payment in Germany, SEPA area | Free |
| Ordering Nuri card | Free |
| Ordering replacement card | €9.50 |
| Buying cryptos | 1% of transaction volume (+ 1€ blockchain network fee) |
| Withdrawal | Free |
| Deposit | Free |
| Selling cryptos | 1% of the transaction volume (+ blockchain network fees) |
| Minimum trading amount (per trade) | 30 € |
| Maximum trading amount (per trade) | 15,000 € |
| Trading limit | 30,000 € per rolling 7 days |
| Receiving crypto | Free |
| Sending crypto | Free (+ blockchain network fees) |
---
---
Nuri Supported Countries / Bitwala Supported Countries
Nuri is available for residents of the European Economic Area (including Switzerland) and accepts identification documents of EEA legal residents from 70+ nationalities.
Is Nuri Safe?
Nuri has put security measures in place to protect your cryptocurrency bank account. For example, you will have a unique Bitcoin address and a private wallet. This wallet is stored in the blockchain. In addition, the platform has multi-signature software wallets, biometric data and QR code technology. Bitwala also offers user-controlled, non-custodial crypto wallets (these are the so called Vaults), meaning you are the only one that can access and control your funds and transactions.
Its partner, solarisBank, is a licensed bank in Germany. Within the European Union, bank deposits of up to € 100,000 per customer and bank are protected by the German Deposit Guarantee Scheme (DGS).
Nuri Support
Nuri offers support via its website. The first step is go through the FAQ page. If you don't find the answer to your question, you can submit your question on the website with your full contact details. You are also able to upload files when submitting requests. You can also contact Nuri on their social network platforms listed below.
Nuri Reviews
Nuri has received 3.4 stars out of 1400 reviews on Trustpilot. The negative reviews are mostly because of account suspensions because of violations of the terms.
Nuri Alternatives
Other best cryptocurrency banks are:
Nuri Social