Which bank account is best for cryptocurrency and lets you buy crypto with a bank account? The best crypto-friendly banks will allow you to manage your bitcoin and other cryptocurrency directly from your bank account. You can buy and sell cryptos, deposit, withdraw, save, invest, exchange with fiat currency and send your crypto to others. Ideally, they would even give you a loan, with your bitcoin as collateral.
In this article, we will look at best banks for cryptocurrency. Find out below which banks qualify for what we can consider the best crypto bank account, the best crypto checking account or bitcoin trading bank account.
Open Crypto Bank Account or Crypto Checking Account
A cryptocurrency bank allows you to combine fiat currency and cryptocurrency in one single account. For example, you have an account that combines Euro and Bitcoin or USD and Bitcoin. Examples include Current and Juno in the US, Revolut in the UK and the EU, and N26 in Austria, Germany, Switzerland, Belgium, Portugal, and Ireland.
Although they are not banks in the traditional sense, some fintechs offer a bitcoin cards that are also called crypto cards.
Best Cryptocurrency Banks
Crypto Bank
Features
Supported Countries
Revolut
✓ Exchange 29 currencies into Bitcoin, Litecoin, Ethereum, Bitcoin Cash, and Ripple;
✓ Auto exchange;
✓ Crypto debit card and able to withdraw bitcoin to an external crypto wallet
✓ Automatic recurrent buying
Available in the European Economic Area (EEA), UK, Australia, Canada, Singapore, and Switzerland
SEBA
✓ SEBA wallet app and SEBA card, which support Bitcoin, Ether, Stellar, Ether Classic, and Litecoin;
✓ Serves institutional clients and investors
Available in Austria, France, Germany, Hong Kong, Italy, Portugal, Switzerland, Singapore, and UK
Wirex
✓ Save cryptocurrency and fiat currency in a single account;
✓ X-Account allows crypto holders to earn up to 16% on their crypto savings
Wirex accounts can be opened in many countries around the world, excluding the US and Canada
SpectroCoin
✓ Exchange crypto to fiat and back instantly;
✓ Integrated crypto wallet;
✓ Dedicated personal IBAN account;
✓ Crypto-backed loans;
✓ Crypto payment gateway
Personal dedicated IBAN services are available to SpectroCoin users globally.
Sygnum
✓ Crypto custody;
✓ Tokenization solutions;
✓ Stores your clients' cryptos in segregated wallets, off-balance sheet;
✓ Enables crypto businesses to offer crypto loans, digital asset management under their own brand;
✓ Compliance advisory services
Available for many countries in the world, including the US, UK, European countries, and Hong Kong for private qualified investors.
BankProv
✓ USD account for crypto businesses;
✓ Unlimited insurance for deposits (FDIC/DIF member);
✓ Real-time payments;
✓ API banking
Available in the USA
Juno Bank
✓ Crypto wallet linked to your bank account;
✓ Checking Account USD through a partnership with an FDIC insured bank.;
✓ Buy, sell, and transfer Bitcoin directly from the Juno App;
✓ Withdraw bitcoin to an external crypto wallet;
Available in the USA
Vast
✓ Buy, sell, and hold crypto deposits in mobile app;
✓ A checking account and a crypto account;
✓ Supported coins Bitcoin, Ethereum, and Cardano, etc.;
✓ Low 1.00% trading fee;
Available in the USA
Current
✓ Bitcoin trading bank account (buy and sell crypto)
Available in the United States
Xapo Bank
✓ International bitcoin private bank;
✓ USD and Bitcoin accounts;
✓ Cryptocurrency trading services;
✓ Non-resident crypto bank account;
✓ Lightning Network support
Available globally
N26
✓ Trade crypto in your N26 banking app;
✓ Manage and monitor both cash and crypto in one place;
✓ Convert your cash into crypto, or vice-versa;
✓ Supports over 200 cryptos, including Bitcoin, Ether, and Cardano
Available in Austria, Germany, Switzerland, Belgium, Portugal, and Ireland
Bank Frick
✓ Private crypto banking;
✓ Cryptocurrency trading;
✓ Custody of crypto assets;
✓ Bank accounts for companies in the blockchain and cryptocurrency sectors
Available in the European Economic Area (EEA) and European Union (EU)
Banks With Cryptocurrency Accounts
Although cryptocurrencies haven't become mainstream yet, the number of financial institutions offering crypto bank accounts around the world is rising. Find below the most well-known examples. As new ones come up, we'll add them.
PayPal is not strictly classified as a bank, but it offers banking products. The fintech has launched a service that allows customers in the US and UK to buy, sell and hold cryptocurrencies. Read more about PayPal crypto offer.
Banks With Cryptocurrency Accounts
Revolut Crypto
Revolut is one of the best online bank for cryptocurrency. It is a British crypto-friendly online bank that was started by Nikolay Storonsky and Vlad Yatsenko in 2015. The bank is open to legal residents in the European Economic Area (EEA), Australia, Canada, Singapore, Switzerland, and the United States. With Revolut app for Android and iOS, you can buy, sell, spend and receive cryptocurrency. It also offer crypto debit card to make everyday payments with your crypto balance.
Cryptos available on Revolut include Bitcoin, Ether, Ripple, Bitcoin Cash and Litecoin. Additioally, you can round up your spare change in crypto.The bank works with cryptocurrency exchanges such as Coinbase and Bitstamp. Read our Complete Revolut Review or go to Revolut website.
Wirex
Wirex is a fintech that was founded in the UK in 2014. You can open a cryptocurrency bank account on Wirex website or its apps, iOS and Android.
You are able to save cryptocurrency and fiat currency in a single account. Supported cryptocurrencies include Bitcoin, Ethereum, and Litecoin. Its crypto interest account, Wirex X-Accounts, allows you to earn up to 16% on Wirex crypto savings. Funding your account can be done via a debit or credit card, bank transfer or cryptocurrency For more information please read Our Complete Review of Wirex App.
SEBA Crypto Bank
SEBA is a Swiss digital bank that provides crypto and fiat banking services in one place. The bank offers a SEBA crypto wallet and SEBA card facilities, which support fiat money and cryptos. The bank serves institutional clients and investors in Switzerland, Hong Kong, Austria, the UK, Singapore, Italy, France, Germany, and Portugal. Cryptocurrency investors are given the means to invest in single coins or a basket of cryptocurrencies without having to deal with cryptocurrency wallet, exchange risk, and custody risk.
Once your cryptocurrency account is operational, you will be able to initiate transactions or receive funds from personal wallets, banks or cryptocurrency exchanges and invest in SEBA crypto investment products. Fiat accounts support CHF, EUR, USD, GBP, HKD, SGD, PLN, JPY while crypto wallets support BTC, ETH, LTC, XLM, USDC, BCH, SNX, UNI, YFI, LINK and AAVE. The bank allows on/off-ramping for cryptocurrency exchanges and blockchain networks.
SpectroCoin
SpectroCoin is a cryptocurrency exchange and cryptocurrency mobile wallet that offers dedicated personal IBAN account to users in Europe and around the world. Furthermore, the company allows you to use your cryptocurrencies as collateral for crypto backed loans. Supported cryptos include Bitcoin, Ethereum, and USDT.
Additionally, SpectroCon payment gateway allows you to accept crypto payments for your online store. The platform offers multiple deposit and withdrawal methods including SEPA, Neteller, Skrill, bank transfer, mobile money, debit and credit card, etc.
Fidor Bank was a German virtual bank that maintained fiat and Bitcoin customers in the European Economic Area (EEA) and Switzerland. In 2023, it was decided that Fidor Bank will discontinue its banking business this year.
Sygnum Crypto
Located in Switzerland and Singapore, Sygnum calls itself "world's first digital asset bank." The bank helps institutional and private qualified investors, corporates, banks and other financial institutions invest in digital assets. Other crypto banking services are crypto custody, crypto brokerage, tokenization solutions, crypto backed loans and bank accounts for cryptocurrency businesses (B2B banking services).
Sygnum clients use their deposited fiat currency (CHF, EUR, SGD and USD) to buy, trade and hold cryptocurrencies integrated in one account. Supported cryptos include Bitcoin, Ethereum, Bitcoin Cash, Tezos, Litecoin, XRP and a Digital CHF token.
The Swiss bank claims to be the first bank in the world to allow clients to stake Ethereum, generating a yield of up to 7% annually. In March 2020, Sygnum Bank launched its digital CHF, a digital currency pegged to the Swiss franc. The CHF token is the first to be issued by a regulated Swiss bank with a full digital asset banking suite.
BankProv Crypto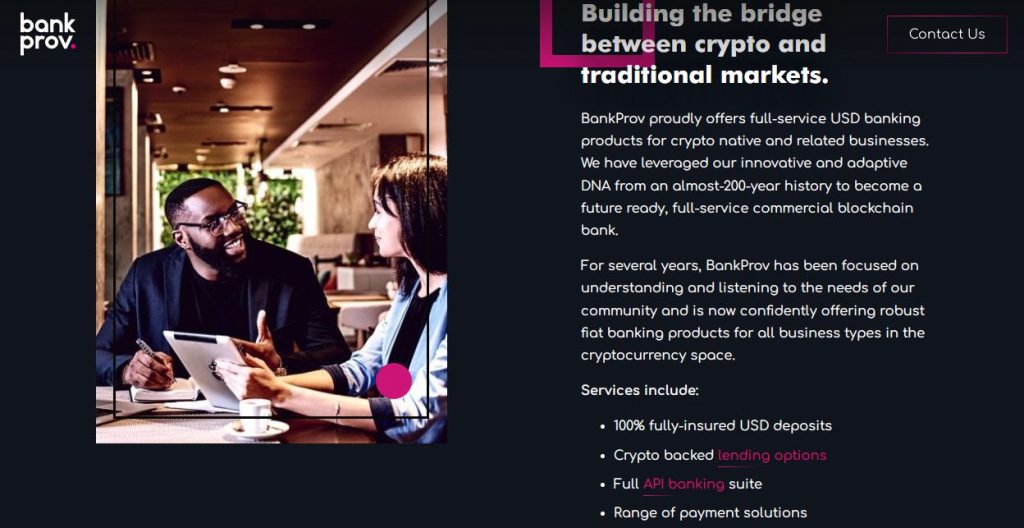 BankProv is one of the oldest banks in the US. Formerly known as The Provident Bank, it has entered the crypto banking industry, serving cryptocurrency businesses in the US. Apart from banking for crypto businesses, BankProv offers business loans. Its ProvXchange feature allows your business to make real-time payments with other BankProv customers.
The types of cryptocurrency businesses BankProv serves include Bitcoin ATM companies, crypto investors, crypto miners, crypto exchanges and crypto software developers. The bank is a member of both FIDC and DIF. To minimise crypto risks for these business, BankProv offers unlimited insurance for crypto deposits through the Depositors Insurance Fund (DIF)
Bank Juno
OnJuno, now called Juno, offers a bitcoin checking account with integrated bitcoin wallet available in the US. This means, you can buy bitcoin with a checking account using Juno. It's one of crypto-friendly banks that accept cryptocurrency deposits. You can directly buy, sell and send bitcoin via their app, as well as Ethereum and USDC. It also comes with a Juno Mastercard. Furthermore, you can convert your salary into bitcoin with Juno.
There are two types of accounts at Juno, Basic and Metal Account. To get access to a Metal Account, you have to set up a Direct Deposit of $250/month, and you must maintain your monthly direct deposit to continue the Metal access.
Vast Crypto Bank
Vast Bank is the first nationally chartered U.S. bank that allows you to buy crypto with a bank account in the USA using Vast mobile banking app. With Vast crypto banking, you will get two accounts in the mobile banking app, a checking account and a crypto account. Using your Vast Bank account, you can purchase 12 crypto coins including Bitcoin, Ethereum, and other altcoins at 1.00% trading fee and real time settlements, no transfer delays.
Current Crypto Bank
Current is a mobile banking app that offers a bitcoin checking account. With Current, you can conveniently buy and sell cryptocurrencies without incurring any hidden trading fees. The platform provides instant access to your funds, allowing you to quickly take advantage of market opportunities. The entire process is seamless, as you can perform cryptocurrency transactions directly within the Current app, eliminating the need for separate accounts or additional app downloads.
Xapo Bank
Xapo Bank is a private bitcoin bank licensed by the Gibraltar Financial Services Commission. It provides you with access to US dollar and bitcoin accounts. As a Xapo account holder, you will earn an annual interest rate of 4.1% on US dollar deposits and 1% interest on your Bitcoin deposits. The bank will automatically convert your USDC and USDT stablecoins, British Pounds, and Euros into US dollars. Xapo Bank debit card allows you to make payments and withdraw funds from anywhere, and earn 1.1% cashback every time you use your card.
N26
N26 allows you to trade cryptocurrencies in your N26 banking app. You can manage and monitor both your cash and crypto assets in one place, and buy and sell almost 200 coins, including Bitcoin.
In other words, N26 Crypto is a convenient way to buy, sell, and manage cryptocurrencies with a banking app, but it is only available to customers in a limited number of countries. Currently, N26 Crypto is only supported in Austria, Germany, Switzerland, Belgium, Portugal, and Ireland.
Bank Frick
Bank Frick is a European private crypto bank that offers a variety of services for crypto investors. Private crypto banking at Bank Frick provides you with a personalized banking experience and access to a wide range of crypto-related services, such as cryptocurrency trading, custody of crypto assets, account management and payment transaction service. It also offers bank account for blockchain and crypto businesses. Supported currencies include Bitcoin, Ethereum, and USDC.
Being a private bitcoin bank, you will also benefit from a dedicated personal advisor who can provide you with guidance on your crypto investments and help you to develop a tailored investment strategy.
Is Your Bank Crypto Friendly?
Many banks are crypto-friendly in that it's possible to transfer your money to a crypto exchange, or to receive money from an exchange. Some banks though have an active policy to block transfers to and from crypto exchanges. This also includes payments made to exchanges with your cards. We recommend changing your bank account if that's the case, or to use a different bank account that is crypto-friendly.
Best Bank for Crypto: Discover More
Take time to read our other articles on cryptocurrency-related topics such as crypto loans, cryptocurrency credit card, bank accounts for cryptocurrency businesses, crypto investment ideas, etc.
What are crypto banks?
Crypto banks cater specifically to cryptocurrency users and businesses, offering services like secure wallets, fiat-to-crypto conversions, payment processing, lending, investment products, and buying/selling of cryptocurrencies.
Which bank is best for cryptocurrency?
There are a number of banks that are considered crypto banks or crypto-friendly. They include Revolut, BankProv, Fidor, N26, and Vast Bank.
Is N26 crypto friendly?
Yes, N26 allows you to manage and track both traditional cash and cryptocurrencies. With N26 Crypto, you can engage in cryptocurrency trading and convert your cash into crypto or vice versa, all within a single account.
Can I buy cryptocurrency with Chime?
Chime Bank doesn't directly offer cryptocurrency trading. However, you can link your Chime Bank account to a licensed crypto broker to buy cryptocurrency using ACH transfers or Chime Credit Cards.
Can I withdraw crypto from Vast Bank?
No, Vast Bank does not currently allow customers to withdraw crypto directly from their accounts. When you sell your crypto, the USD equivalent is immediately available for withdrawal in your checking account.
Can I withdraw crypto from Revolut?
Yes, you can withdraw cryptocurrency from Revolut by initiating a withdrawal or selling your crypto for fiat currency. When you withdraw a cryptocurrency from Revolut, there may be fees associated with the transaction.
What's SEBA crypto?
SEBA Crypto is a Swiss-regulated bank that provides banking and investment services for both cryptocurrencies and fiat currencies.