As cryptocurrencies, particularly Bitcoin, continue to gain popularity, a number of banks allow account holders to deposit, withdraw, save, send and trade in digital currencies alongside traditional ones. In this article, we will look at 8 virtual banks and that offer crypto-banking services to their customers.
Quick Cryptocurrency Facts
Cryptocurrency is a decentralized digital currency without a central bank that can be sent from user to user without the need for intermediaries. Bitcoin is the most dominant cryptocurrency in the world.
Cryptocurrency transactions are verified and recorded in a public ledger called a blockchain.
Cryptocurrencies such as Bitcoin and Ethereum are created as a reward for a process known as mining while others such as Ripple and Stellar are non-mined cryptos.
Cryptocurrencies can be used to pay for products and services as well as exchanged for other currencies.
Banks With Cryptocurrency Accounts
Although cryptocurrencies haven't become mainstream, the number of financial institutions offering accounts for cryptos such as Bitcoin around the world is rising. Here's a few of them.
Bitwala

Bitwala, rebranded to Nuri, is Europe's first regulated blockchain banking solution based in Germany. It enables customers to save, withdraw, and trade Bitcoin as well as manage both their Bitcoin and Euro deposits in one place. The bank account is hosted by the Berlin-based solarisBank.
Founded by Jörg von Minckwitz, Jan Goslicki, and Benjamin P. Jones in October 2015, Bitwala is available on Android and iOS for customers in 30 European countries. Opening a Bitwala Bitcoin bank account is free and simple with the use of video identification.
The Bitwala account includes a Bitcoin and Ethereum wallet. Buy and sell cryptocurrencies for a 1% fee from your account and store them securely in one place. Best of both worlds, all in one account.
In addition, the bank offers free integrated crypto tax reporting solutions to users via its partnership with CryptoTax.
Fidor Bank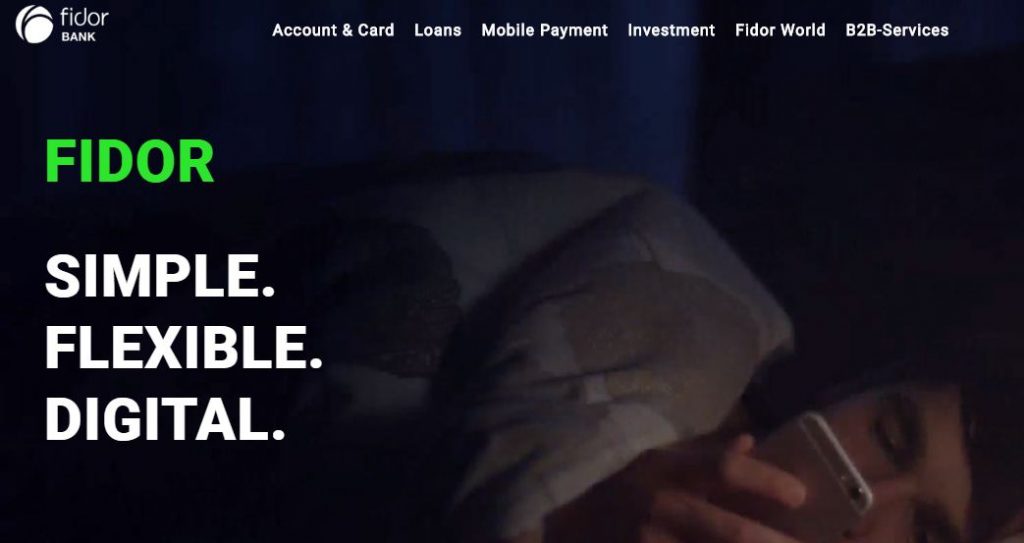 Fidor Bank is a German virtual bank founded by Matthias Kröner, Dr. Michael Maier, Steffen Seeger and Martin Kölsch in 2009. The bank maintains fiat and Bitcoin customers in the European Economic Area (EEA), Switzerland, Dubai, Singapore and the US.
Fidor's Bitcoin bank account, available on Android and iOS, allows customers to save cryptocurrencies and convert into fiat money. Its corporate bank account allows investors and organisers to conduct Initial Coin Offerings (ICOs) and Bitcoin exchanges to trade EUR and Bitcoin in their platfroms. For example, Fidor Bank customers with Kraken accounts (one of the world's largest global bitcoin exchange and America's first cryptocurrency bank) can send deposits and withdrawals to and from their Fidor bank account to their Kraken accounts easily. The bank has also partnered with German Bitcoin exchange Bitcoin.de to offer Bitcoin trading option to its customers.
Citing uncertainties surrounding the UK market, Fidor Bank decided to withdraw its product and service offering in the UK on the 15th of September 2019.
Mistertango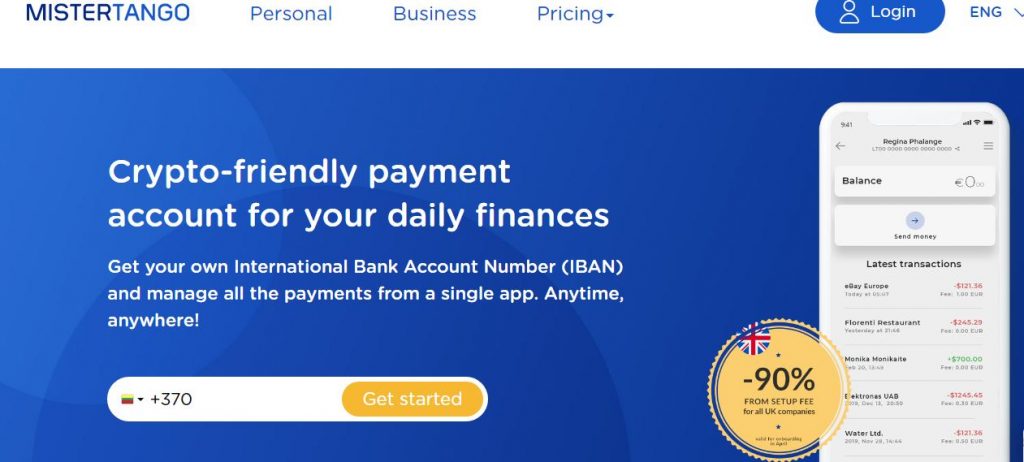 Mistertango is a Lithuanian fintech company offering dedicated International Bank Account Number (IBAN) accounts to individuals and businesses.
[…] For many crypto traders and crypto-related businesses, such as exchanges and ICO companies, a regulated current account is something that has so far been out of their reach. — Gabrielius Bilkštys, Chief Business Development Officer, Mistertango
Mistertango has partnered with Nexo, a crypto loan platform. Through this partnership, crypto loans are offered via a SEPA payment directly into Mistertango customer accounts. The virual bank also works jointly with Exmo, a cryptocurrency exchange platform, to allow its customers to fund cryptocurrency transactions using EUR.
However, with options for virtual banking on the website or its app (Android and iOS), Mistertango only supports clients from European Economic Area (EEA) countries.
SEBA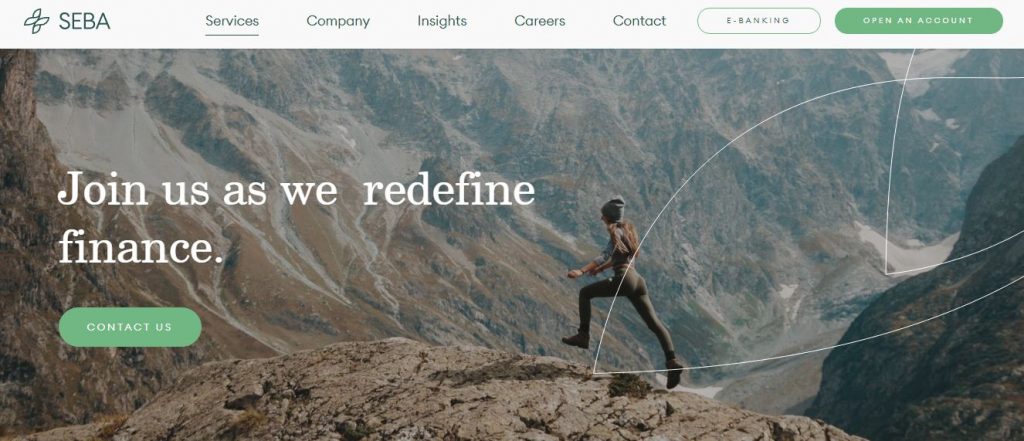 SEBA is a Swiss digital bank that provides crypto and fiat banking services in one place. The bank offers a SEBAwallet app and SEBA card facilities, which support Bitcoin, Ether, Stellar, Ether Classic, and Litecoin. The bank serves institutional clients and investors in Switzerland, Hong Kong, Austria. the UK, Singapore, Italy, France, Germany, and Portugal.
Sygnum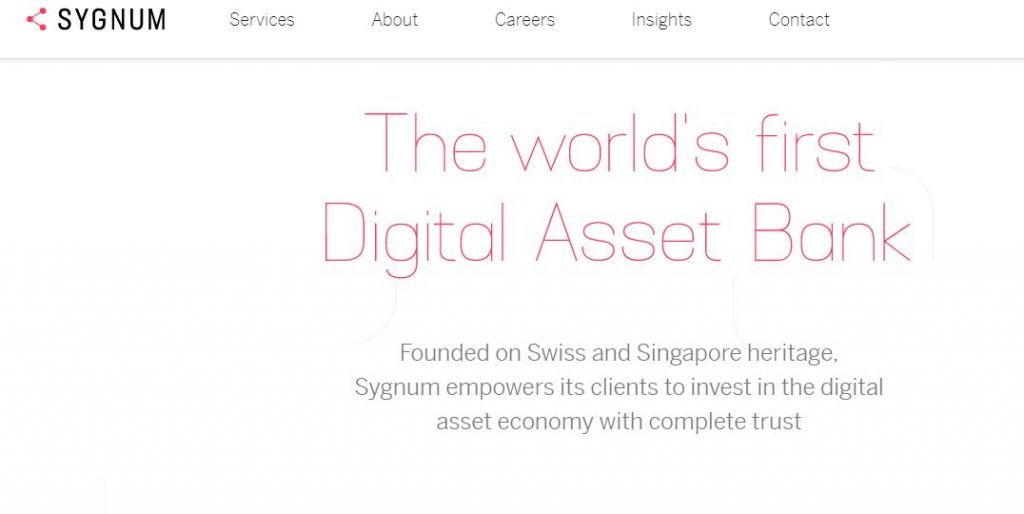 Located in Switzerland and Singapore, Sygnum calls itself "world's first digital asset bank." The bank helps institutional and private qualified investors, corporates, banks and other financial institutions invest in the digital asset. It does this through its portfolio of traditional banking services for digital assets such as Bitcoin, Ethereum and Digital CHF.
In March 2020, Sygnum Bank launched its digital CHF, a digital currency pegged to the Swiss franc. The token is the first to be issued by a regulated Swiss bank with a full digital asset banking suite.
Revolut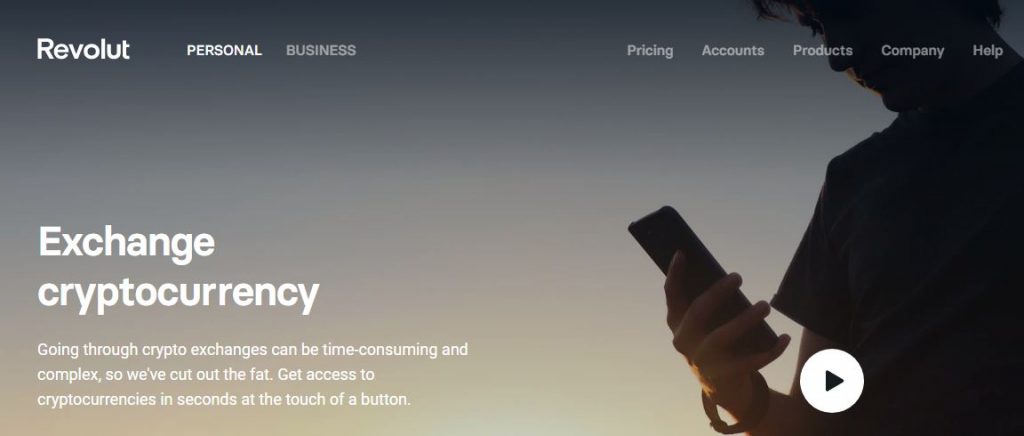 Revolut is a British virtual bank that was started by Nikolay Storonsky and Vlad Yatsenko in 2015. The bank is open to legal residents in the European Economic Area (EEA), Australia, Canada, Singapore, Switzerland, and the United States. With Revolul app (Android and iOS), customers can buy, sell, spend and receive cryptocurrency. Cryptos available on Revolut include Bitcoin, Ether, Ripple, Bitcoin Cash and Litecoin. The bank works with cryptocurrency exchanges such as Coinbase and Bitstamp.
You can receive cryptocurrencies sent by another Revolut user. However, you will not be able to receive cryptocurrencies sent from outside of the Revolut platform, e.g., external wallets. This is a closed offering whereby you can buy, sell, exchange, and transfer within the Revolut platform.
Ally Bank

Ally is a on online only bank in the US. The bank operates in all 50 U.S. states, the District of Columbia, and Puerto Rico. With Ally, you can link your account with Coinbase, an American cryptocurrency exchange, to buy cryptocurrencies with a debit card.
Wirex

Wirex is a fintech that was founded in the UK in 2014. It allows account holders to open a cryptocurrency bank account on its website or its apps, iOS and Android. Customers can save cryptocurrency and fiat currency in a single account. Funding one's account can be done via a debit or credit card, bank transfer or cryptocurrency ( Bitcoin, Litecoin, Ether and Ripple).