There are many ways to earn passive income with crypto. Cryptocurrencies such as Bitcoin will help you earn a passive income over time. A passive income is an income that you earn continuously without having to work for it consistently. For example, if you invest money that earns you interest at the end of the month, it is a passive income.
There are many ways to earn a passive income in crypto. This is article will show you how to earn passive income with crypto.
What to know before investing in bitcoin
Bitcoin investment is associated with serious risks that include the risk of total loss of your funds. Generally, bitcoin investments have not statutory/voluntary deposit insurance or state protection/supervision.
Don't trade or invest in bitcoin more than you can afford or willing to lose. We recommend that you invest not more than 10% of your funds into bitcoin.
The best way to protect your bitcoin is to "hodl" and only store in non-custodial wallets. Don't leave your bitcoin on a third party wallet. All bitcoin you store elsewhere apart from your personal wallet can be lost. Always have safe backups for when your wallet gets lost.
Crypto Interest Accounts
There are platforms that offer cryptocurrency interest accounts similar to bank's savings account where you earn a certain percentage of your crypto assets. For instance, Wirex allow you to earn up to 12% interest compounded daily on their Wirex X-Accounts. With BlockFi Interest Account, you can earn up to 10% interest or more per year.
Another crypto platform, Nebeus, offers crypto interest account feature called crypto renting. Crypto renting allows you to enter into a rental agreement with Nebeus to earn interest on your Bitcoin interest account or any other supported cryptocurrency.
Crypto renting works like any other renting business: someone pays you for the use of something, for example, a property, land, or a vehicle. In our case, you rent your Crypto to Nebeus for a predefined period, and Nebeus pays you for the use of your Crypto.
If you wish to earn a passive income with crypto through this method, it is best that you consider diversifying your investment. This means that you can split your investment into several companies. It will ensure the safety of your investment and also get to enjoy some perks that may be offered by one company and are not offered by the other.
Find our more about how to earn Bitcoin passive income using crypto renting method on Nebeus.
Best Crypto Interest Account
You can earn a passive income from top crypto interest accounts such as the following:
On June 13, 2022, Celsius announced that it was pausing all withdrawals, Swap, and transfers between accounts due to extreme market conditions. It has also filed for bankruptcy in July 2022. This means Celsius crypto interest account is not available at the moment. Read the full statement here. It has also filed for bankruptcy.
We strongly advise you to take extra precautions when investing in BlockFi. In June 2022, the company secured a $250 million loan to boost its balance sheet following the recent crypto market downturn. Many crypto lending fintech are experiencing liquidity problems. In July 2022, Celcius Network, the crypto lending platform, filed for bankruptcy. It suspended withdrawals in June 2022. You are also advised not to invest into cryptocurrency more than you can afford or willing to lose. Generally, it is advisable not to invest more than 10% of your funds into crypto. .
How to Make Passive Income with Crypto Lending
Crypto lending is an excellent way to earn a passive income with Bitcoin and other cryptocurrencies. Basically, you offer your cryptos to borrowers looking for cryptocurrency or fiat currency loans. You need to sign up on a peer-to-peer lending platforms and start investing in crypto loans.
There are two main types of platforms for crypto lenders to use, DeFi (decentralized finance) and CeFi (centralized finance). CeFi platforms act as a middleman between you, a crypto lender, and borrowers. Therefore, they usually take control of your cryptos and collateral for the duration of the loan. They are generally not anonymous. DeFi platforms are non custodial because they don't take control of your cryptos or collateral but instead use smart contracts to lock the involved crypto assets until the loan is paid in full. They are generally anonymous as they don't require KYC.
You need to take your time to compare different crypto lending platforms and choose the one that offers a the best interest rate for your cryptos and the one that is safe and legit. Some platforms allow lenders to set their own interest rates while others are fixed by the platform.
Best Crypto Lending Platforms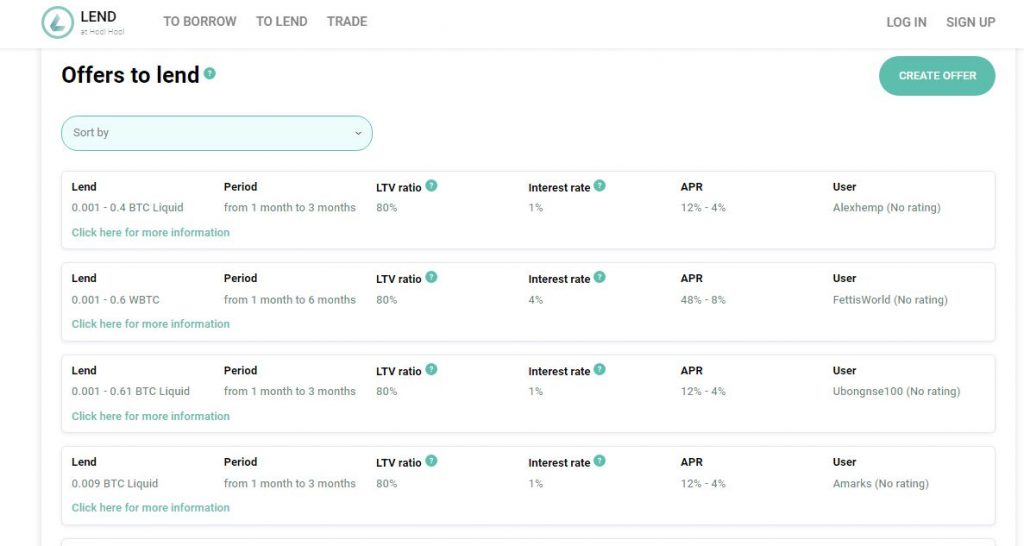 Find out how to earn passive income from Hodl Hodl.
Cryptocurrency Staking
We strongly advise you to trade or invest only in bitcoin as a long term investment. Altcoins, cryptocurrencies that are not bitcoin, are copy-cats, scams or simply nonsensical, avoid them.
Staking cryptocurrency is keeping your crypto in the mining pool of a crypto platform or wallet for a certain period to earn rewards or interest. For example, users of Cyrpto.com or holders of Crypto.com crypto cards can earn up to 12% annually on CRO staking (CRO is the native token of Crypto.com). You can also earn up to 5.0% APR on Ethereum 2.0, Tezos, Cosmos, etc., from crypto staking on Coinbase, one of the largest crypto exchange in the US.
Crypto Staking Platforms
Best platforms where you can earn passive income staking crypto are the following:
Joining Affiliate Programs
You can earn a passive income for promoting a crypto platform. For every new user you bring to the platform, you earn a crypto commission. You can run affiliate programs using affiliate links and referrals on social media, website or even blogs.
Crypto Affiliate Programs
Some of the crypto affiliate programs you can join include:
Crypto Mining
Bitcoin mining or crypto mining is a way of earning cryptocurrency after taking part in the process of verifying cryptocurrency transactions on the blockchain network. It requires the use of sophisticated and advanced computing power to solve complex mathematical problems in order to authenticate crypto transactions. You will also need strong internet connectivity and also data storage.
Crypto mining has become complicated necessitating the development of sophisticated computers. If you wish to mine Bitcoin, it is best that you join advanced Bitcoin miners within the crypto industry. This way, you will be generating some revenue based on the percentage of computing power you offered in the mining process. The stiff competition in crypto mining, cost of electricity, cost of equipment and the complexity of the actual mining process have made it less profitable and challenging to generate enough revenues.
As a way of controlling the introduction of new Bitcoins into circulation, the network protocol halves the number of Bitcoins awarded to miners for successfully completing a block about every four years.

Initially, the number of Bitcoins a miner received was 50. In 2012, this number was halved and the reward became 25. In 2016, it halved again to 12.5. In May 2020, the reward halved once again to 6.25, the current reward. Prospective miners should be aware that the reward size will continue to decrease in the future, even as the difficulty is liable to increase. – Investopedia.
Crypto Mining Platforms
There are many crypto mining platforms and crypto mining software that you can use if you don't have enough resources to do it on your own. Some of the platforms for passive income crypto mining are:
Bitcoin Payments
Many companies and freelancers are accepting Bitcoin payments. Big companies that accept Bitcoin payments include Tesla, Wikipedia, Starbucks, Shopify, Etsy among others. By accepting Bitcoin payments as a freelancer, you can earn passive income on your crypto assets by "hodling". Hodling is the practice of keeping your cryptos without selling until when their prices increase. For instance, if you hold some Bitcoins in your cryptocurrency wallet and their prices increase, it means you can sell them at a higher price. You simply buy low and sell high.
If you choose not to sell your Bitcoins or other cryptos, some crypto companies such as Hodlnaut allow you to earn interest. Hodlnaut's feature, Preferred Interest Payout, allows users to deposit any cryptocurrency from the supported cryptocurrencies (BTC, ETH, USDT, DAI, USDC, and WBTC) and choose to passively earn interest in the asset of their choice.
Trading in Bitcoin
Trading in Bitcoin is the commonest way to earning a passive income with Bitcoin. There are many crypto trading platforms and crypto friendly banks such as Coinbase and Revolut you can use for crypto trading.
The variation in Bitcoin prices across various exchange platforms allows Bitcoin traders to make profits. Traders buy Bitcoins from exchange platforms with lower prices and sell them in platforms with higher prices. This is a strategy that requires a lot of research to generate revenues. Fortunately, you can use crypto trading bots and platforms such as Cash App and Cryptohopper that allow you to automatically buy and sell cryptocurrency for profits. Crypto auto trading happens without much effort on your side.
Cryptocurrency Airdrops
Crypto airdrops are some kind of marketing strategy that involved giving out a few coins for promoting a cryptocurrency. You can earn a passive income through airdrops for doing nothing apart from just holding some tokens or promoting them on social media. Cryptocurrency companies, particularly news ones, sometimes look for members who promote their coins and send them small amounts of the tokens.
Crypto Airdrops Platforms
We advise you to be cautious and do a thorough research before engaging in crypto airdrops. Some cryptocurrency airdrops are used by scammers to gain access to your crypto wallet.
Final Thoughts on How to Make Passive Income With Crypto
Bitcoin mining to earn a passive income is a great way to make a living. It can be an additional income source, or if you are about to retire, it can help you generate some revenues. Ultimately, with the increased adoption of cryptos, the cryptocurrency industry is gaining traction and investors may see significant growth in their investments.