South Africa ranks second in bitcoin transactions Africa after Nigeria. Due to economic uncertainties, regular political tension, and the volatility in its currency, most people turn to bitcoin investment in South Africa and trading option. Of all cryptocurrencies, bitcoin is the most popular crypto in South Africa.
---
---
Is Cryptocurrency Legal in South Africa?
Cryptocurrency regulation in South Africa is under the South African Reserve Bank (SARB). It does not treat bitcoin and other cryptocurrencies as currency but as Crypto Asset. SARB requires that firms wishing to trade in bitcoin register with the Financial Intelligence Center as a way of taking care of the risk related factor. The growing bitcoin adoption in the country has led to the increase in bitcoin scams. Therefore, the role of SARB is to address the issue to protect consumers.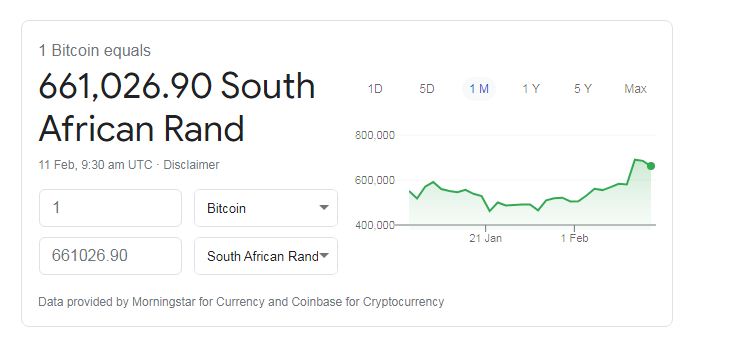 South African regulators have warned that transferring cryptocurrency bought from the local exchange into another country is now considered a criminal offense. It has also been reported that banks in South Africa are blocking customers from using their debit/credit cards to purchase cryptocurrency from international exchanges.
Tax on Cryptocurrency in South Africa
The South African Revenue Service (SARS) views tax for cryptocurrencies the same as income or capital gains. The tax authority has shown keen interest in taxing crypto owners. According to Business Insider, some South African taxpayers are receiving audit letters asking for information about their cryptocurrency holdings. Furthermore, SARS has included questions about cryptocurrency investments in the latest tax returns, with codes for crypto-trading profits (2572) and losses (2573). Find out how much tax you will pay on your crypto gains in South Africa.
How to Buy Cryptocurrency in South Africa
There are many cryptocurrency platforms in South Africa where potential buyers can buy bitcoin and other cryptos. However, to buy cryptocurrency, you first need to have a cryptocurrency wallet. It is important for every buyer first to ensure that he or she has a secure bitcoin wallet in South Africa before buying. Once you have a wallet, you can choose the cryptocurrency exchange in South Africa you wish to use to buy cryptos.
Best Cryptocurrency Wallet in South Africa
As we pointed out earlier, you can only buy cryptocurrencies in South Africa if you have a cryptocurrency wallet. A cryptocurrency wallet is a digital program that stores private and public keys allowing wallet holders to buy, sell, receive and view their cryptocurrency balance. Some of the best crypto wallets in South Africa include the following:
You should always buy hardware wallets directly from the original manufacturer or official resellers. Other private sellers online might have manipulated the wallet before selling it in order to steal your cryptos.
Not your keys, not your bitcoin
Custodial vs non custodial wallet: A custodial wallet is a crypto wallet in which the private keys are kept by a third party. An example of this is a wallet held by a cyptocurrency exchange (the marketplace where you buy cryptos) such as Luno. A non custodial wallet is a wallet in which the crypto owner holds the private keys and has the full control over their cryptocurrencies. A non custodial wallet are safer than custodial wallet
---
---
Where to Buy Bitcoin in South Africa
Best Crypto Exchange in South Africa
The best place to buy bitcoin is from a cryptocurrency exchange in South Africa. A crypto exchange is a digital platform that allows people to buy and sell cryptocurrencies. Each platform has its advantages and disadvantages. These are some of the best crypto exchanges in South Africa.
ICE3x, the oldest cryptocurrency exchange in South Africa, which has been around since 2013, initiated liquidation proceedings in April, 2021 following discrepancies in the balances pertaining to Bitcoin and Litecoin held on the platform. The exchange's status update reads, "We regret to inform you that the platform will not return to operation and that we have been advised to initiate liquidation proceedings." The platform further said, All remaining assets (Tokens & FIAT) are now held in trust by Manong Badenhorst & Badenhorst Attorneys and liquidation proceedings have been initiated."
Luno
Luno is one of the oldest cryptocurrency exchanges in South Africa. Luno supports deposits from a bank account or debit and credit card payments. You can buy cryptocurrency on Luno exchange via the "Instant Buy" function on Luno app or on Luno Exchange. After signing up, you need to deposit local currency to your account and then follow simple instructions to buy bitcoin.
If you bank with ABSA, Standard Bank, Capitec, Nedbank or Tyme Bank, to make an electronic transfer to Luno, simply search for "Luno" under "Public Beneficiaries". With other banks such as FNB, you need to set up Luno manually as a beneficiary. Here's more information on how to deposit funds into Luno from your bank account. You can also deposit money from a supported bank using Instant EFT with PayU.
Paxful
Paxful is a safe and secure cryptocurrency exchange in South Africa. After creating your account, you will have access to Paxful bitcoin wallet. Once you are ready to buy, click on the "Buy Bitcoin" button in the top right corner of the home page. You will be taken to a page with three input fields: payment method, currency, and location. Filter the list of shown offers to find offers that meet to your preferences.
Supported payment methods for Paxful in South Africa include cash deposit, PayPal, bank transfer, and Amazon Gift Cards. One of the benefits of using Paxful is that you can buy cryptocurrency in South Africa with mobile money.
Coinbase
Coinbase is one of the biggest cryptocurrency exchanges in the world. The crypto platform only supports debit card payments and bank account transfers. Coinbase supports many cryptocurrencies including Bitcoin, Ethereum, Ripple, Bitcoin Cash, Dash, etc. Experiences Coinbase users have the option of using its trading platform, Coinbase Pro.
CoinCorner
CoinCorner is cryptocurrency exchange platform available in many countries around the world including South Africa. With CoinCorner, you can buy bitcoin and other major cryptocurrencies. To buy bitcoin, you need to deposit funds into your CoinCorner account via a debit card, credit card, bank transfer or Neteller. The exchange has an auto buy feature, which allow users to set up a standing order and choose how often they want to buy bitcoin via dollar cost averaging strategy.
Dollar-cost averaging (DCA) is an investment strategy in which an investor divides up the total amount to be invested across periodic purchases of a target asset in an effort to reduce the impact of volatility on the overall purchase. Buying Bitcoin little and often will help you save long-term and reduce concerns about any short-term price fluctuations.
LocalBitcoin
LocalBitcoins shows you people near you that are selling or buying bitcoin. Through the website, you can state whether you want to buy or sell bitcoin and trade with other users in South Africa. Using LocalBitcoins, you can buy bitcoin with PayPal in South Africa as well as a bank transfer, and cash. It is not advisable to meet the seller or buyer face to face as it is very risky in South Africa.
Yellow Card
Yellow Card is a cryptocurrency exchange that allows anyone to buy and sell bitcoin in South Africa. The exchange also offers high net worth individuals and institutions the ability to trade through Over-The-Counter (OTC) desk. Supported methods for making payments are bank transfer, bank deposit, and fiat deposit via Prepaid 24.
Crypto ATM in South Africa
The other way to buy bitcoin and other cryptos is through a cryptocurrency ATM in South Africa. A bitcoin ATM in South Africa is a machine that allows people to buy bitcoin and other cryptos. There are 13 South African bitcoin ATMs. Cryptocurrency ATMs in South Africa allows users to buy cryptos or convert cryptos into Rand.
How to Use Bitcoin ATM in South Africa
You can buy bitcoin using your cash, credit or debit card at the crypto ATM. The bitcoin you have bought will be deposited into your crypto wallet after scanning a QR code at the bitcoin ATM. Alternatively, some ATMs can generate a paper wallet containing the private keys of the the bitcoin you just bought. Some crypto ATMs will also require buyers to provide their ID for KYC purposes. The cost of buy bitcoin from a crypto ATM is usually high because the ATMs charge a fee for their services.

Buy Bitcoin with PayPal in South Africa
You can use PayPal to buy Bitcoin online. However, it is not an easy option for beginners. You can find instructions on how to buy bitcoin with PayPal in South Africa here.
VirWox exchange used to be one of the easiest platform to buy bitcoin with PayPal in South Africa. However the platform closed in January, 2020
How to Buy Bitcoin with Credit Card or Debit Card in South Africa
It is possible to buy cryptocurrency with a debit card or credit card in South Africa. You need first add to your card to the cryptocurrency exchange of your choice then deposit money to the platform. You need to find out service fees involved for buying bitcoin with your debit or credit card. Buying with a card is usually more expensive than buying via a bank transfer.
How to Sell Bitcoin in South Africa
If you wish to sell bitcoin in South Africa, here is what you need to know. Selling bitcoin when everyone else is trading could make you lose money. To make a profit, ensure that you do not sell your bitcoin when everyone else is selling. In order to sell your bitcoin, there are a few steps that you need to take. Here are the steps.
Step 1: Sign up for an Exchange Account
Selling bitcoin through an exchange is safer and fast. Exchange platforms such as the ones above act as middlemen for cryptocurrencies where they offer a platform for you to sell bitcoin South Africa. There are many exchange platforms such as the ones mentioned above that you may opt to use. Once you have created an account, link it to your bank account or e-wallet so that it becomes easy to withdraw your earnings.
Step 2: Transfer Bitcoin to Your Exchange Wallet
You will need to ensure that you have bitcoin in your wallet so that you can then sell them. Use the transfer function available in your wallet and then wait for the confirmation message that your bitcoin has arrived in the exchange.
Step 3: Place an Order to Sell
Once you have signed up on the exchange platform of your choice and deposited your bitcoins to your exchange wallet, you can now sell your bitcoin. Select that you want to sell and then input the amount you wish to sell. Then place a sell order so that they can sell at the current market price. However, you can place a limit order so that they can only sell when the market price is at the figure you would like. Once you have done that, the rest of the transaction doesn't need much of your input. The trade should be quick in case they are selling at the prevailing market price. Bitcoin will be transferred from your account, while in turn, you will be paid with the fiat currency that you choose.
Final Thoughts on How to Buy Bitcoin in South Africa
The means of conducting the a bitcoin transaction is different depending on the exchange platform that one is using. Some sites have exclusively online transactions through bank transfers, while other sites like LocalBitcoin and Paxful have other options such as Moneygram and gift cards. Some of these methods are time-consuming. Before deciding to sell your bitcoin, ensure that many people are not trading to avoid losses.
More Information on Bitcoin in South Africa