Peer to peer Bitcoin lending is becoming quite popular among crypto investors. Peer to peer lending platforms allow investors to offer p2p bitcoin loan to borrowers. It's one of the best ways to earn passive income with crypto and borrowers to secure funds to meet their needs.
Types of P2P Crypto Lending Platforms
Peer to peer lending platforms eliminate the traditional role of banks and lending institutions by facilitating lending directly between lenders and borrowers. Crypto p2p lending platforms fall in two major categories: CeFi (centralized finance) and DeFi (decentralized finance).
Centralized finance (CeFi) involves platforms that connect a crypto lender and borrower. In the process, they usually perform KYC procedures and assume total control of of your crypto assets and borrower's collateral. On the other hand, decentralized finance (DeFi) platforms don't assume custody of your cryptos or collateral. Instead, they use smart contracts to lock the crypto loan and collateral until the loan is paid in full. DeFi transactions can be performed anonymously without the need for KYC.
How to Choose Best Crypto Lending Platforms
When choosing a cryptocurrency peer to peer lending platform, you need to consider the amount you are lending/borrowing, interest rates, loan duration, and reliability of the lending platforms. Most loan lenders use the loan to value ratio to determine the amount to lend to a borrower. Consider your loan-to-value ratio and what the lender is offering.
You can find crypto loans reviews online and also read user's experiences on Reddit, Twitter, Facebook, Trustpilot and Quora.
Bitcoin P2P Lending Platforms
Bitcoin peer to peer lending platforms connect lenders with crypto investors. The following are some of the top crypto lending platforms.
Lend at Hodl Hodl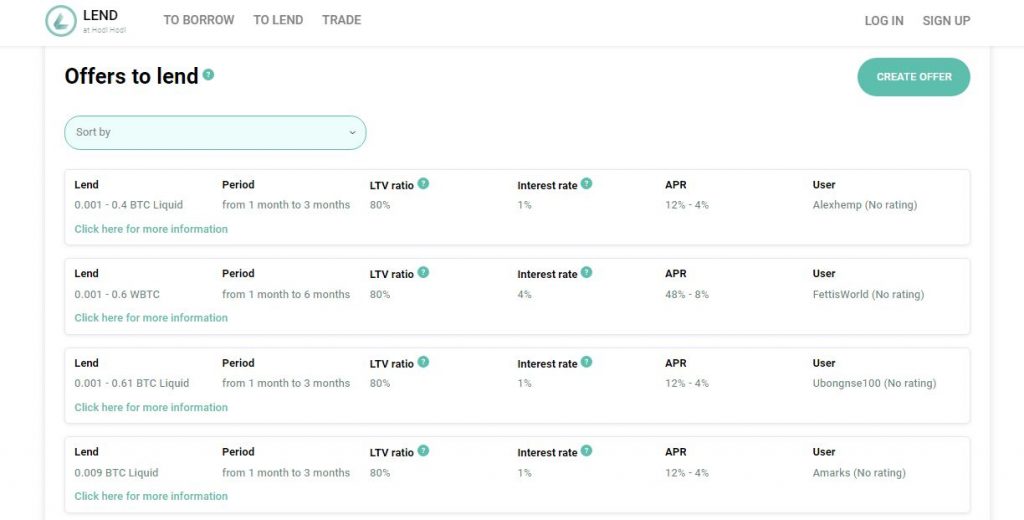 Lend at Hodl Hodl is an anonymous, non custodial crypto peer to peer lending platform. When you offer your crypto as a lender, a smart contract is created with a unique escrow. Lend at Hodl Hodl uses three multisig escrow addresses to secure users' bitcoin. You will get one key from the multisig, the borrower getting the second and Hodl Hodl the third one. You will deposit crypto in escrow from your crypto wallet. Funds can be released from escrow by two signed keys. If there is a dispute, the third key held by Hodl Hodl will be used.
MyConstant
MyConstant is a crypto p2p lending platform that allows you to offer crypto backed loans to individuals and businesses around the world for up to 7% APR. As a crypto lender, you decide your terms and rates, and MyConstant matches you with a suitable borrower. All MyConstant lending is backed by cryptocurrency collateral. The platform does not charge any investing or USD withdrawal fees and doesn't do credit checks. MyConstant pools investor funds into a lending pool and match it with borrowers instantly. You can lend BAT, BCH, BNB, BTC, DAI, DOT, ETH, LINK, LTC, MATIC, SOL, USDC, and USDT.
Aave
Aave is an open-source lending solution that uses blockchain technology to connect crypto lenders and borrowers. It is an ideal p2p crypto lending system for advanced users. To use Aave crypto peer to peer lending solution, you need to deposit your crypto assets on the platform's liquidity pool. Borrowers from around the world can drawn crypto loans from the pool and pay back with interest. One interesting feature on the platform is Aave Flash Loans. Flash Loans are uncollateralized loan option in DeFi designed for developers.
You can deposit crypto in 17 lending pools, which include the following cryptocurrencies: Binance USD, Dai Stablecoin, Synthetix USD, USD coin, Tether, Ethereum, and True USD. All Aave transactions are anonymous and the platform is non custodial, meaning it doesn't not hold your cryptocurrency.
BTCPOP
BTCPOP is among the leading peer-to-peer lending platforms for entrepreneurs and small businesses. BTCPOP's cryptocurrency peer to peer lending is based on reputation, not credit score. As a user, you can loan cryptos to other users. One notable feature is that you set the terms and the amount.
It is considered the most secure lending platform in the market. They offer instant Bitcoin loans, investment pools, and p2p loans at favorable terms. Loans fees range between 1 and 2 percent. Various loans have varying APRs that range between 10-45%.
xCoins Lending
xCoins has discontinued its services and its website is no longer accessible.
xCoins is a peer-to-peer Bitcoin lending platform that allows lenders and borrowers to use PayPal. xCoins offers secured crypto lending services by verifying each borrower's identity and by making a legally binding loan agreement between you and the a borrower.
The minimum deposit for investing in crypto loans is $20. Lenders set their loan rates and borrowers select lenders with the best rates. There are charges on the borrower's side when he is taking and repaying a loan.
xCoins secured crypto loan is almost similar to selling cryptocurrency on an exchange. Here's how xCoins lending works, instead of exchanging Bitcoin for money, the borrower receives Bitcoin as a loan from the lender and gives the equivalent amount of money to the lender as collateral. The lender receives the collateral plus the interest fee prior to sending Bitcoin to the borrower. Once you receive the loan amount plus the interest fee to your PayPal account, you may convert the funds back to Bitcoin and deposit them to your xCoins wallet for the next round of lending. The image below shows the difference between crypto selling and crypto secure lending.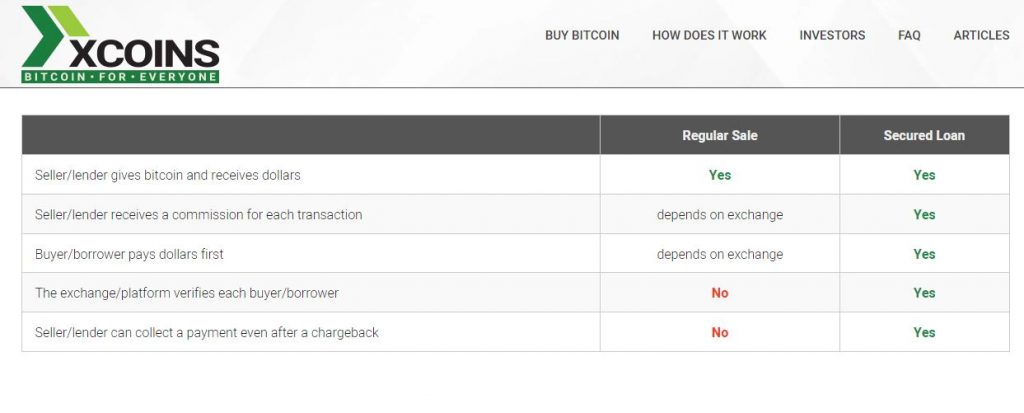 You need to have a PayPal account to use xCoins, find out more about PayPal
Compound Finance
Compound is a decentralized lending platform built on the Ethereum network that allows you to deposit your cryptocurrency in a Liquidity Pool that borrowers use to obtain loans from. The pool is controlled by smart contract technology. The smart contract is programmed to automatically determine interest rates based on supply and demand on Compound Finance platform at a given time.
Compound Finance supports a number of cryptocurrencies including Ether, Wrapped Bitcoin, Dai, USDC and Tether.
Benefits of P2P Crypto Loans
There are many benefits that you will get through Bitcoin P2P loans.
Volatility benefits. The volatility of Bitcoin loans can be an advantage to both the lender and the borrower. For instance, a borrower can get a loan today and pay less, or the lender can give out a loan and get more due to the volatility of Bitcoin.
No credit check. cryptocurrency p2p lending platforms don't usually perform credit check as your collateral determines your creditworthiness. Therefore, you can easily get a low with a poor credit score.
Fast application process. P2P crypto lending platforms process Bitcoin loan applications very fast since there are no bureaucracies. This makes it a better place to get finding compared to traditional banks that take long to approve loans. It is an advantage for borrowers.
Better interest rates. Unlike traditional banks where interest rates are extremely high, Bitcoin p2p lenders offer favorable interest rates.
Earn passive income. p2p crypto lending (or p2p Bitcoin lending) allows you to create a passive income stream from your crypto assets. P2P cryptocurrency lending technology gives you the ability to to offer your cryptos to borrowers and earn interest without having to do much.
Disadvantages of P2P Crypto Loans
Price volatility. The volatility of cryptocurrencies can make the lender or the borrower lose. For instance, if the price of Bitcoin falls, a lender can lose since he will get less than what he gave out.
Lack of regulation. In many countries there are no regulations for Bitcoin, making it difficult to solve conflicts.
Scams. There are many scams that take place in the cryptocurrency industry leading to many frauds. Many people fall victims and end up losing their money.