Selling products on Amazon or being an Amazon affiliate is one of the ways you can make an income online. Amazon merchants can receive their proceeds through their bank accounts or Amazon Payment Service Provider such as Payoneer. In this article, we will show you 4 virtual bank accounts you can use to receive Amazon payments faster and cheaply if you live in unsupported countries: Payoneer, Wise, formerly Transferwise, Currencies Direct and WorldFirst. They are also the best bank accounts for Amazon FBA sellers.
Amazon disbursements can only be made in the local currency of the country or region where the bank account is located. For example, if your bank account is located in the US, then disbursements can only be made in USD even if your bank account is capable of accepting deposits in more than one currency.
Countries and Currencies Supported by Amazon for Disbursement
| Country/Region | Currency |
| --- | --- |
| Euro zone: Austria, Belgium, Cyprus, Estonia, Finland, France, Germany, Greece, Ireland, Italy, Latvia, Lithuania, Luxembourg, Malta, Monaco, the Netherlands, Portugal, San Marino, Slovakia, Slovenia, and Spain | EUR |
| United Kingdom | GBP |
| United States | USD |
| United Arab Emirates* | AED |
| Albania | ALL |
| Argentina | ARS |
| Australia | AUD |
| Bangladesh* | BDT |
| Brazil* | BLR |
| Bulgaria | BGN |
| Canada | CAD |
| Switzerland and Lichtenstein | CHF |
| China | CNY |
| Colombia* | COP |
| Czech Republic | CZK |
| Denmark (including Greenland and the Faroe Islands) | DKK |
| Hong Kong | HKD |
| Croatia | HRK |
| Hungry | HUF |
| Indonesia* | IDR |
| Israel* | ILS |
| India | INR |
| Japan* | JPY |
| Cambodia* | KHR | |
| South Korea* | KRW | |
| Laos* | LAK |
| Sri Lanka* | LKR |
| Morocco | MAD |
| Mexico* | MXN |
| Malaysia* | MYR |
| Nigeria | NGN |
| Norway | NOK |
| Nepal | | NPR |
| New Zealand | NZD |
| Philippines | PHP |
| Pakistan* | PKR |
| Poland | PLN |
| Romani | RON |
| Russia* | RUB |
| Sweden* | SEK |
| Singapore | SGD |
| Thailand* | THB |
| Taiwan* | TWD |
| Turkey* | TRY |
| Vietnam | V ND |
| South Africa* | ZAR |
*Disbursements in these currencies through Amazon Currency Converter for Sellers are supported by Hyperwallet, a third-party payment service provider offering currency conversion services, which require a separate Hyperwallet account.
Amazon Currency Converter for Sellers is an optional service that allows Amazon sellers to receive the proceeds of their earnings into their local bank account if that account is located in a different country or region from the marketplace in which they are selling.
How to Add Bank Account in Amazon
For you to start receiving money from Amazon, you need to add a bank account to Amazon. The process is as follows:
Sign in to Seller Central on Amazon
Click Settings, and then click Account Info
Click Bank Account Information
On the Deposit Methods page, in the Amazon Payments box, click Assign
Choose an existing bank account
Click Set Deposit Method
This means you need to have an existing supported Amazon bank account such as the ones we have listed below.
Amazon Seller Bank Account Verification
Follow the following steps to verify your bank account information in order to validate the account information associated with your seller account:
Go to Settings and click on Account Info.
On the Seller Account Information page, under Payment Information, click Bank Account Information.
You can verify your account through the Deposit method page, click on Manage Deposit Methods, and click Verify account to start the verification.
On the Verify Deposit Method page, upload your bank documents using the Upload a copy button.
Verify the following: the name on the document matches the name you entered in Seller Central, bank logo, account number, and account holder's name are clearly displayed, the date on the documents is less than 180 days old, the document is not a screenshot, Upload full document and black out transaction details you do not want to share.
Verify the information on your document is accurate by selecting the four check boxes. Click Submit for verification. Click Continue on the pop-up screen. The success message 'Your document has been successfully submitted' is displayed.
The document verification can take up to four business days.
Best Bank Account for Amazon Seller
1. Payoneer Amazon Seller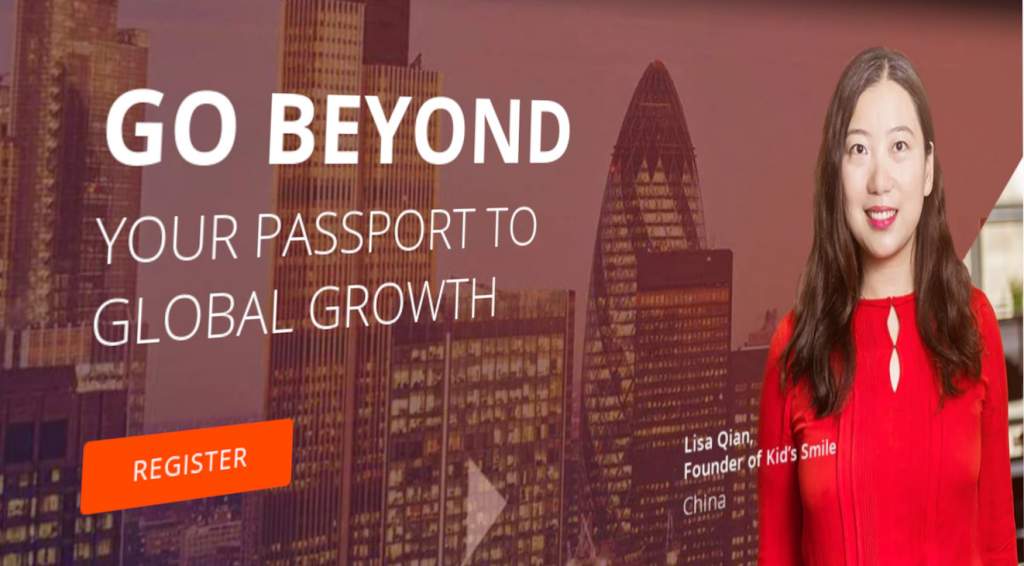 Payoneer is one of Amazon approved banks that offers US non resident account to withdraw your funds in your local bank accounts or from ATMs with the MasterCard logo.
As an Amazon seller or an affiliate, Payoneer allows you to receive your Amazon payments into your Payoneer account and transfer them directly to your local bank in your local currency.
Payoneer is also licensed to offer e-money services in the European Economic Area. Payoneer works with Amazon to ensure buyers and sellers make and receive payments for goods sold or bought on Amazon. Payoneer Virtual Bank account is open to both residents and non-residents of US who wants to transact with Amazon.
Supported Amazon Marketplaces and Currencies
Payoneer supports 150 local currencies. You can receive paymets from Amazon marketplaces in the US, the UK, France, Germany, Italy and Spain.
How to Sign Up for Payoneer
The process is simple and straigthforward. Go to the sign up page and fill out the required information. Information that you will need to enter include name, email address, date of birth, country, etc. Once you finish the four sign up stages, wait for confirmation. If your are confirmed, your Payoneer virtual bank account will be active. Basically, this means that you have a US checking account where you can receive your Amazon payments and transfer into your local bank account.
How to Add Payoneer to Amazon
To start receiving Amazon Payments in your Payoneer account, you need to apply for a Payoneer account on Amazon's Seller Central. Log onto Amazon and follow the following steps: Choose Settings then go to Account Info. Locate Deposit Method section and click Add then select home country. Click Register for Payoneer and enter the collection account details that Payoneer provided when you signed up on Payoneer.
Payoneer Bank Account Statement for Amazon
As an Amazon seller, you will be required to provide Amazon with a Payoneer bank statement for Amazon. Payoneer's Store Manager allows you to download the statement. Sign in to your Payoneer account, click on Activity and go to Store Manager. Choose the store you want to download the bank statement for and click Download Statement.
Payoneer Fees
Payoneer charges $2.99 transaction fee for a local bank transfer and $15 for a USD SWIFT transfer. It also charges 1% service fee for each payment received.
2. Wise Amazon Seller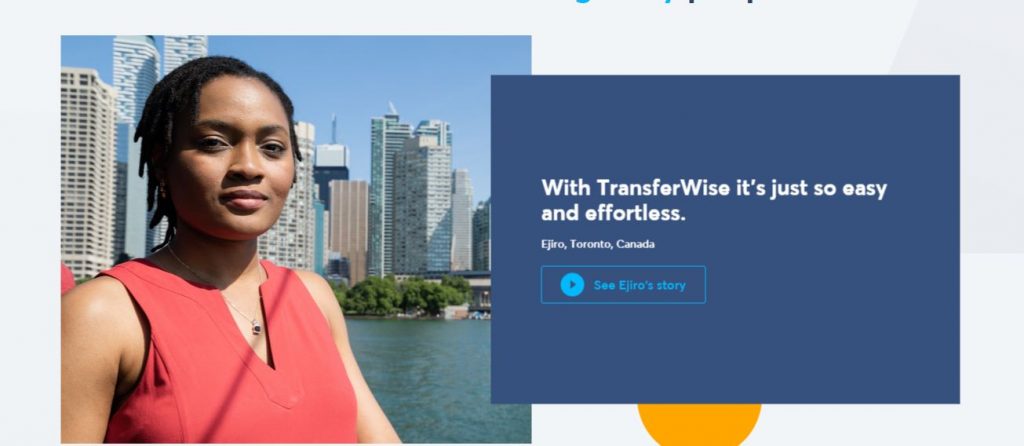 Wise is a UK virtual bank account that provides receiving account for Amazon sellers from around the world. Wise multicurrency account offers non resident bank account with local bank details in UK, Eurozone, Australian, New Zealand, and US for a small, one-time setup fee.
One of the main benefits of Wise Amazon payments is that if you sell on multiple Amazon marketplaces, you can withdraw your earnings directly into your Wise account in the currency of your earning and avoid paying high currency conversion fees. Wise account details are compatible with Amazon US, Amazon Europe, Amazon UK and Amazon Australia.
Creating Transferwise Account
To create a virtual bank account on Wise is free. You should go here to register. To open your multi-currency account, you need to get verified, usually with government ID, proof of address, and/or a picture of you holding that ID. It usually takes about 2 working days. Once verified, log into your account and follow the steps to get set up.
How to Add Wise to Amazon
Once your account is verified on Wise, you will have to set up your virtual bank account details on Amazon. Go to Account Information on Settings then on Bank Account Information add your Wise bank details and select Assign. You will then need to select add new deposit method and your bank location. This is the country listed under the address of your balance in Wise. For example, GBP balance means the bank location is the UK and for USD balance, the location is the US.
The next step is to add your bank account details, which are determined by the Amazon marketplace you are selling from. For example, Amazon Europe, you will add your IBAN and BIC details, Amazon US, you need your account number and your 9-digit ACH routing number to receive electronic payments. For Amazon UK, add your Wise GBP sort code and bank account number while for Amazon Australia, you should add your Wise AUD bank state branch code (this is the BSB Code within your Wise account), account number and the account holder name. Verify your bank details and save.
If you're not a US resident, Amazon will ask for tax verification. Sign the document stating that you are a non-US citizen and not a taxpayer there. Your payments and new product postings will stay pending until you sign it and send it back to Amazon.
3. Currencies Direct for Amazon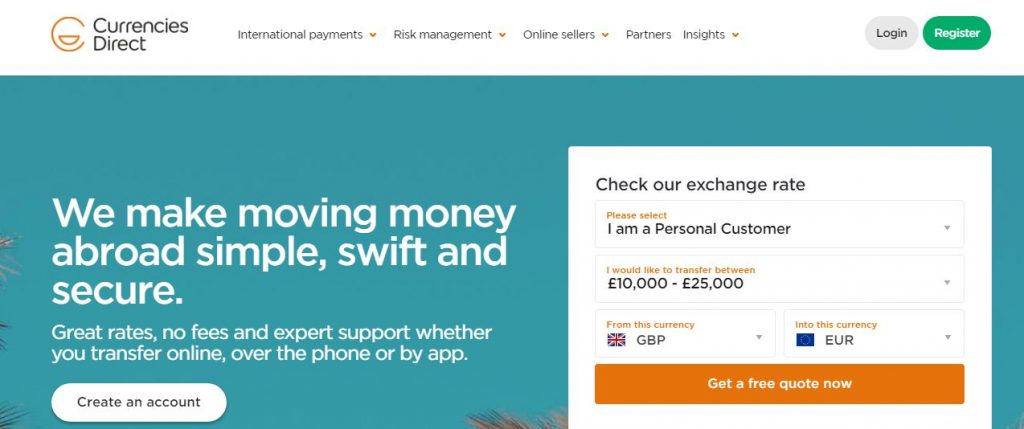 Currencies Direct is a British currency exchange and money transfer service that allows Amazon sellers to set up virtual bank account for free to receive Amazon payments.
Sign Up Process
The sign up procedure is simple and it takes a few minutes. You need to fill out this online form. It will take around 24 hours to approve the account. You will receive bank details shortly afterwards. However, if you are an ecommerce business outside the UK, you will need the following documents:
Copies of government issued photo ID (e.g. passports or driving license) for directors and shareholders
Copies of proof of address (utility bill or personal bank statement) no older than 3 months for directors and shareholders
Copy of the annual tax return or other official document which confirms the names of the individual shareholders/owners of the business
Copy of the certificate of incorporation or business bank statement
Applicants may also be asked to provide us with verification of their seller profiles and sales history
Currencies Direct has an established process in place with Amazon for verification of bank accounts so it's worth dropping a request to your account manager at Currencies Direct to get one of these certificates sent to you. Send it to Amazon via seller central and they will initiate payments as normal.
Currencies Direct Fees
To open an account with Currencies Direct is free with no monthly charges or payment fees. However, there's a 0.1% receiving fee applied to all funds collected in your account. The fee will be included in your agreed exchange rate but it will appear separately on your statement. Same currency transfers are also available at a competitive rate.
Supported Currencies and Countries
You can currently open virtual accounts to collect sales made in the following countries: USA, UK, France, Germany, Spain, Italy and Japan. You can collect payments made in EUR, USD, GBP and JPY.
4. WorldFirst for Amazon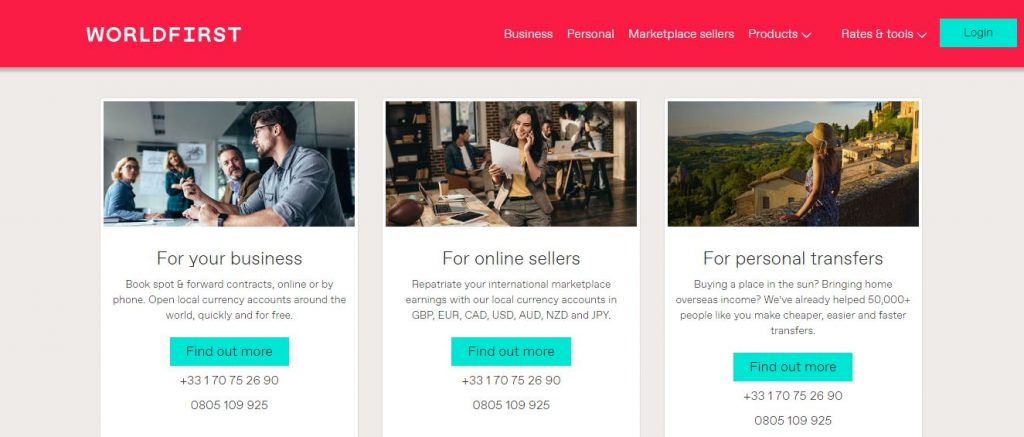 WorldFirst is a currency exchange and money transfer company. Its currency accounts are compatible with Amazon Seller Central, allowing you to do business like a local when selling internationally in the US, Australia, Germany, UK etc.
Amazon requires you to have a receiving account in the country you are selling. For Amazon US, this can be challenging because a US ID card is required to open a US bank account and you risk funds being frozen. WorldFirst can solve these cross-border payment problems by opening a US receiving account for you.
Sign Up
To set up your virtual bank account, sign up at the WorldFirst website. It will only take a few minutes and verification may take up to an hour.
Fees
It is free to open an account with WorldFirst and there are no fees for receiving money and no monthly charges. All transfers of over $1,000 USD (or foreign currency equivalent) are free while exchange rate margins of as low as 0.5% to 0.15% applies.
Supported Currencies and Countries
WorldFirst offers receiving bank accounts in GBP, USD, EUR, CAD, JPY, AUD, SGD, NZD, HKD and CNH. You can open receiving accounts in the UK, USA, Europe, Canada, China and Japan. These accounts can only be used to receive funds from Amazon marketplaces in those countries.
5. Mercury Business Account for Amazon Sellers
Mercury business account is also one of the best bank accounts for Amazon FBA sellers. Mercury specializes in the e-commerce industry and you can link it with Amazon payment processors. This way, you can manage payments from Amazon FBA directly.
Supported Countries
You can use Mercury business account in over 200 countries. The only countries that are not supported are those that are sanctioned by the U.S.
Supported Currencies
Mercury supports the following currencies: Australian Dollar, Bulgarian Lev, Canadian Dollar, Croatian Kuna, Czech Koruna, Danish Krone, Euro, Hungarian Forint, Israeli New Shekel, Mexican Peso, New Zealand Dollar, Norwegian Krone, Polish Złoty, Romanian Leu, Swedish Krona, Swiss Franc, Great British Pounds, and United Arab Emirates Dirham.
Mercury Business Fees
It is free to register for Mercury business account

It does not charge monthly fees

Domestics wire transfers cost $5
International wire transfers cost $20
Exchange fees: 1%
6. Revolut Business Account for Amazon Sellers
Revolut business account is also one of the best banks for Amazon FBA. You can use your Amazon business account to transfer funds from your Amazon FBA. You can choose between Revolut Standard which is free, Revolut Plus, Revolut Premium and Revolut Metal.
To connect Revolut to your Amazon seller account, make sure to:
Use local account details and local currency
Use the correct Revolut addresses depending on the currency you are using
Verify your account with the account confirmation statement
Revolut Supported Countries
The following are the countries that are supported by Revolut business account; Aland Islands, Australia, Austria, Belgium, Bulgaria, Lithuania, Luxembourg, Malta, Mayotte, Netherlands, Croatia, Republic of Cyprus, Czech Republic, Guernsey, Greece, Hungary, Iceland, Ireland, Isle of Man, Denmark, Estonia, Finland, France, Germany, Italy, Jersey, Latvia, Liechtenstein, Norway, Poland, Portugal, Romania, Slovakia, Slovenia, Spain, Sweden, Switzerland, and United States.
Revolut Fees
You will pay the following fees when using Revolut:
Revolut Standard – Free
Revolut Plus – £2.99 per month
Revolut Premium – £7.99 per month
Revolut Metal – £13.99 per month
7. Starling Bank Account for Amazon Sellers
Starling Bank is the other best bank account for Amazon FBA sellers. Starling Bank is a fully licensed bank by the FCA. You can use Starling's bank account for your Amazon disbursements to all European marketplaces.
You can open a EUR or USD account for £2 and £5 per month respectively. There is also a basic account that comes with free ATM withdrawals and bank transfers. However, the account does not have full integration with Xero or QuickBooks.
Starling Bank Account Supported Currencies
Starling Bank supports two currencies, EUR and USD. However, Starling Bank has stated it is working to bring 21 more foreign currencies.
Starling Bank Account Supported Currencies
You can apply for Starling account even if you are not a UK resident. You only need to be over 16. To apply for an account, download the Starling app from iOS app store, Google Play Store or Huawei AppGallery.
Starling Bank Account Fees
You can expect the following fees when using a Starling Bank business account
• No monthly fees
• Business toolkit – £7 per month
• Euros business account – £2 per month
• Dollar business account – £5 per month
Amazon Payment Service Provider Program (PSP)
Amazon launched its Payment Service Provider Program in February 2021. Through this program, Amazon sellers who were using third parties to receive payments, now have to choose a payment service provider (PSP) from a list of vendors approved by Amazon.
Airwallex
Allpay
China CITIC Bank
CoGoLinks
Currenxie
Glofortune Company Limited
Huifu
iPaylinks
LianLian Global
Netease Global Pay
OFX
Onerway
OTT PAY HK
Payoneer
Photon Dance
PingPong
Skyee
Sunrate
WorldFirst
Zhejiang Chouzhou Commercial Bank
Some Payment Service Providers have met requirements for provisional enrollment.
Allinpay
Bank of Ningbo
Bank of Wenzhou
Baofu
Currencies Direct Ltd
Eaching
Ebury
FortuneTech
Gogotranx
GPS Capital Market
Hyperwallet
Lakala Payment
Payability
PayEco
PingAn Elink
Revolut Ltd
SellersFunding
Shanghai Pudong Development Bank
TransferEasy
Umpay
Vcan FinTech
Whalet
Windpayer
Wise
Zhejiang Tailong Commercial Bank
Final Thoughts on Bank Account for Amazon Seller
If you are an online seller on Amazon marketplaces, you will need a virtual bank account to receive your payments. For example, if you are selling on Amazon UK, you will need a UK virtual bank account. With these options you will be able to sell and receive money from Amazon marketplaces.