Are you looking for a more private and anonymous way to make online purchases using virtual credit cards? Virtual credit cards without verification might be a solution you are looking for. If you're someone who values privacy and wants to avoid the hassle of identity verification or Know Your Customer (KYC) requirements, then virtual credit cards without verification might be the solution you're looking for.
Virtual credit cards provide you with privacy in that online merchants cannot get your private information like banking details. Besides, virtual credit cards also give you some control, whereby you can set spending limits and restrict the types of transactions. Here, we will be focusing further on some of the virtual credit card providers that don't require verification through the use of an ID or any other kind of verification.
Limitations of virtual card without KYC
Although virtual credit cards without KYC are available, they come with some limitations. For instance, some limit the number and permitted value of transactions, while others limit you to in-store purchases only.
Why Virtual Credit Card Without ID?
There are a few reasons why people might want a credit card without verification:
Privacy: Virtual credit cards without ID allow people to make online purchases without sharing their personal information. This can be a suitable option for people who are concerned about privacy or fraud.
Convenience: It's a quick and easy way to make online purchases. You can instantly generate a new card number for each purchase.
Control: Virtual credit cards give you more control over your spending. You can set limits on how much you can spend with each card.
Access to credit: Some people may not have the credit history or income required to qualify for a traditional credit card.
Visa, Amex and Mastercard Gift Cards
Your best bet to get a quick virtual credit card without verification is to buy a gift card online. Gift cards are a popular alternative to traditional credit cards, and they can be used for online purchases just like a regular credit card. Visa offers virtual gift cards that function similarly to credit cards. These cards can be used for online transactions wherever Visa is accepted.
Visa gift cards are available through various retailers, financial institutions, and online platforms. The gift cards often come with a limitation of around $50 or $100. You can find many suppliers in the USA via the VISA website. These are also called the Visa Reward Virtual Account and can also be bought with Bitcoin.
Similarly, you may find Mastercard and Amex cards available as a gift cards that you can use like a credit card, both in its virtual and physical form. Examples are www.giftcards.eu, Mastercardgiftcard.com, and Amexgiftcard.com, and TheBitcoinCompany.com.
Level of anonymity
While most providers don't require extensive verification processes, it's important to note that the level of anonymity and verification requirements may vary depending on the platform.
Ezzocard Virtual Prepaid Card
Ezzocard virtual prepaid card is possibly the best known option for a virtual card without KYC today. It is available for Visa or MasterCard. It is issued by banks in the U.S. or Canada. All their cards are virtual, meaning you can only get a card digitally. It comes with a pretty high fee, and the card is not reloadable.
Ezzocard virtual prepaid cards can exclusively be used for online transactions.
When you are registering Ezzocard, no identity verification is required, such as ID or any other document.
InstaCard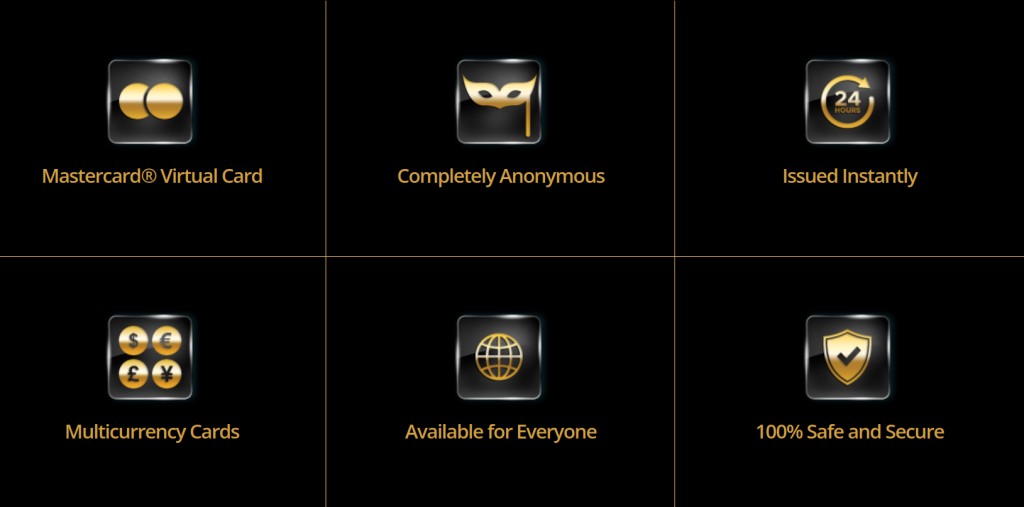 InstaCard seems too good to be true, and when we reached out, they said the cards are currently not available. On its website it claims to provide an anonymous payment method that prioritizes your privacy. With no identity verification required, you can make online payments while keeping your personal information secure. InstaCards are virtual cards, meaning you receive the MasterCard details online without a physical card. They can't be used in traditional offline shops or ATMs.
To fund your InstaCard, you have multiple options available, including cryptocurrency, PayPal, bank transfers, and Western Union. Choose the most suitable funding source for your needs. After a successful payment, you'll receive your credit card details within 24 hours. These include a virtual MasterCard number, expiry date, and CVV code, enabling secure online transactions.
Regardless of your location, you can purchase InstaCards from anywhere in the world. This makes InstaCard convenient for anyone. Your card has a maximum limit of €10,000, and you have the flexibility to generate unlimited cards as a user. While InstaCard offers a range of benefits, including single-use virtual cards, instant creation, high transaction limits, unlimited cards, cryptocurrency top-up, complete anonymity, no monthly fees, and no transaction fees, it's important to consider the one-time card fee, which is €49.
Please note that we could not verify the legitimacy of InstaCard, nor were we able to find any real user feedback. What we did find out is that the service is currently not available. If you proceed with InstaCard, please let us know your findings if you discover anything new.
Skrill Virtual Prepaid Card
You can get Skrill virtual prepaid card without verification and start making online purchases where Mastercard is accepted. However, you can only send and receive funds up to a certain limit until you verify your Skrill virtual card.
Skrill transaction limits for unverified users vary from one location to the other to comply with different regulatory requirements.
If you are looking for a quick fix to send or receive a small amount of money and don't need to verify your account, Skrill is a great option.
The process of getting a Skrill virtual card is straightforward. You just need to apply online, get the card, add funds, and start making payments.
Neteller Virtual Card
Neteller virtual card is the other prepaid card you can get without verification. However, with an unverified Neteller virtual card, you get limited transactions. You can deposit money into your Neteller account but with limited transactions. Once you hit the limit, you cannot transact further until you verify your virtual card.
Neteller has varying transaction limits depending on your location to comply with different regulatory requirements. As such, depending on your location, your transaction limits can vary if you are an unverified user.
Neteller virtual card is an excellent choice for those using PayPal who don't want to link a card to a credit card or bank account. The good side of this virtual card is that it works just like a credit card and can use to make online payments.
Netspend Virtual Card
Netspend virtual card allows you to pay for purchases or bills using funds in your Netspend card account. You can request up to 6 virtual accounts for each active card account. You can add funds to your Netspend Account using an online bank transfer. Furthermore, you can also add funds from any U.S issued bank account. You can use your virtual card anywhere Visa or MasterCard are accepted.
Netspend offers a free virtual credit card without verification. However, you can still use the card without verification, but your account will be restricted. You can only use the card for in-store purchase transactions. However, you can only use this virtual card while you are in the U.S. However, if you are outside the U.S., you can use VPN or proxy servers.
Paysafecard
Paysafecard is a prepaid payment voucher that allows you to buy online. You can buy a Paysafecard voucher at most convenience stores, shops, and gas stations without revealing your personal information. Once you have purchased a voucher, you enter the 16-digit PIN code on the website or in the app to pay for what you want to buy.
Getting a Virtual Credit Card without KYC is still possible
Most virtual credit cards are issued by banks or other financial institutions and are designed for online transactions. Online transactions pose a greater risk of fraud and unauthorized use. As such, verification helps to mitigate such risks by ensuring the person using the card is a legitimate cardholder.
Verification methods include sending a verification code to the cardholder's phone or email or requiring the cardholder to upload a copy of government-issued identification.
While it was once possible to obtain virtual credit cards without any form of identification or Know Your Customer (KYC) verification, the landscape has evolved, and acquiring such cards without verification is becoming increasingly challenging. Financial regulations and concerns about fraud and money laundering have prompted stricter policies and procedures for issuing credit cards, both physical and virtual.
Many reputable virtual credit card providers now require some level of verification, such as providing personal identification information, linking to a bank account, or undergoing a KYC process. This helps establish the user's identity, verify their financial status, and mitigate the risk of fraudulent activities.
As the financial industry continues to prioritize security and regulatory compliance, the trend is moving toward more stringent verification processes for virtual credit cards. If you're seeking a virtual credit card without verification, you may face mounting challenges as the industry increasingly emphasizes stringent verification processes, limiting options that offer full functionality and flexibility.
Virtual credit without KYC FAQs
Can I get a virtual credit card without verification?
Virtual credit cards without verification are available, but they have some limitations. For example, some limit the number and value of transactions, while others only allow you to use them in stores. It is important to note that the level of anonymity and verification requirements may vary depending on the platform.
Are virtual credit cards safe?
Virtual credit cards can be a safe way to shop online. They offer some security advantages over traditional credit cards, such as limited exposure of your personal information and increased fraud protection. However, it is important to note that virtual credit cards are not 100% safe.
Are there free virtual credit card without verification?
There are a few virtual credit cards that are free and do not require verification. However, it is important to note that these cards often come with limitations.