Is Chime an online bank? Yes, Chime Bank is a US virtual bank that seeks to reduce or cut out in totality certain banking charges. A look at its features, Chime bank pros and cons, this Chime banking review will help you decide if Chime is for you.
Chime bank benefits
No monthly fees, no overdraft fee, and over 60,00 free free ATMs.
Savings and spending account with a Visa debit card and Chime virtual debit card.
Send and receive money from family and friends for free.
Get your paycheck 2 days early with direct deposit.
Credit score builder with Chime credit card with no annual fees/interest or credit check.
Automatic saving by rounding up your transactions to the nearest dollar and transfer to your savings account.
How to buy cryptocurrency on Paxful from a US bank account
Chime bank does not allow you to use Chime debit card to buy cryptocurrency. However, Chime's integration with the cryptocurrency exchange Paxful allows you to buy cryptos via "Chime Instant Transfers" and pay individuals with Bitcoin using their email, phone number, or username. Your cryptos will be stored either on your own wallet or Paxful wallet not on your Chime account.
If you need a USD online bank that supports cryptocurrency investing such as Bitcoin, Ether, Litecoin, and Bitcoin Cash, you should try Revolut bank, which rounds up your spare change in crypto.
Who Should Consider Chime?
Chime is a US online bank. It is designed for clients who desire to have a simple savings and spending account with mobile-friendly features and minimal fees. It will serve you well if you are looking for the following aspects in a bank:
Savings account that doesn't have a minimum balance requirement
A checking account that doesn't have overdraft fees and that has a debit card
Ability to send money easily and instantly to other Chime customers without incurring any additional charges
Convenience of the online banking approach
Has no monthly fees
A 'second chance banking option' that doesn't hold the records of the ChexSystems against you.
Is Chime a Real Bank?
Chime is basically a fintech company. Its banking services are offered in partnership with the Bancorp Bank or Stride Bank, N.A. Bancorp and Stride are members of the FDIC, meaning your deposits are federally insured up to $250,000.
Pros and Cons of Chime Bank
Benefits of Chime Bank

In the modern banking world, speed is key. One of Chime bank features is early direct deposit, which enables an account holder to access his/her paycheck 2 days earlier. Since fees is one the main stress for account customers in many banks, Chime has reduced fees. International transactions and overdrafts, for instance, do not attract any fees. What's more, you won't have to pay any monthly maintenance fees neither is there any minimum balance requirement.
The bank has a very interesting feature to help customers save better, the Automatic Savings Round Up feature. Every time you use your Chime debit card or virtual Chime card, the system will round up the used cash to the nearest dollar and automatically deposit the remainder to your savings account. Another option availed by Chime is the 'Save When I Get Paid' feature. With this, 10% of your income will automatically be transferred to your savings account. The mobile Chime bank app feature (Android and iOS) enhances the convenience of making transactions to and from your bank account. Lastly, Chime bank rates operates at an APY rate of 1.6%
Disadvantages of Chime Bank
Despite the numerous benefits of using Chime bank, you need to know its drawbacks. Being a virtual bank, it has a complex process of cash deposits. You need to go to a Green Dot location to deposit cash. The process is likely to attract a fee of about $4.95. There are also checks-related complexities; if you want to send a check, you will have to request Chime to do it on your behalf. However, you can only send one worth $5,000 per payment. Additionally, the payment request usually takes between 3 and 9 days to reach the intended party. Furthermore, while there are numerous Visa Plus Alliance and MoneyPass ATMs that you can use without incurring any charges, transacting outside these will attract $2.50 for every transaction. Opening a joing account with Chime is also not possible.
Does Chime have a joint account? At the moment, Chime does not offer joint accounts or secondary cards.
How Chime Bank Works
Opening an Account with Chime
Chime offers two types of accounts: the optional savings account and the spending account. With the savings account, your deposited funds will earn an interest of 1.6% per annum. On the other hand, its spending account has a debit card that is powered by Visa.
To open either of the Chime accounts, begin by downloading the Chime online banking app for free either on iOS or Android. After that, you will be required to fill in personal details such as your:
Phone number
Name
Home address
Email address
Social security number
Date of birth `
How to Deposit Funds to Your Chime Bank Account
There are various ways that you can deposit funds into your Chime account. This includes cash deposit, transfer of funds from another bank account that is linked to your Chime account, depositing directly from a payroll agent and digitally depositing a paper check.
It is possible to deposit cash to your Chime bank account through Green Dot at various retail locations throughout the country. However, since the transfer service is offered by a third party, it may be subject to certain fees and transaction limits depending on the agent.
How to Withdraw Money From Chime Bank
One can easily withdraw funds from his/her Chime bank account through any Visa Plus Alliance or MoneyPass outlet. This means that you are able to withdraw cash from any of the 38,000 ATMs available within the U.S. at no extra cost. The retail and banking locations where these ATMs are located include:
Certain banks and credit unions
Get Go
CVS Pharmacy
Bi-Lo
Costco Wholesale
Target
7-Eleven
Winn-Dixie
Walgreens
It is important to note that if you choose to withdraw funds from an ATM that is not part of the Visa Plus Alliance or MoneyPass network, you will be subjected to a $2.50 charge by Chime. This is in addition to the fees charged by the operator of the foreign ATM.
Does Chime work with Apple Pay? Is Chime compatible with Samsung Pay? Can I link my Chime card to Google Pay?: Yes, Chime Visa debit card works with Apple Pay, Google Pay and Samsung Pay.
Chime Card Review
Chime Debit Card
As a customer of the bank, you will get Chime Visa Debit card. Chime bank card works everywhere Visa debit cards are accepted. There are no monthly account fees or minimum balance requirements. However, out-of-network cash withdrawal fees apply. You are able to link your card to mobile pay platforms such as Apple Pay and Google Pay.
Every time you swipe your debit card, we round up to the nearest dollar and transfer the round-up from your Spending Account straight into your Savings Account. A magical, little way to make your money grow over time.
How to Order Chime Card
order Chime card by going to the website and enter your personal info and complete the enrollment procedure. Once enrollment is completed, Chime will send a Chime Visa debit card in the mail to the address you provided. In most cases, your new Chime debit card arrives in 7-10 business days.
Chime Bank Credit Card
Does Chime have a credit cards? Yes. Chime credit card is different from the debit card. In order for you to have a credit card, you must first have a spending account (debit card).
Does Chime Have a Virtual Card?
Chime virtual card is available to you while you wait for your physical card to arrive in the mail. In order to access your temporary card, or view your physical card's information when you don't have your card, simply go to the "Settings" section of your app. There will you see the option to "View Temporary Card." This option will only be available to you in the app if you do not have an active physical card. If you do have an active physical card, this section will say "View My Card" instead. This feature is helpful when you don't have your card on you but need to know your card details.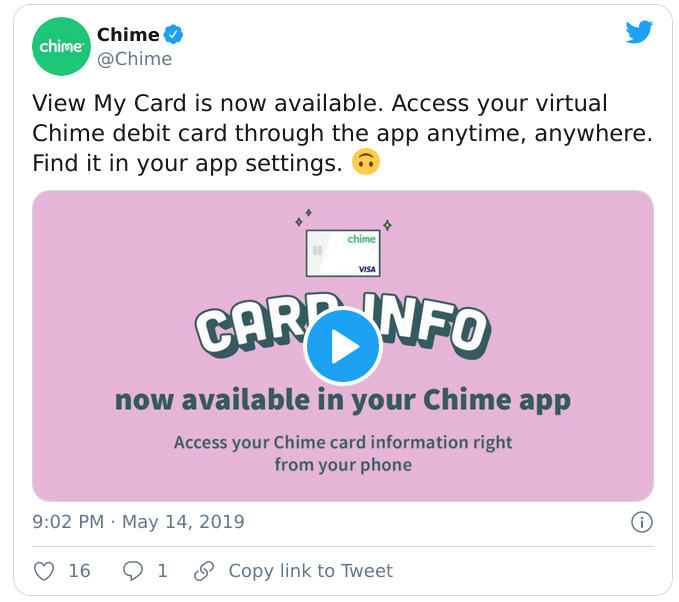 Does Chime charge ATM fees? Chime has over 60,000 fee-free ATMs belonging to its ATM partners. You can use Chime app to find an ATM near you or Chime ATM Finder. However, if you use an ATM outside of Chime's lnetwork, you will pay a fee of $2.50. There will be an additional fee added by the ATM operator that is separate from Chime's fee.
What is Chime Credit Builder Card
Chime credit builder is a Visa secured credit card. Chime credit builder feature allows you to increase your credit score by an average of 30 points with Chime secured credit card.
Whether it's gas or groceries, everyday purchases can count toward building credit. Turn on Safer Credit Building and your balance will be automatically paid on time, every month. Chime will keep the major credit bureaus updated.
How Does the Chime Credit Builder Work?
When you add funds to your Credit Builder secured account, the amount you have deposited becomes the total amount you can spend using the Credit Builder card. The amount you spend on the card will be held in your Secured Account until payment is made.
There is no minimum deposit to the Credit Builder Card required, annual fees, maintenance fees, international fees, or interest rates. This is how to get Chime Credit Builder card: To sign up, you must have received $200 or more in direct deposit to your Spending Account in the last 365 days.
SpotMe Chime
SpotMe lets you make debit card purchases that overdraw your account with no overdraft fees. Limits start at $20 and can be increased up to $100.
Chime Bank Locations
Chime bank is a virtual bank. However, its head offices are in San Francisco. Find out Chime bank locations near you for its free ATMs and cash back.
Is Chime Bank Legit?
Chime is basically a financial institution whose banking services are provided by its regulated partners, Stride Bank and The Bancorp Bank. This means all Chime accounts are FDIC insured up to the standard maximum $250,000 per depositor. Its safe to keep your money with Chime.
Chime Bank Alternatives
There is a growing number of online banks nowadays. If you think Chime bank is not good for you, these are other Chime bank alternatives:
There are also options for opening a US virtual bank for non-residents.
Final Thoughts on Chime Bank
Chime is one of the modern banks in the U.S. that is keen on offering its clients a new banking experience. Its operating strategy includes digitalization of its services, scrapping off some of the usual charges, and availing features that enable individuals to save more. Moreover, Chime bank statement is a paperless monthly statement available in your Chime online banking platform. You can download or print your monthly statements by going to your online account
More Information