Revolut is a crypto friendly bank that offers personal and business multicurrency accounts, cryptocurrency, a debit card, a virtual card, money transfer and currency exchange services. The company was established in London in 2015 by Nikolay Storonsky and Vlad Yatsenko. In this article, we will review services offered by the Revolut.
Benefits of Revolut Virtual Bank
You can order a virtual card as well as physical debit cards (MasterCard and Visa) for online/offline purchases and withdrawals.
Revolut is crypto friendly, so you can buy and sell cryptocurrencies such as Bitcoin.
When travelling, Revolut allows you to withdraw money using ATMs up to £200 a month without transaction fees. A 2% fee will apply for anything above the limit.
You can send money abroad at no cost or with a 0.5% fee for anything above £5,000 each month.
Revolut offers health and mobile phone insurance to its customers in the UK for £1.00 per day.
How to Sign Up for Revolut Account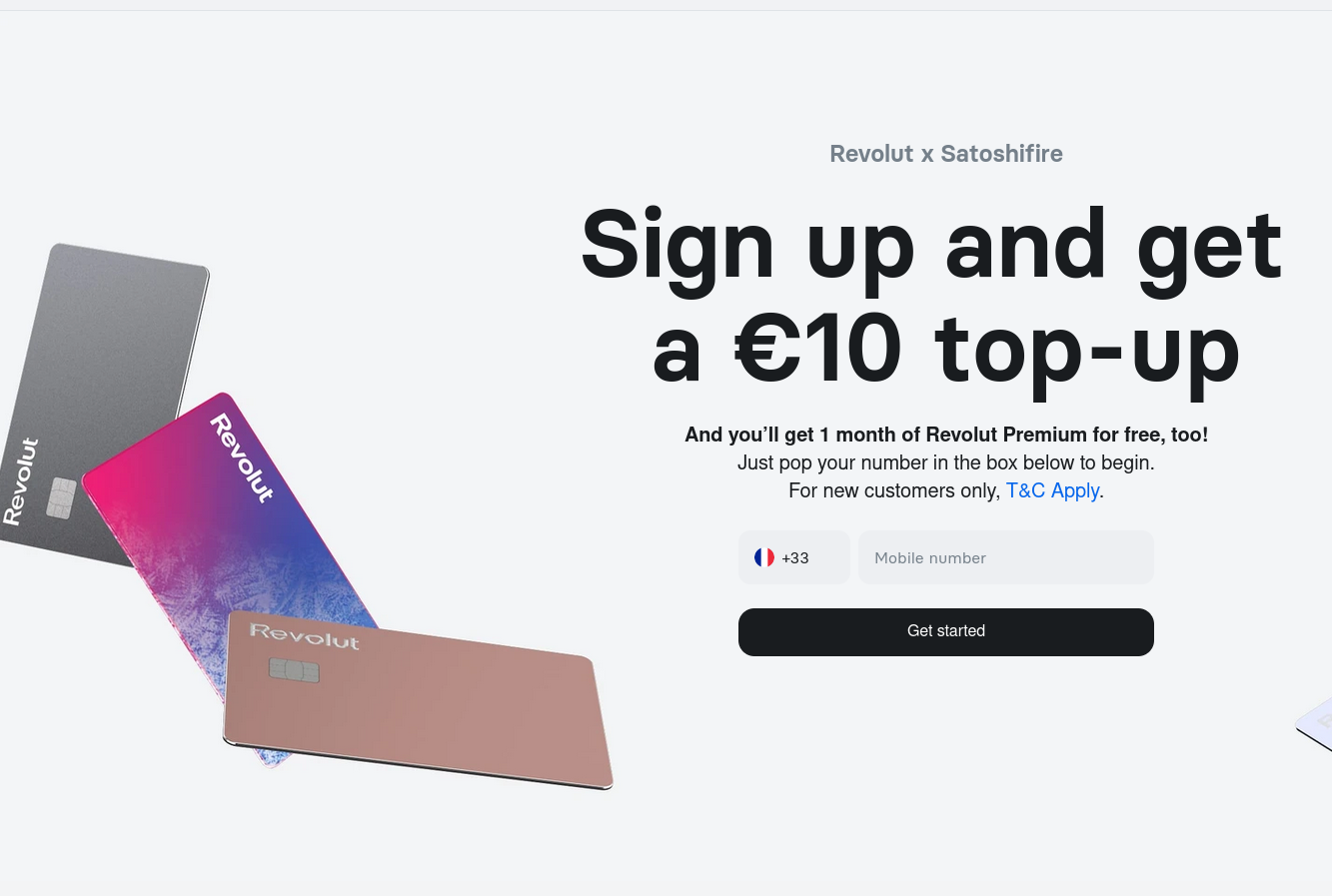 To sign up for a Revolut account, you first need to download the app for Android or iOS. Then you will be required to provide your name, date of birth, email and home address, and phone number. For identification, you need to take a selfie and an image of your passport. After setting your password, you will receive a six-digit code in the phone to confirm your account.
Opening an account with us takes just minutes, and because we don't believe in branches, you can set one up directly from your phone.
Type of Accounts

Revolut offers individual and business accounts. With these account, you will have a multi-currency account, a GBP account with unique sort code and account number and EUR account with IBAN and BIC details. You will also be able to exchange and transfer your money in 29 other currencies using SWIFT or SEPA.
You have the option of subscribing to a Standard account, which is £0/m, Premium account for £6.99/m and Metal account at £12.99/m. Revolut Junior is available for ages 7-17 through a parent or guardian with a Revolut Premium or Metal subscription.
If your company is registered in Poland or Norway, Revolut can provide you with unique local account details for inbound transfers in PLN and NOK respectively (outbound transfers will be sent as SWIFT payments).
All Revolut accounts have a built-in budgeting feature that shows customers where their money is going each month. They can also set up monthly budgets for things like restaurants and groceries.
Cryptocurrency on Revolut
Revolut cryptocurrency service allows account you to instantly exchange 29 currencies into cryptocurrencies, including Bitcoin, Litecoin, Ethereum, Bitcoin Cash, and Ripple. The bank works with cryptocurrency exchanges such as Coinbase and Bitstamp to allow you to buy crypto easily from your Revolut account. However, cryptocurrency transactions are not safeguarded under the UK Electronic Money Regulations 2011 or covered by the Financial Services Compensation Scheme. Moreover, Revolut's cryptocurrency service is not regulated by the Financial Conduct Authority, a UK financial regulatory body.
With Revolut crypto, you can set up two types of automatic cryptocurrency purchases:
Auto-exchange: This allows you to buy cryptocurrency in the future if the exchange rate hits a target rate that you set. For example, you could set up an auto-exchange to buy Bitcoin when the price hits $20,000.
Recurring buy: This allows you to buy cryptocurrency at regular intervals, such as once a week or once a month. This is a good way to dollar-cost average your purchases, which means that you buy the same amount of cryptocurrency each time, regardless of the exchange rate.

If you are on an eligible plan or in an eligible location, you can withdraw your cryptocurrency balance to an external wallet. Unfortunately, you will not be able to receive cryptocurrencies sent from outside the Revolut platform, e.g. external wallets. This is a closed offering whereby you can buy, sell, exchange, and transfer within the Revolut platform.
Revolut Money Transfer

Revolut uses interbank exchange rate for money transfer in over 29 currencies. Revolut supports both SWIFT and SEPA transfers to or from customers' Revolut account.
Banks will charge you when you spend or transfer money abroad. We're not about hidden fees or rubbish exchange rates, and that's why 10M+ people already use Revolut.
Revolut Supported Countries
Revolut's services are available in the following countries: Austria, Australia, Belgium, Bulgaria, Canada, Croatia, Republic of Cyprus, Czech Republic, Denmark, Estonia, Finland, France, Germany, Greece, Hungary, Iceland, Ireland, Italy, Latvia, Liechtenstein, Lithuania, Luxembourg, Malta, Netherlands, Norway, Poland, Portugal, Romania, Singapore, Slovakia, Slovenia, Spain, Sweden, Switzerland, the United Kingdom and the United States.
Revolut USA
Revolut officially launched in the US in 2020. The fintech operates in the US in partnership with Metropolitan Commercial Bank (MCB), which holds clients' funds and provides FDIC insurance for up to $250,000. Account holders in the US have access to AllPoint ATMs. There are no fees for withdrawals, up to $300 a month under the standard plan, $600 a month under the premium plan and $900 under the Metal plan.
Revolut Fees
Revolut charges a variety of fees for its services. Here is a summary of the monthly fees:
| Plan | Fees (UK) | Fees (US) |
| --- | --- | --- |
| Revolut Standard | Free | Standard: Free |
| Revolut Plus | £2.99/month | Premium: $9.99/month |
| Revolut Premium | £6.99/month | Metal: $16.99/month |
| Revolut Metal | £12.99/month | |
| Revolut Ultra | £45/month | |
Revolut may also charge other fees for specific services, such as card delivery fees and currency exchange fees for certain currencies.
Revolut Crypto Fees
Revolut charges different percentage-based fees for cryptocurrency transactions depending on the plan that you are on. In addition to the percentage-based fee, Revolut also charges a spread on cryptocurrency exchanges. The spread is the difference between the buy and sell price of cryptocurrency.
Here is a table of the fees that you will pay for cryptocurrency transactions on Revolut, depending on your plan minus the network fees:
| Plan | Percentage-based fee | Spread | Total fee |
| --- | --- | --- | --- |
| Ultra | 0.49% | 1% | 1.49% |
| Premium | 0.99% | 1% | 1.99% |
| Metal | 0.99% | 1% | 1.99% |
| Standard | 1.49% | 1% | 2.49% |
| Plus | 1.49% | 1% | 2.49% |
Is Revolut Safe?
Revolut is a safe company to store and send money. The company is authorized by the Financial Conduct Authority (FCA) and holds a banking license for the EEA (European Economic Area). It operates in Ireland on freedom of services basis. Money for Revolut customers in Ireland is kept in a segregated account in Lloyds bank, and Revolut has no access to the money. Your funds in Revolut US are held at Metropolitan Commercial Bank, an FDIC insured institution.
Investment products offered by Revolut, such as stocks, commodities, and cryptocurrency, are not protected by deposit insurance or other government guarantees.
Revolut has a dedicated team of security experts who work to make your account safe. Its products and services are designed with customers' account's safety in mind. For example, you have the option to freeze or unfreeze your card in the app in case it is lost or stolen. If it happens that your card is used in a different location apart from your phone, you will receive a notification through its location based security feature, so you can instantly block its use. You have the option to log into your account using your fingerprint, and its disposable cards can be used once for online payments and destroyed to prevent future use.
Your money is not covered by the Financial Services Compensation Scheme in the UK, while up to $250,000 is insured in the US.
Customer Review
As of August 2023, Revolut has a good reputation on Trustpilot, with a rating of 4.3 stars from over 130,000 users. Many users praise Revolut for its ease of use, security, and customer service. They also appreciate the wide range of features and convenience that Revolut offers. However, some users have experienced problems with the app and customer service. For example, some users have reported that the app has crashed or been slow at times, and that customer service can be slow to respond.
Revolut Alternative
Other cryptocurrency banks you can use are the following.
Conclusion
Revolut, a widely-used mobile banking app in over 30 countries, offers a range of functionalities such as multicurrency accounts, personal and business accounts, crypto trading, and peer-to-peer payments.
While relatively new, Revolut's crypto trading features have garnered positive feedback from users. Additionally, Revolut offers staking services for specific cryptocurrencies, allowing users to earn interest on their holdings.
For those seeking an uncomplicated and user-friendly method to engage in crypto trading, Revolut serves as a suitable choice. However, it's important to understand that Revolut operates as a custodial exchange, meaning they hold control over your cryptocurrency keys. This could potentially result in limited control over your funds, including the possibility of access restrictions.
More Information
Revolut FAQs
Is Revolut crypto friendly?
Yes, Revolut is crypto-friendly, offering various features for cryptocurrency investors. These include the ability to buy, hold, and sell over 30 cryptocurrencies, as well as send and receive cryptocurrencies to other Revolut users. However, Revolut holds your cryptocurrency in a custodial wallet, which means that they have access to your private keys. This could be a security risk if Revolut were to be hacked.
Is Revolut a crypto wallet?
Revolut is not a crypto wallet in the traditional sense. It does not allow you to hold the private keys to your cryptocurrency, which means that you do not have full control over your assets. Revolut stores your cryptocurrency in a pooled account, which means that it is mixed with the cryptocurrency of other Revolut users.
Is Revolut good for crypto?
Revolut may not be good for crypto because it charges high fees and does not give you the private keys to your cryptocurrency, which means that you do not have full control over your assets. If Revolut were to go bankrupt or be hacked, you could lose your cryptocurrency.
Is Revolut safe for crypto?
Revolut is generally considered to be a safe platform for buying and selling cryptocurrency. It is a regulated financial institution, and it uses some of the most secure methods to store your cryptocurrency. However, when you buy cryptocurrency on Revolut, you do not have access to your private keys. This means that if Revolut were to go out of business, you would not be able to access your crypto.
What's Revolut sort code?
If you have a UK account with Revolut, you can find your sort code by opening the app and going to More > Profile > Account Details > GBP, or by tapping on your GBP balance on the home screen.