Wirex provides a virtual debit crypto card that enables you to spend your cryptocurrency and traditional currencies in the same way you would use a regular debit card. With this card, you can make payments both in physical stores and online. These transactions are conducted using local currencies. In addition to cryptocurrencies, Wirex also supports fiat currencies such as USD, GBP, and EUR, providing a wider range of financial options for you.
Benefits of Wirex Virtual Card
The Wirex prepaid debit card offers a number of benefits that make it stand out from other cards on the market. These benefits include:
Spend both fiat and cryptocurrency: The Wirex Card allows you to spend both traditional currencies and cryptocurrency seamlessly. This means you can use your crypto to make everyday purchases like groceries, bill payments, or hotel bookings. Furthermore, the Wirex card enables you to withdraw cash from ATMs.
Free Wirex Card: There is no upfront cost to obtain the Wirex Card, making it an attractive option if you are looking for a cost-effective way to pay for goods and services.
Global: The Wirex Card is accepted in over 150 countries, making it a great travel companion. It also offers real-time point-of-sale (POS) conversion, which can save you up to 3% on international purchases.
8% Cryp Rewards: The Wirex Card offers up to 8% instant cryptoback on every purchase, which means that you can earn cryptocurrency rewards for simply using the card. This is a great way to earn passive income and grow your crypto portfolio.
No monthly fees: The Wirex Card does not charge any monthly fees, so you can enjoy the benefits of the card without having to worry about hidden costs.
Zero exchange fees: Wirex offers zero exchange fees for all international transactions.
Up to $200 free ATM withdrawals: You can enjoy up to $200 in free ATM withdrawals per month.
How to Use Wirex Virtual Card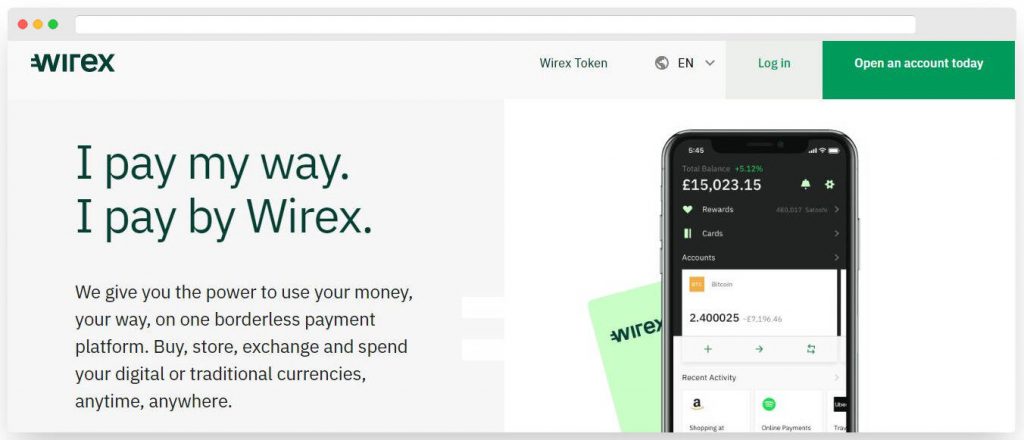 The Wirex virtual card operates similarly to a standard debit card. Upon registering for a Wirex account, you can generate your virtual card, which will be instantly accessible within the app for immediate use in your everyday transactions.
In order to use your virtual card, you must first load funds onto it. To fund your Wirex account, you can choose from options such as bank transfers, cryptocurrency transfers, debit/credit cards, or third-party payment providers like PayPal, Revolut, or Skrill.
How to Open Wirex Account
To open Wirex account, you need to register online or download the Wirex app, for Android and iOS. You will be required to select your country, provide your phone number, password, your identity, and if necessary, your address. For proof of identity, you need a valid government-issued ID. After filling out all the details, you will receive an email with an activation link as well as a 7-digit code in a text message. It might take up to 10 minutes for the code to arrive. Your account will be active once you complete these steps.
Wirex Card Limits
The limits for the Wirex virtual card can vary based on the currency used and the specific Wirex account plan. These limits can be increased by upgrading your Wirex account plan. Here are some examples of the Wirex virtual card limits:
Daily spending limit: The maximum amount that can be spent in a day is 10,000 EUR or its equivalent in other currencies.
Monthly spending limit: The maximum amount that can be spent in a month is 30,000 EUR or its equivalent in other currencies.
Daily ATM withdrawal limit: The maximum amount that can be withdrawn from an ATM in a day is 500 EUR or its equivalent in other currencies.
Monthly ATM withdrawal limit: The maximum amount that can be withdrawn from an ATM in a month is 5,000 EUR or its equivalent in other currencies.
Number of ATM transactions: The number of ATM transactions allowed per day is limited to 5.
Wirex Card Fees
The Wirex virtual card is priced at US$3. The first virtual card is free. The total cost of the Wirex card will vary based on your chosen Wirex plan. Wirex monthly fees are as follows:
| Plan | Price |
| --- | --- |
| Standard | €0/month* |
| Premium | €9.99/month* |
| Elite | €29.99/month* |
If you pay upfront for the whole year, you get a 15% discount.
Wirex Card Available Countries
Wirex is available in over 130 countries around the world. However, the availability of the Wirex card varies by country. Countries where the Wirex Mastercard virtual card is currently available include the United Kingdom, various European Union member states, the United States, Canada, Australia, Singapore, Japan, and Hong Kong.
Is Wirex Safe?
Yes, Wirex virtual card is safe and legit. The company that has been around since 2014 serving over 3 million customers in 130 countries. Wirex is a licensed by the U.K. Financial Conduct Authority (FCA) and authorized by the Bank of Lithuania as an e-money institution. It is PCI DSS Level 1-certified and uses multi-signature, cold-storage to secure customers' accounts. Wirex allows you to freeze or unfreeze your card in-app if you notice suspicious activities. In the US, the Wirex prepaid card funds are held in an FDIC-insured federally chartered bank, insured up to $250,000 per person.
Wirex Virtual Card Alternative
Wirex is not the only fintech offering cryptocurrency and fiat debit card. Wirex virtual card alternatives that you can look into are the following:
More Information
Wirex support: +44 (0) 333 202 3645 (standard geographic rates apply)
What's Wirex card?
Wirex is a digital payment platform that offers physical and virtual prepaid Visa card for spending cryptocurrencies and fiat currencies in over 130 countries, both online and in-store.
How do I get a Wirex virtual card?
To get a virtual Wirex card, sign up for a Wirex account. Once logged in, go to the "Cards" section and select the "Virtual" card option. Click "Get Virtual Card," and top up your account if needed. Your virtual card will be immediately available in the app for your use.
Is Wirex virtual card free?
The Wirex virtual card is priced at US$3. The first virtual card is free.
What countries accept Wirex virtual card?
Wirex virtual cards are accepted in over 130 countries. You can check the latest list of Wirex supported countries here.
How to use Wirex virtual card
To use your Wirex virtual card, activate it and get the card details. For online purchases, enter the card details at checkout. In-store transactions can be made by using the virtual card at Visa or Mastercard card-compatible payment terminals.
Is Wirex card a credit card?
No, Wirex card is a multicurrency debit card.