Founded in 2019, Bankly is a Nigerian fintech providing a virtual saving wallet for the unbanked and informal sector in Nigeria. It also offers money transfer services, savings, loans, bill payments, and solutions for businesses to accept payments.
Small businesses and informal/blue-collar workers [in Nigeria] rely heavily on thrift collection systems (called ajo in the west, adache in the north and esusu in the east) to save. Bankly provides digital frameworks for these systems eliminating fraud, decentralising funds and improving transparency.
Bankly Services
Bankly servies can be accessed from an ATM, mobile wallet, SMS, USSD, POS terminal, Bankly agent, and Bankly app, available for Android at the moment.
Savings
Bankly provides a secure platform for digital savings specifically designed for the cash dependent informal economy in Nigeria. Nigeria is primarily a cash economy nation partly due to financial illiteracy. In 2017, only 40% of Nigerian adults in the most populous country in Africa were banked with a financial institution or a mobile money institution. Apart from helping informal traders save, cash digitisation service reduces fraud and theft prevalent in the informal sector.
Bill Payments, Money Transfer and Cash Outs
Bankly's customers are able to use the platform to pay for bills, buy airtime, transfer money to family, friends or businesses as well as cash out from agents.
Payment Solutions for Small Businesses
Bankly offers a complete payment management solutions to allow small businesses to accept payments and manage their business operations.
Bankly Agents
Bankly enables Nigerian entrepreneurs to earn extra income by becoming Bankly mobile money agent. Bankly agents earn through commission. An agent can earn up to 500,000 naira a month.
Bankly Loans
Bankly allows its customers to access bank overdraft service as well as acquire a loan based on your account history.
Data As Service
The data that Banklys collects is shared with partners to allow customers to easily access other financial services from their partners such as credit and insurance.
How Bankly Works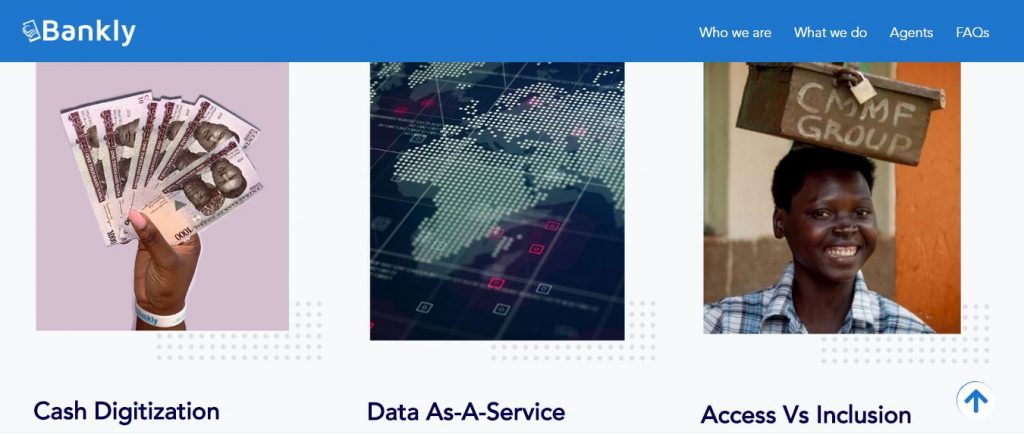 Registering
To use Bankly service, you first need to register. Registration is easy and it takes a few minutes. You need to have a mobile phone then dial *5554# and provide the required information.
Bankly was the winner the Innovating Justice Challenge 2019.
Funding Your Wallet
You can either fund your Bankly wallet through a Bankly voucher, bank trasfer, ATM card, bank deposit or a direct bank debit from your bank. Note that funding your wallet through bank deposit can only be done at GTbank branch.
Withdrawing
There are many options for you to withdraw your funds. You can withdraw from an agent or an ATM (you should request a debit card for this option).
Bankly Virtual Top Up (VTU) is a transfer of money from one Bankly user to another i.e. Agent to Customer, Agent to Agent, Customer to Customer etc.
Savings
To start a savings plan, you have to create a "Goal Based Savings Plan" and a target amount. Afterwards, you can start depositing money to meet your goal. In case you withdraw from your savings plan before you reach the target amount, 5% (a breaking fee) of the total amount deposited will be deducted.
How to Become a Bankly Agent
In addition to helping Nigerians in the informal sector secure and save their money, Bankly focuses on job creation through their Bankly Agents scheme. It is free to become a Bankly agent. What you need is startup capital. An agent can earn up to 500,000 naira a month. You can start with as little as N5000 as agent and start earning Bankly agent commission.
Bankly Agent Commission
Bankly agent commission is earned from customers' deposits and bill payments. For bill payments, Bankly agent commission is 2%. For deposits, customers are charged as the traditional model (1 out of 30 days) or 1/30 = 3.34% of every deposit.
Bankly Agent Points
Bankly agents accumulate points that come with financial and material benefits. An agent who accumulates 50,000 points becomes an "Oga." An Oga can access up to 50,000 naira in loans and weekend overdraft. If an agent accumulates +300,000 points, they become a "Supa." A Supa can access up to 300,000 naira in loans, weekend overdraft and a chance to win a smartphone. An agent with +500,000 points is a Chairman who can access up to 500,000 naira in loans, weekend overdraft, health insurance and a chance to win an all paid international trip (if you become a Chairman on or before 31st May 2020).
Bankly Aggregator
Bankly Aggregator is an agent who operates and maintains a minimum of 50 agents. An aggregator earns rewards for the transactions their agents do as well as bonus when their agents reach Oga, Supa, or Chairman level.

Bankly Agent POS
As a Bankly agent, you can also get Bankly Point of Sale (POS). You must be wondering, how much is Bankly POS? You are able to get a free POS terminal from Bankly as an agent. However, you can also request to buy a POS.
To get Bankly POS machine, download Bankly agent app and sign up as Bankly Agent. You can use your business/personal name. After your sign up you will send the name and phone number you registered with to for mapping as an Aggregator. Basic requirements for the registration for Bankly POS include your valid government ID Card such as voters card, national ID card, international passport, driver's license, NEPA bill Or other utilities bill. Get all required information on how to get Bankly POS machine.
Bankly POS Charges
Bankly charges 0.3% on POS withdrawals and a flat rate of N35 on all transfers. These are the charges that you will be collecting from Bankly customers on behalf of the bank as an agent.
Bankly Charges/Fees
The following is the breakdown of Bankly charges
| Transfer/Withdrawal | Total Fee (₦) | Agent Fee (₦) | Bankly Fee (₦) |
| --- | --- | --- | --- |
| Any Amount | 35 | – | 35 |
| Bankly Saving Voucher | Total Fee (₦) | Agent Fee (₦) | Bankly Fee (₦) |
| --- | --- | --- | --- |
| 200 | 20 | 20 | – |
| 500 | 50 | 50 | – |
| 1, 000 | 50 | 50 | – |
| 2, 000 | 100 | 100 | – |
| 5, 000 | 100 | 100 | – |
| Transaction Type | Amount (₦) | Agent Fee (₦) | Bankly Fee (₦) |
| --- | --- | --- | --- |
| Airtime/Data | Any Amount | 2% Discount | – |
| Pay Bills | Total Fee (₦) | Agent Fee (₦) | Bankly Fee (₦) |
| --- | --- | --- | --- |
| Cable TV / Electricity | 100 | 50 | 50 |
The COVID-19 pandemic has led to economic uncertainties, loss of jobs, increase in depression and more. Incidences of domestic violence and sexual abuse rises as victims are forced to stay in the same location with abusers due to the lockdown, while abusers also takes advantage of the limited options available to those exposed in times such as these. Bankly has partnered with WARIF (Women at Risk International Foundation) to help victims access support and help give them a voice against injustice and end the violence against women. If you or someone you know is at risk, SPEAK UP NOW and REACH OUT by calling or texting our 24/7 confidential help lines on 08092100009.
Is Bankly Safe?
Your deposits are protected with the Nigerian Deposit Insurance Commission through Bankly partner banks.
More Information