Eversend is a mobile fintech startup founded by Ugandan entrepreneur Stone Atwine. The fintech allows users to save, send and exchange money in multiple currencies in a single app. Users are also able to pay bills, send talk-time and get credit. Soon, users will be able to buy insurance as well.
We started with one inspired young man fixing the perils of sending remittances to her grandma in Uganda. Now we're building the financial octopus for Africa and beyond.
How to Open Eversend Account
To open an account with Eversend, you must be 18 years old or above. Then you need to download the Eversend app from Google Play Store or IOS App store. You will be asked to enter your email, phone number and a password. Make sure the number you provide is valid as Eversend will send you a text or give you a call to verify. After entering the 6-digit code that you received, you will be asked for your name and date of birth.
You will then see a success message, showing that your account has been created. After pressing the "Start using Eversend" button, you will be re-directed to the home page. In order to use your account, you must finish the verification process. Click on the red button, "Upload your identification."
You need to allow Eversend to have access to your camera and SD card in order to take a photo of your ID and yourself. After taking a picture of your ID document, you then type in the details. You then take a clear photo of yourself for Eversend to check that you are the same person as pictured in your ID. Make sure the photo is clear and every detail is readable. You will hear back from Eversend team from 10 minutes to one day. Remember that Eversend login is found on Eversend app only and not on the website.
Eversend allows access through USSD channels so that anyone with a mobile phone can access financial services. No need for Internet.
How Does Eversend Work?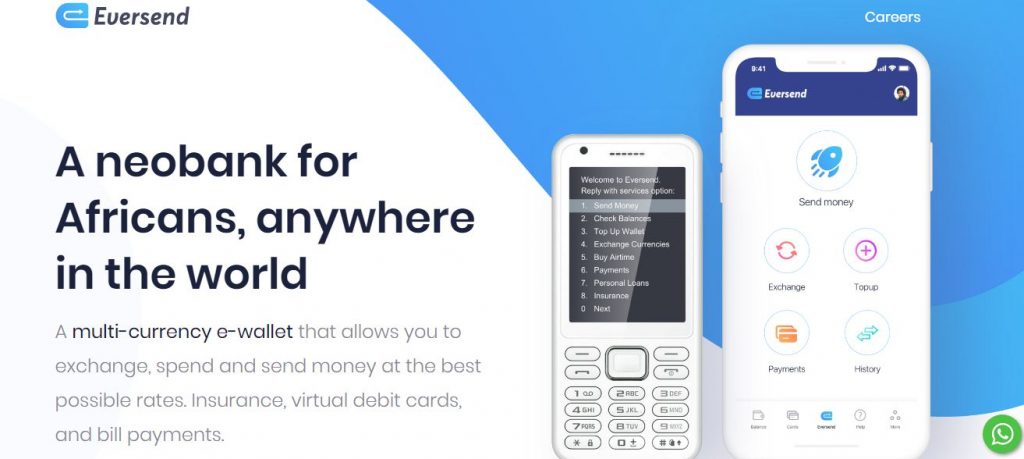 How to Send Money
Login to Eversend app. If you don't have money in your account, click the + sign to add money to your wallet. You will then be required to choose the method you would like to use to add money. It could be through mobile money or debit/credit card. After selecting the method of payment, enter the amount of money you would like to add then click add money. For mobile money, a prompt will be sent where you will input your mobile money PIN to authorise the transaction.
To send money, go to the send feature where you will see all your contacts who are registered on Eversend. You can also send money to yourself if you would like to withdraw your money from the app. Money can be sent in the form of mobile money, or talk-time.
Sending money to a mobile money account takes approximately 5 minutes while sending money to a bank account takes the same day, or next day if the money was sent after 4pm.
Adding Money to Eversend by Card
Open the Eversend app and tap 'Add money'
Add your correct card details including the 16-digit card number, expiry date, and CVV code
Enter the amount you would like to add
If successful, your top-up will appear instantly in your wallet
Adding Money to Eversend by Mobile Money
Click 'Add money' for currencies where we support mobile money (Kenya, Uganda, Tanzania and Rwanda)
Enter the amount and tap 'Load Money'
Eversend will send a debit request to your default registered number
Eversend will need to verify the numbers by SMS before ou can top up
You can add more than one number for mobile money top ups.
Unfortunately, Eversend does not accept cheques or cash deposits into your Eversend account.
How to Withdraw Money From Eversend
There are several ways to withdraw money from your Eversend account. For example, you can send money to your mobile money wallet. Sending money to your own mobile money wallet number does not attract any fees. You are able to send using the "Send" tab on your dashboard or via Eversend QR code. You are also allowed to send money to your other bank accounts.
How to Pay Bills and Buy Talktime
You can pay bills using Eversend app. To do this, select Payment and then select the bills you would like to pay. You can also buy talk-time, by clicking on the Airtime feature then select who you would like to buy it for. Enter the amount you would like to buy then click continue to follow the remaining instructions.
How to Exchange Currency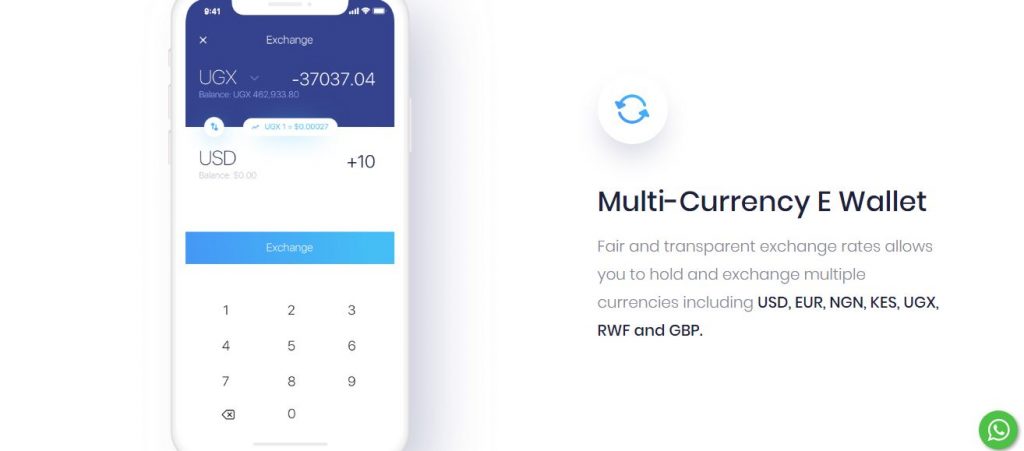 You can exchange between currencies in the Exchange section of the app. Enter the amount of money you would like to exchange on the top and the amount you will receive will appear in the box below. Click 'Exchange', then your balance will be updated.
We are currently working to get our exchange rate as close to the interbank rate as possible.
Maximum Amount to Store
You can store up to 3000 US dollars. In case you want to store more, you need to get in touch with Eversend for them to conduct enhanced due diligence.
Maximum and Minimum Amount to Transact
The amount will depend on many factors such as the country, payment method, and delivery method. Luckily, the app will show you the amount with your chosen arrangements.

Supported Currencies and Cards
You can top up your Eversend account with a debit or credit card that operate in the following currencies UGX, TZS, GBP, EUR, USD, AUD, CAD, CHF, CZK, DKK, HKD, NOK, PLN, RON, and SEK. Supported cards are Mastercard, Visa, and Maestro cards. Note that you can create create a US dollar virtual debit card and shop online instantly. You can load the card with any supported currencies and exchange the funds into US dollars.
Eversend Countries
Currently, Eversend supports legal residents of the following countries:
Africa. Ghana, Kenya, Nigeria, Rwanda, South Africa, Swaziland, Tanzania, Uganda
Europe. Belgium, Netherlands, France, Germany, Switzerland, United Kingdom
Rest of the World. Australia, Canada, India, Kuwait, South Korea, Turkey, United Arab Emirates, United States
Fees
Eversend says that it is working hard to bring no-cost transfers. At the moment, the cost of international money transfers on Eversend differs across countries and payment methods. Eversend exchange rate is between 1.5–3.5%. However, sending to an Eversend wallet or sending talk-time using your Eversend wallet is free of charge.
We make sure to clearly show you the total cost in the app before you send your money  — when you enter your transaction details on the app.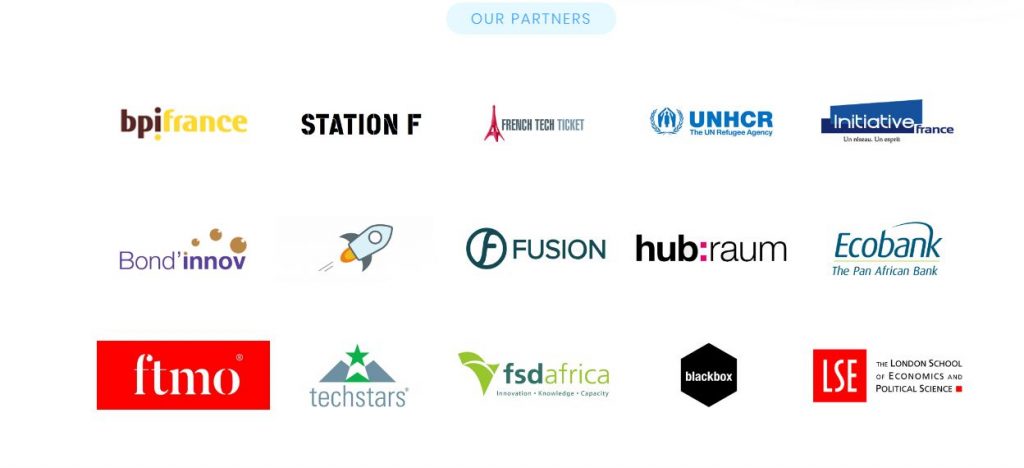 Eversend Alternative
There are other apps in Africa that offer similar functionalities. These include Chipper Cash, WayaWaya, and Bankly (Nigeria).
More Information