Bitcoin is the first decentralized digital currency that was introduced in 2009. In the recent past, the number of Kenyans trading in Bitcoin has significantly increased. In Africa, Kenya is among the leading countries to trade in Bitcoin. In this article, we will show you how to buy and sell Bitcoin in Kenya.
Cryptocurrencies have the following features
They are decentralized. Cryptocurrencies are not regulated from a specific location; instead, they are community owned.
Peer to peer. They are easy to exchange ownership between people from different parts of the world.
They are cheap. You can exchange Bitcoins at the cost of a few cents.
They are fast to transact. Transferring Bitcoins takes just a few seconds, unlike bank transfers that can take days.
---
---
How to Buy Bitcoin in Kenya
From Kenya you can purchase Bitcoin from many cryptocurrency marketplace. You can buy Bitcoin in Kenya using payment methods such as PayPal, and bank transfers. Fortunately, it is also possible to buy Bitcoin in Kenya with M-Pesa, the most popular mobile wallet in the country.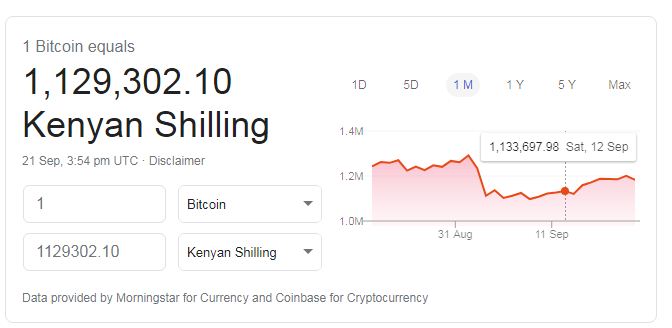 What You Need the Following to Get Started to Trade in Bitcoin in Kenya
Funds
Bitcoins are digital currencies that have value. You don't need a lot of money to buy a Bitcoin. To get started, you need to exchange cash for Bitcoins. You can always check for the prices of Bitcoins in different marketplaces. Since trade in cryptos is a risky business, make sure you trade with what you can afford to lose. It is an investment just like any other which can have profits or loses.
Wallet
You need to have a digital place where you can store the cryptos. The cryptocurrency wallet has an option to send and receive funds and also backup. In Kenya, you can use M-Pesa to trade in Bitcoins. To receive funds, you need to provide the sender with the wallet address. Ensure that you backup your key to the wallet in safe place and not in an online platform.
Cryptocurrency Exchanges
These are online platforms where buyers and sellers can exchange Bitcoins for cash. They do not need to meet each other to trade. In Kenya, there are many exchange platforms which one can use. Some of them include the following.
Merchant exchanges
Trading exchanges
Merchant Exchanges to Buy and Sell Bitcoin in Kenya
They are the common areas where one can buy and sell cryptocurrencies in Kenya even using M-Pesa. Some of the merchant exchanges include.
Paxful. This is one of the main platforms that Kenyans use to purchase Bitcoin. It is easy to sign up, buy, sell and trade in Bitcoin by use of M-pesa. The platform has customer support and also a community of people from various countries in Africa.
Localbitcoins. This exchange only deals in the trade of Bitcoin. All you need to do is to sign up and then activate your account. A link will be sent to your email once you sign up which you can use to activate your account. Then you are ready to look for a merchant who can trade in Bitcoin. Make sure that you check the profile of the seller before you can trade.
LocalCryptos was established in 2017 as LocalEthereum. It was the first peer-to-peer marketplace for Ethereum. With a new name, it has included other cryptocurrencies such as Bitcoin.
You will notice that merchants can sell or buy Bitcoin at higher prices than the market price and also, sell or buy Bitcoin in the price below the market price.
---
---
Final Thought on How to Buy and Sell Cryptocurrencies in Kenya
Kenya has the highest Bitcoin trading volume in Africa. A Citibank report estimated that Kenya holds more than KES 163 billion (approx. USD 1.62 billion) worth of Bitcoin, approximately 2.3% of Kenya's GDP. By using the exchanges listed in this article, you will be able to buy and sell Bitcoin in Kenya.