Bitcoin is the most popular cryptocurrency in the world right now. There are many people who are interested in Bitcoin in Tanzania but they don't know the safest places to buy and sell bitcoin. In this article, we will to help you know where you can buy bitcoin in Tanzania or how to sell bitcoin in Tanzania.
Interesting Facts
» Bitcoin is a decentralised cryptocurrency without a central bank or single administrator that can be sent from user to user on the Bitcoin network without the need for intermediaries.
» Bitcoin was invented in 2008 by an unknown person or group of people using the name Satoshi Nakamoto and started in 2009.
» Bitcoins are created as a reward for a process known as mining. They can be exchanged for other currencies, products, and services.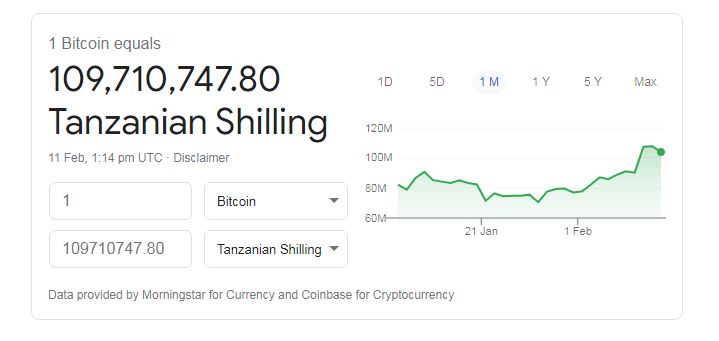 ---
---
How Bitcoin Works
What You Need Before You Buy or Sell Bitcoin in Tanzania
To perform Bitcoin transactions, you need a bitcoin wallet in Tanzania. Buying and selling of bitcoin takes place on a Bitcoin exchange, or P2P market place where a person buys directly from the seller.
Things to Consider Before You Buy or Sell Bitcoin in Tanzania
Before buying or selling bitcoin, you need to choose a crypto exchange. Conduct enough research to make sure that the exchange is legit. You also need to compare fees from different exchanges so that you opt for an exchange that has lower transaction fees. If you don't have a bitcoin wallet, find out if the exchange you want to use recommends specific wallets. You need to pay for the Bitcoin using different methods as as bank transfer, credit/debit card or even mobile money such as M-Pesa. Make sure the exchange you choose accepts your preferred method of payment.
---
---
Bitcoin Exchange in Tanzania
BitPesa Tanzania
Headquartered in Nairobi, Kenya, BitPesa, a digital foreign exchange and payment platform, operates a bitcoin exchange for buyers and sellers.
KuBitX Tanzania
KuBitX shutdown its operations in May 2020 after failing to make profit.
KuBitx is another Bitcoin exchange. Apart from dealing in Bitcoin and other cryptocurrencies, it has its own native token called KubitCoin (KBX).
Remitano Tanzania
You may also choose to go with a Seychelles-based company called Remitano. It provides escrowed P2P Bitcoin marketplace where people buy and sell bitcoin in Tanzania.
Yellow Card
Yellow Card is one of the new exchanges to enter the Tanzanian market. With Yellow Card exchange, you can buy cryptos from anywhere in Tanzania. You can pay for the bitcoin you buy using mobile money (M-Pesa, Tigo Pesa, Airtel Money) or bank transfer (KCB, DCB or NCBA).
Is Coinbase available in Tanzania? Coinbase is one of the leading cryptocurrency exchanges in the world. Unfortunately, the exchange is not available in Tanzania.
Totalcoin Tanzania
A new entrant in the market is Totalcoin, Estonia based Bitcoin exchange firm operating in several East African countries including Tanzania.
Paxful Tanzania
Paxful is one of the popular crypto exchanges that you can use to sell and buy cryptocurrency in Tanzania. Payment methods on this platform include mobile money such as Mpesa, Tigo Pesa, Western Union, Amazon Gift Card, iTunes Gift Card, credit/debit card, and bank transfer.
Coindirect Tanzania
Coindirect is one the easiest and fastest way to buy and sell cryptocurrency in Tanzania in a single wallet. The platform supports over 40 cryptocurrencies.
Localbitcoin Tanzania
Finally, if you intend to sell or buy Bitcoin in Tanzaniadirectly without using an exchange, you can use LocalBitcoins, a peer-to-peer marketplace that connects bitcoin buyers and sellers in Tanzania.
Which Bitcoin Wallet Does Tanzania Use?
Most Bitcoin wallets can be used in Tanzania. You don't need to use a specific Tanzanian wallet provider. Bitcoin wallet used in Tanzania include:
How to Withdraw Bitcoin in Tanzania
It is possible to withdraw your bitcoin. But the process of withdrawing bitcoin differs from wallet to wallet. You will find this information from the wallet of your choice. Alternatively, if you want Tanzanian shilling, you can sell your cryptocurrency to a bitcoin buyer.
Conclusion on Bitcoin Tanzania
To get into the world of cryptocurrencies in Tanzania, particularly bitcoin, you should explore the bitcoin exchanges listed here for buying and selling bitcoin. To secure your funds, make sure you conduct due diligence and compare fees, payment methods, transaction limits, etc.