Mistertango offers a European virtual bank account with an IBAN account number and together with crypto banking services.
Mistertango is currently not a recommended service. A lot of customers were complaining in 2020 and 2021 that they cannot access their money or close their accounts. Other complaints included unexpected fees and blocked payments. It only has 1.6/5 star on Trustpilot. Thankfully, there are other good Cryptobanks that offer a cheaper and far better experience, such as Revolut.
Mistertango UAB is a Lithuanian licensed fintech that offers International Bank Account Number (IBAN), virtual IBAN account, cryptocurrency services and international bank transfers as well as SEPA payments to citizens of the European Economic Area (EEA). Visit their website and read our Mistertango review below.
How to Open Mistertango Account
Mistertango has two types of accounts, personal and business. To open a personal account, you need to register on the website or MisterTango app, Android or iOS, by entering your email, your phone number, new password, answer a short KYC questionnaire and perform online Mistertango verification.
To open a business account, you will follow the same procedure. Once you have completed the process for opening your business account, a Mistertango team member will contact you to assist you with the on-boarding process.
Business accounts require supporting documents for your business. For some countries, the documents must be approved by the Notary or Apostille/Legislation.
Mistertango Personal Account
Mistertango personal account customers get a European Bank IBAN number. With this number, you are able to send and receive money transfers without an extra charge for transfers to/from European Economic Area (EEA) countries, Switzerland and the UK. Making transfers is for free, and opening the account as well.
In addition, you can send and receive cryptocurrencies such as Bitcoin if you upgrade to the Red account. But in order to send and receive transfers from cryptocurrency exchanges, you need an upgrade to the Mistertango Red Crypto trading account. This account also is free to open with no monthly charges and has no limited deposit. Making transfers is not for free with the Red account, it costs 5 euro per bank transfer.
Unfortunately, Mistertango does not offer bank cards at the moment.
Mistertango Business Account
Mistertango business account has a dedicated European bank account number. The crypto friendly business account accepts crypto businesses such as crypto-exchanges and ICOs, forex firms and gambling industries. The account comes with API to automate mass payments. The API allows business account holders to manage their accounts directly from their accounting system without having to login onto Mistertango website or app. Moreover, you can create an unlimited number of virtual IBANs for each customer or payment.
The business account is ideal for serial entrepreneurs since you can register more than one business and manage them under one account. For cryptocurrency businesses, the business account provides access to both cryptos and fiat money. However, you need to upgrade to Business+ account at €99.99/month to support cryptocurrency/fiat money transactions.
SEPA payments (credit transfers, direct debit payments and card payments) have the same system for domestic and cross-border payments. It covers all EU and plus 8 other countries (Iceland; Norway, Switzerland, Andorra, Liechtenstein, Monaco, Vatican city-state and San Marino). SEPA payments are a cheaper, faster way to transfer funds.

Mistertango Bitcoin
Mistertango allows its individual customers and businesses to fund cryptocurrency activities using fiat currency, bridging the gap between fiat money and cryptocurrencies such as Bitcoin. Mistertango has partnered with Nexo to offer crypto loans via a SEPA payment directly into Mistertango customer accounts.
The virtual bank also works jointly with Exmo, a cryptocurrency exchange platform, to allow its customers to fund Mistertango crypto transactions using euro.
For many crypto traders and crypto-related businesses, such as exchanges and ICO companies, a regulated current account is something that has so far been out of their reach. — Gabrielius Bilkštys, Chief Business Development Officer, Mistertango
Mistertango Fees
Mistertango Personal Account
| Service | Fee |
| --- | --- |
| Setup fee | Free |
| Send SEPA transfers | Free |
| Receive SEPA transfers | Free |
| Balance fee | 0% – 0.75% annual interest rate |
| Administration fee (i.e. confirmation statement, statement extract, etc.) | 50€ |
Mistertango Business Account
| Service | Lithuania | European Economic Area | World |
| --- | --- | --- | --- |
| Set-up fee* | 100€ | 400€ | 600€ |
| Monthly fee | 10€/month | 100€/month | 900€/month |
| Send SEPA transfers | 1€ | 5€ | 1%, min. 5€ |
| Receive SEPA transfers | Free | 5€ | 1%, min. 5€ |
| Balance fee | 0.75% annual interest fee | 0.75% annual interest fee | 0.75% annual interest fee |
| Administration fee (i.e. confirmation statement, statement extract, etc.) | 50€ | 50€ | 50€ |
Set-up fee is paid 50% upfront which is not refundable. I.e. 100 Eur + 100 Eur means that 100 Eur is paid up-front during on-boarding process, and the rest 100 Eur is paid after on-boarding is completed.
Mistertango reviews on Trustpilot shows that there are Mistertango fees that are not listed on the website.
Is Mistertango Safe?
Mistertango bank has been around since 2014. It is licensed by Electronic Money Institution (EMI) under the supervision of the Central Bank of Lithuania and registered in State Data Protection Inspectorate. Mistertango complies with the principles of data protection requirements under Law on Electronic Money and Electronic Money Institutions, Law on Legal Protection of Personal Data and General Data Protection Regulation.
Clients' funds are stored in the Lithuanian Central Bank and other major banks in the European Union. To meet regulatory requirements, the funds are stored separately from Mistertango own funds and cannot be used for business or lending purposes.
In 2019, The Bank of Lithuania imposed a fine of €245 thousand on MisterTango, UAB for violations of anti-money laundering and counter terrorist financing (AML/CTF) requirements, limiting its activities on business accounts as a preventive measure.
The State Data Protection Inspectorate imposed an administrative fine in 2019 in the amount of EUR 61,500 for the breaches of the General Data Protection Regulation. The sanctions were imposed on MisterTango for the breaches of Articles 5, 32 and 33 of the afore-mentioned Regulation, i.e. the personal data breach in the payment initiation service system.
Mistertango Supported Countries, Mistertango Currencies and Mistertango Languages
Mistertango only supports clients in the European Economic Area (EEA). The bank supports SEPA and doesn't support SWIFT. Therefore, you can only send euro within EEA but not to customers outside SEPA zone. MisterTango communication is conducted in English or Lithuanian.
SWIFT supports international money transfers in multiple currencies while SEPA supports payments within SEPA area in euro
Mistertango Reviews
Mistertango is receiving a lot of negative reviews lately. You can see them yourself in the App store, Play store as well as Trustpilot. It is said that Mistertango is currently facing issues with the authorities because of not complying with the regulations for money laundering. This is why a lot of customers do not have access to their money and are still paying high fees. Mistertango is therefore to be avoided.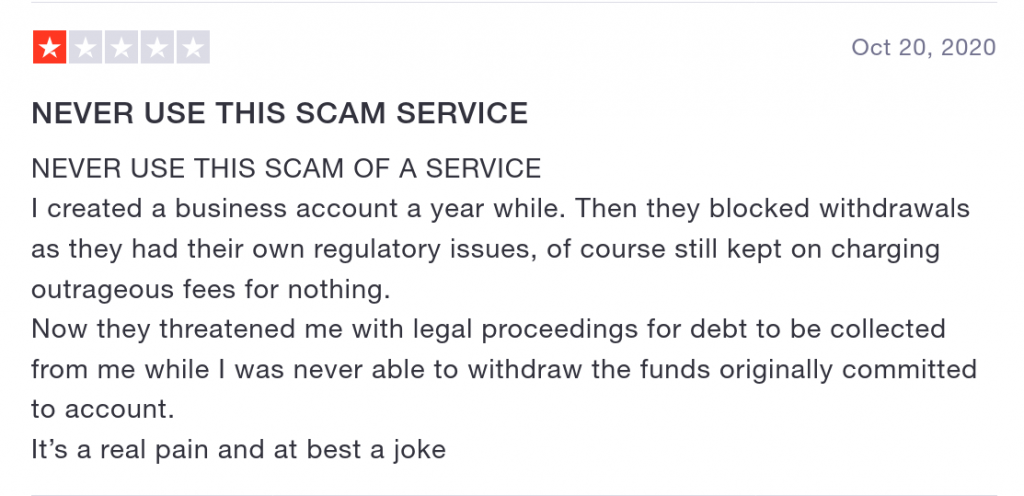 Mistertango Alternative
Mistertango is not the only bank that you can use to secure your crypto assets. Other crypto banks you can use are the following.
More Information About Mistertango UAB