Simple is an American neobank and one of the first US virtual banks. The bank offers individual checking account, shared account and Visa debit card.
Simple announced in January 2021 that it is ceasing operation. Following the decision to shut down, the virtual bank has told customers that their accounts will remain in FDIC insured accounts at BBVA USA, its parent bank. We recommend Revolut, Chime, or Payoneer as an alternative US virtual bank.
Quick Facts About Simple Bank
Formerly BankSimple, it was founded in 2009
BBVA USA is Simple's parent company
It is headquartered in Portland, Oregon
How to Open Simple Account
You were able to open your account on the website via their mobile app. Your mobile device needs to run Apple iOS 11.0+ or Android 6.0+ (Marshmallow), and be able to receive text messages for two-factor authentication and view Portable Document Format (PDF) files. Applicants must be over 18 years of age and US citizens or legal residents with a Social Security number. For a successful application, you need to provide your personal details such as name, address, date of birth, etc.
If you are moving internationally or traveling for a very long period of time, Simple may have to close your account. To prevent this, you should submitting a travel notice.

Types of Accounts
Simple offers individual checking accounts and shared accounts. The bank does not offer business accounts at the moment. Shared account connects individual accounts of the owners of the joint account. Having a shared account means that you and your partner will each have an individual account and the shared account (which you both own). Activities of individual accounts are not visible on the shared account. Both accounts come with a Visa debit card that can be used in 40,000 Allpoint ATM for free. You can also get cash back at approved merchants without a fee.
In 2009, Simple's future founder Josh Reich emailed his friend and future co-founder Shamir Karkal with some big questions: Why is banking so complicated?, Can a bank exist to help people, not confuse them?, What if banks didn't charge so many ridiculous fees?, What if your bank taught you to feel confident with money? The answer to each question was Simple.
How to Deposit Funds
Direct deposit is the easiest way to fund Simple account. You can also transfer funds electronically from an account you have in another institution, or deposit a check by taking a photo of it with Simple mobile app. The bank also accept deposits by mail.
Sending and Receiving Money
It is easy to send money to another Simple customer by only using their email address and phone number. You are able to link your Simple account to third party payment platforms such as Venmo, Square Cash, Mint, and PayPal to send money. Simple cannot send wires, but you can transfer funds electronically by linking an external account. However, Simple account can receive both domestic and international wires for free. Incoming transfers take 3-4 business days while outgoing transfers take 1-2 business days.
Some international banks will ask for an International Bank Account Number (IBAN). Simple account does not have an IBAN associated with it. Ask the sender if they can send the wire with the SWIFT number instead.
Budgeting
One of interesting features that come with Simple account is budgeting. The feature is available both on the web and app. With this feature, you don't have to export information from your bank into a separate tool such as a spreadsheet. The feature enables you to describe, tag, and categorize all transactions and clearly see where your money is going.
Safe-to-Spend
Safe-to-Spend to spend feature is an accurate reflection of your available balance, cash flow, future bills and budgets. The feature does "can I afford this?" math for Simple bank customers and help them make smart financial decisions on the spot. Safe-to-Spend is the total available balance minus your Goals (see this feature below) and any scheduled activities that will be withdrawn from your account in the next 30 days.
Goals
Goals feature stashes away customers' money and ultimately automate saving. With this feature, Simple customers don't need any additional budgeting apps and their funds stay hidden from Safe-to-Spend feature (describe above), so you won't unintentionally spend them.
Expenses
With Expenses feature, one only needs to enter monthly bills and living expenses, and the feature will automatically set aside the money needed. In this way, you will always spend your money without having to worry knowing the money for your monthly expenses is safe. If you have a shared account, you can easily create shared expenses.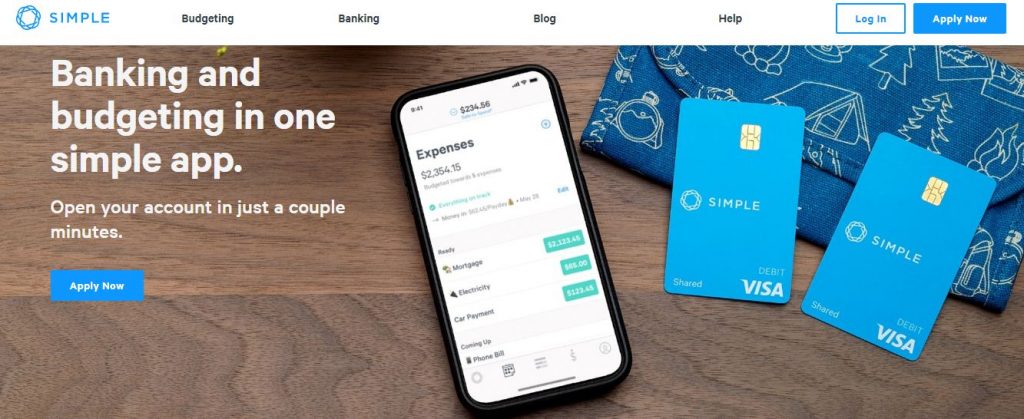 Fees
Generally, Simple does not charge fees. Being a virtual bank, it is able to operate without fees. The bank does not have physical branches or huge staff to maintain. For this reason the bank has removed fees for over the counter cash withdrawal, account inactivity, international ATMs, treasurer's check, expedited card replacement fees, overdraft, minimum balance, monthly maintenance, account activation, etc. A book of checks costs $5 to cover the costs of materials and shipping. Each pack comes with 25 checks.
Although Simple doesn't charge any other fees, other companies may charge you to use an ATM outside of Simple fee-free network and Visa will include an International Service Assessment (ISA) fee of up to 1% of the total transaction amount when you use your card internationally.
How Simple Makes Money
You may wonder, how then does Simple make money? Like traditional banks, Simple and partner bank split the interest margin – the difference between the amount of interest made on loans and the amount of interest paid to customers for balances. When you swipe your debit card, the merchant pays a service fee (called interchange) to the issuing bank. Partners split thie service fee with Simple.
Is Simple Safe
Although no banking platform is 100 percent safe, we can confidently say Simple bank is safe and secure. All the funds in your account are held by Simple partner bank, BBVA USA, and are insured by FDIC. You are also covered by the Visa Zero Liability policy, which exempts Simple customers from liability for fraudulent transactions. For transactions processed as credit, you're not liable for fraud as long as you notify the bank within two business days after you notice it (after two business days, you can be liable for up to $500). With debit transactions, you're only liable for the first $50 as long as you notify the bank within 2 business days. If you notice suspicious activity, you can block your card online or on mobile apps.
Conclusion
If you are a US permanent resident or citizen looking for a virtual US bank that is truly free, then Simple bank is an ideal choice for you.
More Information