In this article, we will look at five US virtual bank accounts that offer innovative banking services, including free multi-currency account, virtual cards, debit and prepaid cards, cryptocurrency accounts, etc. Customers can access all banking services using their mobile apps or on the web. With this guide, you will know how to open an online US bank account.
Benefits of Virtual Bank Account
Most virtual banks do not have monthly fees and do offer many banking services with zero fees. Being virtual banks means that they have lower operational costs. Moreover, they are very convenient as customers can access banking services from the comfort of their homes or offices. Additionally, virtual banks are ideal for small businesses, freelancers as well as travellers.
Banks in the US use routing numbers made up of 9 digits for identification. They are also known as routing transit numbers, ABA routing numbers, or RTNs. Therefore, just like traditional banks, the banks listed below offer virtual bank account with routing number.
---
---
Virtual Bank Account USA
Can I create a US bank account online? There are many banks in the US that offer virtual bank accounts. If you meet their requirements, then you can get a US bank account online instantly. We have listed five banks that you can open a virtual bank account.
N26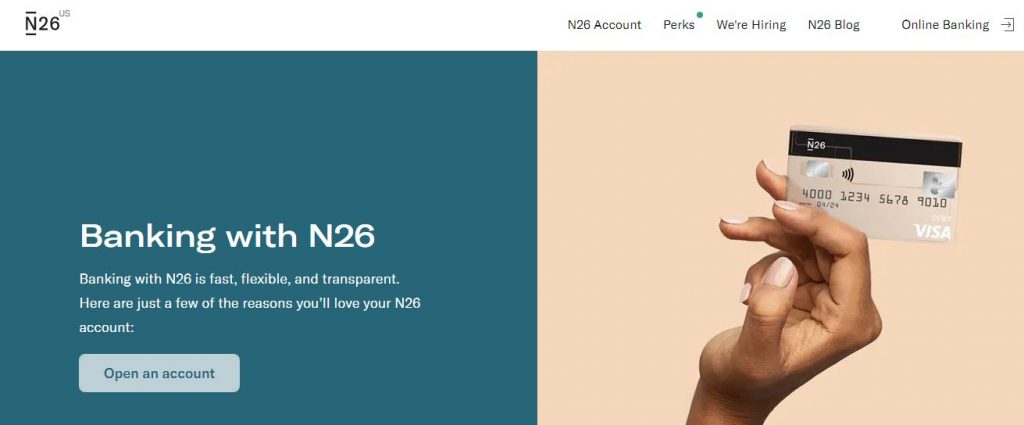 N26 launched free virtual bank account US on July 11, 2019. The bank has no monthly service fees, no insufficient funds fees, no foreign transaction fees, no maintenance fees and no minimum balance requirement.
With N26 virtual USA bank account, account holders get unlimited free ATM withdrawals at over 55,000 Allpoint locations across the US, Canada, Puerto Rico, Australia, Mexico, and the UK. With its MoneyBeam money transfer service, you to send money to (or receive money from) other N26 account holders for free. Moreover, N26 will let you get paid up to two days early if you get paid via direct deposit. N26 does not have full-fledged banking license in the US. The company operates in the US through a partnership with Axos Bank, meaning your money is FDIC-insured.
The new N26 virtual card offered under free N26 Standard account will begin rolling out in select European markets today. These virtual cards will be issued instantly as soon as an account is opened—a process that can be completed in minutes and requires no physical paperwork
How to Register for N26 Account
First, they make opening an account easy. With video identification, there is little to no stress involved regarding the sign-up. If you a human with a national ID or passport, you can get an N26 account in the United States or in Europe.
Registration for N26 is done online. You need to provide personal information such as name, date and place of birth, address, tax ID, and phone number. You will verify your identity with a video verification with a government-issued ID or passport.
Revolut

Revolut is a UK fintech that was founded in 2015 by Nikolay Storonsky and Vlad Yatsenko. In the US, it offers bank accounts in USD and cryptocurrency, a MasterCard debit card, a virtual card, money transfer and currency exchange services.
Revolut officially launched in the US in 2020 where it operates in partnership with Metropolitan Commercial Bank (MCB). MCB holds clients' funds and provides FDIC insurance for up to $250,000. Account holders in the US have access to AllPoint ATMs. Free withdrawals, however, are limited to $300 a month under the standard plan, $600 a month under the premium plan and $900 under Metal plan.
How to Sign Up for Revolut Account
To sign up for a Revolut account, you first need to download the app for Android or iOS. Then you will be required to provide your name, date of birth, email and home address, and phone number. For identification, you need to take a selfie and an image of your passport. After setting your password, you will receive a six-digit code in phone to confirm your account.
Simple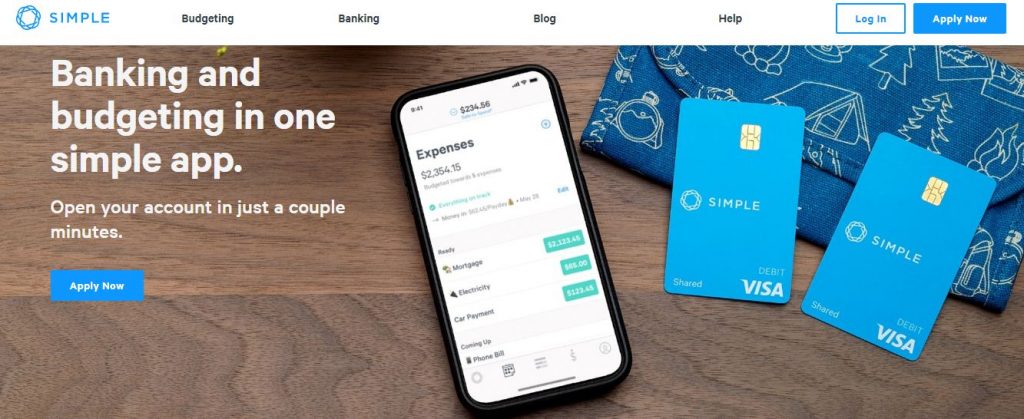 Simple (formerly BankSimple) is an American virtual bank founded in 2009 by Alex Payne, Joshua Reich and Shamir Karkal. The bank offers a US virtual checking account through a partnership with BBVA USA bank, meaning the funds in your account are held by the partner bank. It also offers surcharge-free access to around 55,000 ATMs using Simple Visa debit card.
How to Open Simple Bank Account
Simple announced in January 2021 that it is ceasing operation. Following the decision to shut down, the virtual bank has told customers that their accounts will remain in FDIC insured accounts at BBVA USA, its parent bank.
Being a virtual bank, opening a Simple account is done entirely online. Needed information includes name, address, phone number, email address, date of birth, and social security number. During the verification process, the bank may ask for additional documents. Once your account is approved, you can apply for your debit card. The card will come through the mail with instructions on how to activate it. Funding your account is simple. It can be done via a bank transfer, direct deposit and checks. Checks are deposited using photo check deposit on Simple iOS and Android apps.
Simple doesn't wire funds. You can also use many third party payment and transfer services (such as PayPal, Square Cash, or Google Wallet) to wire funds.
Chime Bank

Founded in 2013, Chime offers USA virtual bank account. Its services are offered via a mobile app with zero or reduced fees. For example, the bank does not charge overdraft or maintenance fees. In 2019, the bank was valued at $5.8 Billion.
How to Open Chime Account
Chime offers savings account and the spending account. To open any of the two accounts, you need to download Chime app (Android and iOS) then fill in personal details such as phone number, name, address, Social Security Number, and date of birth. Once approved, you will be able to start transacting.
Adding funds into your account is simple. You can do cash deposit at Green Dot locations, transfer of funds from another bank account that is linked to your Chime account, and digitally depositing a paper check.
ETrade

ETrade is an American fintech that offers virtual banking solutions as well as online brokerage to trade financial assets. The bank is ideal for people who want to open integrated account for both investing and checking/savings accounts.
How to Open ETrade Account
With ETrade, you can open your bank and brokerage accounts online, by phone or mail. You will need to submit personal details such as address, name, Social Security Number, etc. If you are opening your account by mail, you have to dowload application form, print it out and fill in the required information before mailing it.
Once you have successfully opened your account, you will be able to fund your account via electronic money transfer, check, wire transfer or transfering your account from another institution.
Conclusion
Virtual banks are becoming very popular because of convenience and lower charges. Having no physical presence and small staff allows virtual bank to offer some banking services with no fees at all. If you are a US citizen or legal resident, the banks listed above offer you the ability to conduct banking transactions from the comfort of your home or office.