Easy access to personal bank accounts is essential. If you are not in Europe or have no official permit, you are not an official resident or you don't have a European nationality, there are still options available for you. Wondering how to open European bank account online for non resident? It is easier than you think to have a European bank account for non residents.
The options that are available to open a bank account in Europe for non resident:
Open European Bank Account Online
Many international travelers in the 21st century find international banking as frustrating, time-consuming and expensive. This is particularly true to a non-resident in Europe, who would want to open a bank account. The ton of documents required and the need for background checks by some banks is a thorn in the flesh. This is in addition to hefty fees in foreign conversion rates and the amount of time a transaction can take – with some cases taking up to seven working days to effect a payment.
It is also possible that you want to invest in Europe, start a business in Europe as a foreigner or you are a digital nomad who needs to receive payments from Europe. Finally, you may want to save some of your money in a safe and well regulated banking environment like the EU.
Europe is the Single Euro Payments Area (SEPA). Banks are required by SEPA charge international transfers the same way as domestic transfers. Sending or receiving funds in the SEPA area is usually faster and cheaper than when sending or receiving money from countries outside SEPA.
Open Bank Account in Europe Non-Resident
Nowadays, it is possible to open European bank account for non residents online. These are some of the options available to to you.
Wise Multicurrency Non Resident Bank Account in Europe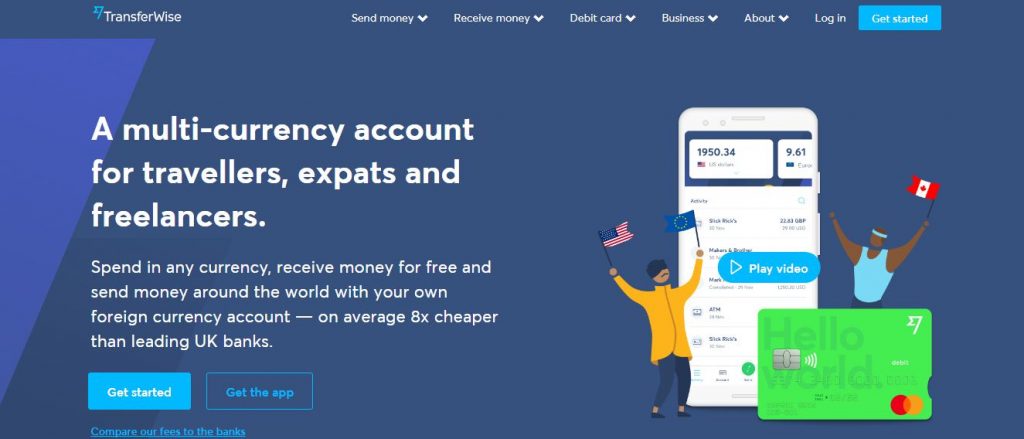 One of the best option for sending and receiving money as a non-resident in Europe is Wise, formerly Transferwise, a multi-currency account. The account that allows you to open European bank account for non-residents. For example, you can open a EU non-resident bank account even if you are a resident in Singapore, Japan, India or South Africa. With this account, you can receive and send money internationally.
To open non resident bank account Europe on Wise, you need to sign up on the website with your details. Afterwards, you need to get verified with a photo ID, proof of address, and/or a picture of you holding that ID. Verification usually takes about 2 working days. You need to activate your account by adding 20 GBP or equivalent in other supported currency.
Once your account is active, you will get personal account numbers with your own SWIFT/BIC and IBAN details. The account holds 50+ currencies in balances in your account, which can be converted instantly with low fees. You can also order TransferWise debit card.
Using your EUR IBAN and bank details, you can receive any SEPA transfers in EUR, international SWIFT payments in EUR. However, you can't receive payments in currencies other than EUR, payments from any countries that are not on this list. Using your GBP sort code and account number, you can receive BACS and CHAPS payments in GBP from anywhere in the UK but you can't receive international SWIFT or SEPA payments from outside the UK or payments in currencies other than GBP.
Payoneer Non Resident Bank Account in Europe

Payoneer is another option you have to open European bank account for non residents online. The financial institution provides you with an European bank account number. For example, if you need to receive payments in EUR, Payoneer's Global Payment Service give you a non-resident EU receiving bank account. The European non-resident account is ideal for freelancers, Amazon affiliates and sellers, etc. The euro you receive from a customer in the Netherlands is received in your German bank account as the same euro, with no currency conversion rates involved. In addition to EUR receiving accounts, Paynoeer provides local receiving accounts in USD, GBP, JPY and MXN for businesses at no additional cost.
Payoneer's Global Payment Service allows you to receive payments from a customer anywhere in the EU without the need for a remote bank account in the EU. You set up an account on the Payoneer website. The account is typically active in about a day, and is linked to your usual bank account in your home country. You can then send electronic invoices to customers anywhere in the EU, who have the option of paying you via electronic check, direct deposit, or a credit card. You can withdraw the money at your local bank account or using your Payoneer MasterCard.
Registering for a Payoneer account is simple and it takes a few minutes. After completing the registration process, you will receive an email asking you to provide more information to verify your identity and profession. Documents needed for this include a government-issued ID and a proof-of-address document such as utility bill. Here's a complete review of how to open and use Payoneer non resident account.
Wittix
Wittix is a non resident online bank that offers multi-currency European IBAN accounts, virtual cards and physical debit cards, business/personal accounts and supports SWIFT and SEPA wire transfers. Some of the major currencies supported by Wittix are EUR, JPY, GBP, ZAR, CAD, and HKD. If you are an online merchant, you should be happy to know that Wittix supports payouts from PayPal and Stripe.
To open Wittix account, you need to visit the website and provide your personal details or company details (for Wittix business account) and supporting documents. You can only sign up on Wittix website. Currently, there is no Wittix app. While there's no monthly fee for EEA citizens/residents, monthly fee is €15 for non-EEA citizens and €50 for people from high-risk countries.
For detailed information regarding Wittix bank, please read our updated Wittix bank review.
Dukascopy Non Resident Bank Account in Europe

Dukascopy is a virtual Swiss bank account that you can use to open a bank account in Europe for non residents. As a bank account in Europe for non residents, Dukascopy comes with a Multi-Currency Account (Dukascopy MCA), savings account (private banking) Swiss IBANs, VISA plastic and virtual cards with Apple Pay and Samsung Pay, as well as cryptocurrency trading, investments and interbank rates for currency exchange. Customers' deposits are protected in the amount of CHF 100'000 in accordance with Swiss regulation. Supported money transfers include SWIFT, SEPA, SIX transfers, Skrill and Neteller.
You can open Dukascopy remotely 24/7 from almost any part of the world except for the following countries: Abkhazia, Afghanistan, Belarus, Crimea, Cuba, Comoros, Donetsk People's Republic, Iran, Japan, Luhansk People's Republic, Myanmar, Nagorny Karobakh, North Korea, Somalia, South Osetia, South Sudan, Sudan, Syria, Russian Federation, Transnistria, United States of America, Venezuela, and Yemen.
To open your account, you need to follow this link, download the Dukascopy Connect 911, a free mobile messaging application, fill in registration form, prepare passport/ID with machine-readable zone (MRZ) and pass video call identification the bank employee. The bank account opening is usually completed within several business days. You will receive a corresponding notification via SMS and email.
Dukascopy allows you to purchase blockchain-based crypto assets on recognized crypto exchanges as well as acquire CFD contracts on the most popular cryptocurrencies. Being a non resident account, your can withdraw cash in local currency, order plastic or virtual card in one of these currencies – EUR, USD, GBP and CHF.
Estonian e-Residency Programme

In 2014, Estonia became the first country to offer what is now known as Estonian e-Residency program. It is a digital identity and status initiative that provides people from almost all countries around the world with access to Estonian services such as company formation, banking, payment processing, and taxation. The residency is mainly aimed at digital nomads, freelancers, startups, and other digital entrepreneurs. Once you become an Estonian e-resident, you will be able to get a VAT ID and open a non-resident bank account in Estonia.
The first e-resident of Estonia was British journalist Edward Lucas; the first person to apply for and be granted e-residency through the standard process was Hamid Tahsildoost from the US. Notable Estonian e–residents includes Angela Merkel and Barack Obama.
Applying for the residency is done online. You will need to pay a 120 euros fee the application. If you collect your Estonian e-residency card outside of Estonia other than an Estonian Embassy, a service fee of about 30 euros will be paid at the pick-up location.
Documents needed include copy of your ID, your photo, a motivational statement, and your credit or debit card. The Estonian government will review your application and the Estonian police and border guard will conduct a background check on you. This process usually takes between 6 and 8 weeks. If the application is accepted, you will receive a notification by email so that you can collect it and have your fingerprints taken. After receiving the e-residency approval, you should now use the web portal to verify that your ID is active by installing the digital ID card software and insert your digital ID card into the reader.
Opening a personal bank account in Estonia with an e-residency is not simple. Estonia monthly costs are high for non-resident banking, €10/month as an EU resident and €20/month if you live elsewhere.
Non Resident Bank Account in Estonia
Good banking options in Estonia for a non resident Euro bank account are LHV, Transferwise Borderless, and Swedbank. It may be easier open a bank account with LHV by using service providers such as Xolo who are in partnership with the bank.
Use Case for European Non Resident Bank Account
Ajuma recently landed an international job with a company whose headquarters is in London. Her contract required her to have a local bank account since the company wouldn't incur transactional costs and also to facilitate easy payment of her salary. If she were to use her home account, she risked losing 6% of her salary to currency conversion costs and each transaction would take 3-5 business days to reflect. She opted to use Transferwise Borderless which not only saved her a lot of transactional costs but also enabled her to send money to her home bank account within hours.
Opening a Non-Resident Bank Account in Europe
If you don't live in Europe and you don't have a European nationality or residence permit, you need not to worry about opening EU bank account for non residents. Opening a free EU bank account for non residents from the options we have listed above will be the best solution. Now that you know how to get a European bank account, do a research of the bank of your choice diligently before you make your final decision to open bank account in Europe for non residents.
EU non residents accounts FAQs
Can a foreigner open a bank account in Europe?
It is generally possible for a foreigner to open a bank account in Europe using non-resident bank accounts.