A virtual bank account is the best option for anyone looking for a free Euro IBAN account, multi-currency account and even a cryptocurrency bank account in Europe. Online banks in Europe can also be very useful for companies or individuals outside of Europe who want a non resident bank account in Europe.
Benefits of a Virtual Bank
Virtual banks offer user-friendly apps that unify user experience across all digital devices. It eliminates long queues, cumbersome paperwork and high cost. Having a unified user experience allows account holders to access the same information on both mobile and online channels. Besides, virtual banking has made it possible to monitor personalized analytics in real-time. Banks use this data to make informed decisions and ultimately improve their financial services and products. The online bank accounts in Europe we have covered here will even allow you to open a European online bank account instantly without having to set a foot in Europe. Furthermore, you can get a virtual card in Europe for non residents.
Virtual Bank Account Europe: Sending and Receiving Money From SEPA Zone
As of 2021, there are 36 members in the SEPA zone. Since November 2017, SEPA has been implementing instant payments. This means that payments can be made instantly, anytime and any day. Customers with free virtual bank account with IBAN can send and receive payments within the SEPA zone, usually without any extra cost.
SEPA (Single Euro Payment Area) provides payments in Euros within the Eurozone. It is meant to make financial transactions within Europe take place as effectively as those within a single European country. IBAN (The International Bank Account Number) is a unique identifier helping banks process payments from person to person automatically.
Virtual Bank Accounts With IBAN
Most European bank accounts come with a unique bank account number called IBAN. Most European banks, including the online banks in the UK, are connected with this international numbering system. More and more countries around the world are adopting this system, making money transfers easy and for free in most cases (especially if they are part of SEPA-zone).
You should be aware of IBAN discrimination if you are using an online bank with an IBAN from another country. IBAN discrimination is when a bank or company refuses your IBAN because it's not from the same country in which the bank or company is based. IBAN discrimination is illegal and should be reported to the authorities.
Some of virtual banks in Europe with personal IBAN and business IBAN numbers to customers include:
Wise Multi-currency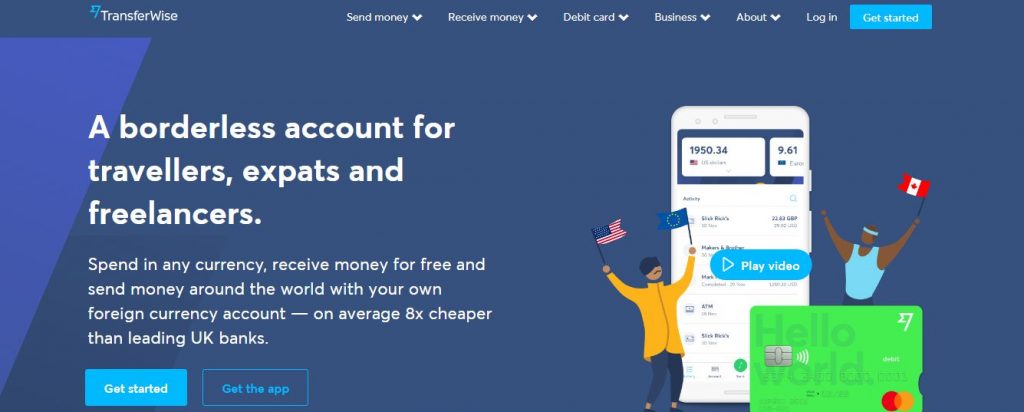 Wise Multi-currency, formerly Transferwise Borderless, is a British virtual bank. With Wise Multi-currency, individuals and companies that export into Europe can open up their own non resident virtual account in Europe to receive payments. Wise Multi-currency account and debit card allows you to send, save and receive money. Moreover, Wise Multi-currency gives customers virtual bank account with IBAN and SWIFT/BIC details.
European virtual bank account for non residents
If you don't have any of European citizenship, then Wise Multi-currency has more availability as it offers their services to citizens from outside European countries.
Yet another option would be the Swiss virtual account Dukascopy. You can open this account for free from most places around the world. The banks supports cryptocurrency banking and trading. The cards are not for free though, neither are withdrawals and transfers. It starts with 2 euro for a SEPA wire transfer.
N26

N26 virtual bank was founded in 2013 in Germany by Valentin Stalf and Maximilian Tayenthal. The bank has a free basic current account, a debit MasterCard card and premium accounts (N26 You and N26 Metal), which attracts a monthly fee.
N26 Brexit: N26 used to be a very popular bank account in the UK as well. This is no longer the case. Because of the Brexit, all UK accounts have been closed on 15 April 2020.
Monese

Monese is a UK virtual bank account founded by Norris Koppel, an Estonian entrepreneur. It offers money transfer and current accounts services to the European Economic Area in Euros, Pound sterling and Romanian leu.
bunq

bunq is a Dutch virtual bank that was founded in 2015 by Ali Niknam. The bank offers personal, business and joint bank accounts as well as debit cards. In addition to its virtual Euro bank account, it offers Bunq travel card, which is ideal for regular travelers.
bunq bank Germany
On April 22, 2021, bunq became is the first online bank outside of Germany to offer German IBANs. For now, bunq IBAN for German account holders is available for new account holders with Personal accounts.
Revolut

Revolut is a British virtual bank that launched Euro accounts with IBAN in 2017. Products and services offered by Revolut include MasterCard prepaid debit card/VISA debit card, currency exchange, stock trading, cryptocurrency exchange and peer-to-peer payments.
Monzo

Monzo is a virtual bank in the UK. It was founded by Tom Blomfield, Jonas Huckestein, Jason Bates, Paul Rippon and Gary Dolman in 2016. Using the web and mobile app, the bank offers current account and prepaid debit cards.
Starling Bank

Founded by Anne Boden in 2014, Starling Bank is a British virtual bank. The bank offers personal Euro accounts, business accounts and debit cards.
Dukascopy

Dukascopy is a virtual bank account in Switzerland. Apart from banking services, it offers cryptocurrency trading, investments and online trading to its customers. It has a multicurrency account supporting 23 different currencies. With Dukascopy, you to purchase blockchain-based crypto assets. You can also open a non EU resident account and withdraw cash in local currency.
iCard
iCard.com from Bulgaria also come with free virtual VISA cards. It is a European IBAN accounts and are mostly free. iCard seems to be the most promising, feature rich and easiest to use.
To open a Standard account with iCard, you need to be a permanent resident of one of these countries: Austria, Belgium, Bulgaria, Croatia, Cyprus, Czech Republic, Denmark, Estonia, Finland, France, Germany, Greece, Hungary, Iceland, Ireland, Italy, Lithuania, Liechtenstein, Latvia, Luxembourg, Malta, Netherlands, Norway, Poland, Portugal, Romania, Slovakia, Slovenia, Spain, Sweden, Switzerland and the UK.
Virtual Banking is Here to Stay
With fintech platforms like Payoneer, B2B transactions have gone global but businesses can still get paid in their local currencies. As such, European online bank account has become the one-stop shop for faster payments, greater flexibility, especially with the MasterCard/VISA, and lower transaction fees.
For freelancers, virtual banking has become the platform on which they earn their bread and butter, whether working on content mills like Upwork, crowdsourcing marketplace such as Amazon Turk or doing other forms of independent contract jobs such as translation and transcription.