Fidor Bank is a German virtual bank founded in 2009 that offers you personal and business crypto bank accounts with IBAN. Fidor has joined a number of other European banks offering bitcoin bank accounts.
How to Open Fidor Crypto Bank Account
To open Fidor bank account, you must be at least 18 years old. You can use Fidor website as well as Fidor bank app for Android or iOS to open your account. Fidor needs you to submit personal details such as your name, email address, proof of address (utility bills) and ID. You also need to conduct a video verification. Once you are fully registered, you will have a crypto friendly bank account, Fidor Mastercard (Fidor virtual card and physical card) and mobile payments options via Fidor Pay and Apple Pay.
Fidor Crypto Account
Fidor bank bitcoin bank account allows you to save cryptocurrencies and convert into fiat money. In addition, its corporate bank account allows crypto investors to conduct Initial Coin Offerings (ICOs) and Bitcoin exchanges to trade EUR and bitcoin on their platfroms.
Fidor Bank has partnered with Kraken, one of the world's largest Bitcoin exchanges. Fidor bank Kraken partnership allows you to make instant deposits and withdrawals to and from your Fidor bank account to your Kraken accounts. With its partnership with the German Bitcoin exchange, Bitcoin.de, you can trade cryptos on Bitcoin.de platform. You can use "express trade" and can complete your transactions in a few minutes.
Thanks to our partnership with Kraken, Fidor customers can integrate their Kraken account in the Fidor Cash Manager under 'Cryptocurrencies'. As a result, Fidor customers always have their crypto portfolio in view, can buy and sell cryptocurrencies in a simple and convenient way and can even view their order history.
The special feature of bitcoin.de: in contrast to most other crypto exchanges, you buy cryptocurrencies at Bitcoin.de directly from the seller and transfer the amount directly to them. Bitcoin.de only acts as a marketplace and mediator between buyer and seller. In this way, the money used for the purchase remains in the buyer's current account until the final purchase and does not have to be transferred to an interim account of a stock exchange provider in advance.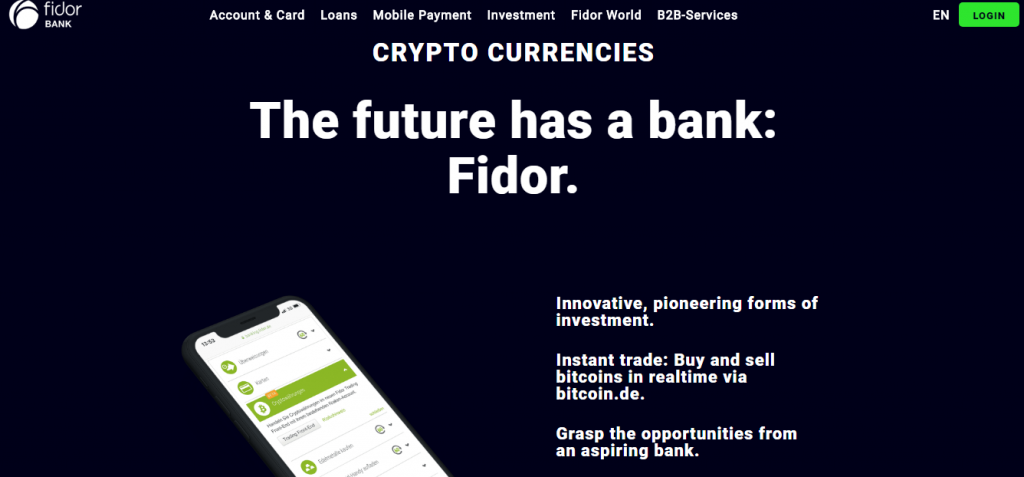 Types of Fidor Crypto Accounts
Depending on your requirements, you can choose the following types of crypto accounts.
Smart Current Account
The bank's Smart Current Account is a bank account that includes all the standard features offered by Fidor Bank such as a credit card, which can be recharged with Bitcoin. Fidor virtual cards are Mastercard debit cards. With a Smart Current Account, you are able to purchase Bitcoin and other cryptocurrencies directly from your bank account and receive the coins instantly, sell Bitcoin to another Smart Current Account holder and receive the money instantly.
Fidor bank Dubai: The bank launched its Middle East Africa regional office in Dubai Silicon Oasis in 2017.
Fidor Account for Cryptocurrency Businesses
Fidor ICO Account. This is a crypto bank account for investors and organisers needed for conducting ICO's. The account allows corporate investors to convert cryptocurrency into fiat money. Some of the benefits of ICO account include pay-as-you-grow pricing model, API access and there is no technology investment on your part.
Fidor Crypto Settlement Accounts. Fidor offers Crypto Settlement Account, an institutional bank account for cryptocurrency exchanges and cryptocurrency traders with API access and pay-as-you-grow pricing model. The account allows businesses to integrate crypto wallets directly in the Fidor account via a connection to an API
What Fidor doesn't offer include: services to non-compliant companies, consultancy advice on how to run your business model, legal/tax consultations.
Fidor Bank Fees
| Service | Fidor fees |
| --- | --- |
| Account opening | 0 EUR |
| Account management | 5 EUR/month (If you conduct more than 10 transactions per month, your Fidor Smart Current Account will receive our Activity Bonus of 5 EUR per month) |
| Cryptocurrency trading fees | 0 – 0.26% |
| ATM withdrawal | 3 EUR per withdrawal |
| Currency conversion | 5000 EUR = 1,5% |
| Card fee | Fidor Debit MasterCard = 1 EUR/month, Fidor SmartCard = 2 EUR/month, Fidor virtual card = 0 EUR |
| SEPA transfers | 0 EUR |
| Forex trading | 1.5 % |
| Cash withdrawal | 0 EUR |
| SMS notification | 0.10 EUR per SMS |
| Email notification | 0 EUR |
| Reset of card PIN after entering it wrong three times | 8.50 EUR |
Fidor Bank Supported Countries
Fidor Bank serves residents of the European Economic Area including Switzerland.
Fidor Bank UK: Following Brexit, Fidor Bank decided to withdraw its product and service offerings in the UK on the 15th of September 2019.
Is Fidor Bank Safe?
Fidor Bank follows standard banking industry procedures to ensure security of its customers' funds. The bank implements SSL encryption, firewall updates, validation code system, and mobile phone verification. Customers' balance is secured through deposit insurance for fully-legitimate customers and fiduciary solution for partially-legitimate customers.
Fidor Bank Reviews
Fidor Bank has a poor rating of 2 stars out of 5 on Trustpilot. Out of over 2,500 customer reviews, 44% rated Fidor's customer service as bad and 43% rated the service as excellent. Some of the common complaints from customers include blocked accounts, poor communication, unexplained fees on their "free" account, and frequent technical problems. But to put this in perspective, many banks tend to have very low ratings.
Fidor Alternative
Other crypto friendly banks are the following.
More Information