Venmo is a US mobile payment and digital wallet service. Venmo customers can pay for goods and services, transfer funds to others and buy bitcoin using a mobile phone app. Venmo was founded in 2009 as a mobile solution for friends to spit bills.
Quick Venmo Facts
Venmo owner is PayPal
Venmo has over 52 million users
Over 2 million retailers accept Venmo
66 percent of young Americans use Venmo
How Venmo Works
To use Venmo, you need to create an account via the Venmo website orVenmo app, iOS and Android, and provide personal details, phone number and email address. You then need to verify your bank account information. You have to be physically located in the US to create your account.
Once your account is set up, you can use the money in your Venmo account for their transactions. To add money into your account, you need to link your bank account, debit card or credit card to your Venmo account. If you do not have enough money in the account when making a transaction, Venmo will automatically withdraw the money from the linked bank account or card. Venmo has no overdraft/credit feature.
Venmo supported country at the moment is US. Venmo is only available in the United States and only compatible with U.S. based bank accounts and phone numbers. You must also be able to send and receive SMS/text messages from short codes. Getting the Venmo card, you will need to have a Social Security Number.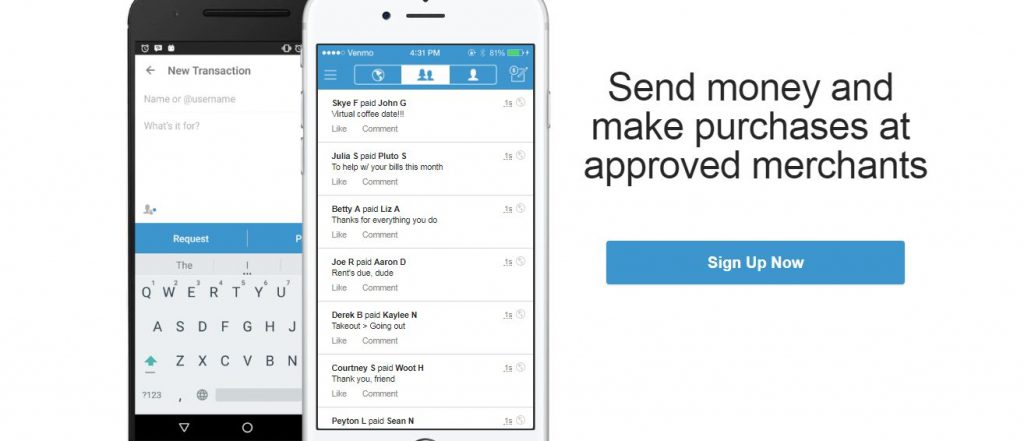 Venmo Services and Features
Venmo Payments
You can pay friends and family with Venmo using the money you have in your Venmo account or link your bank account or debit card. You only need the recipient's phone number, Venmo username or email. If the recipient doesn't have a Venmo account, they need to create one. You can also sync your phone and Facebook contact in the app. Paying with a bank account or debit card is free, but payments with a credit card have a 3% fee for each transaction
Venmo Purchases
You can use Venmo app to make purchases on websites that accept Venmo and retailers that accept Venmo. Over 2 millions companies in the US accept Venmo as a payment option. Venmo approved merchants include Uber rides and Uber Eats, Jane, Urban Outfitters, Poshmark, Game Time, GrubHub, and Foot Locker. You can buy using the app or MasterCard.
Venmo Direct Check Deposit
If you have the Venmo debit card, you will be able to set up Direct Deposit so your paychecks or tax refunds can be deposited into your account.
Venmo was founded in 2009 by two former college roommates who wanted a better way to pay each other back. What started off as a simple SMS platform to send and receive money has evolved into a social payments app allowing people to split bills, pay each other back for rent, and make purchases at approved merchants.
Venmo Crypto
Venmo allows users in the US (except Hawaii) to buy, hold and sell cryptocurrencies on Venmo crypto app. Venmo users can buy bitcoin, ethereum, litecoin and bitcoin cash for as little as $1.
The company has expanded its crypto services by allowing credit cardholders to convert their cash back rewards into cyptocurrency. Venmo offers credit cardholders between 1% and 3% cash back on select purchases. Customers can activate Venmo crypto reward feature by selecting the rewards tab of the credit card home screen.
At this time, you cannot use crypto as a way to pay or send money on Venmo. You cannot use crypto as a way to make purchases with Venmo. Venmo Purchase Protection does not cover cryptocurrency purchases. However, cryptocurrency purchases are protected in the event unauthorized activity takes place.
Venmo Virtual Card
Does Venmo have a virtual card? The answer is yes. You can create Venmo virtual card online within Venmo Credit Card section of your Venmo app. You can only replace your virtual Venmo credit card or Venmo debit card number once every 24 hours.
Venmo Rewards
Venmo Rewards is a program that offers automatic cash back when users pay with the Venmo card at merchants that accept Venmo. Venmo card holders automatically earn cash back on qualifying purchases. Rewards are deposited directly into their Venmo account. Opt-in is not required for this service. Venmo rewards merchant list and current merchant offers are shown in the Offers section of the Venmo app.
Venmo News Feed
Venmo news feed is a social networking interaction in the app. When a customer makes a transaction, the transaction details (without the payment amount) are shared on the user's "news feed" and to the user's network of friends. Users can interact with each other via comments, emojis and likes. This means that Venmo users can see how other users spend their money. The news feed is public by default. but customers can change their settings to private. In 2018, the Federal Trade Commission asked Venmo to be more transparent by letting customers know that their transactions are public.
Venmo Payouts
Businesses can directly pay consumers through Venmo Payouts. This service allow businesses to connect with Venmo customers through a API integration to pay out money. Instead of writing checks, businesses can use Venmo to transfer money through Venmo Payouts for things like rebates, rewards, etc.
Retailers That Accept Venmo
Retailers can accept Venmo payments through PayPal's online checkout process, where users can select the Venmo payment option on websites that accept Venmo after tapping the PayPal button. Retailers need to first be PayPal merchants to use this service.
Venmo connects real friends who share what they're experiencing and buying. Behind every person who pays with Venmo is a network of friends who can view, like, and comment on a shared purchase, bringing your brand front and center in their conversations.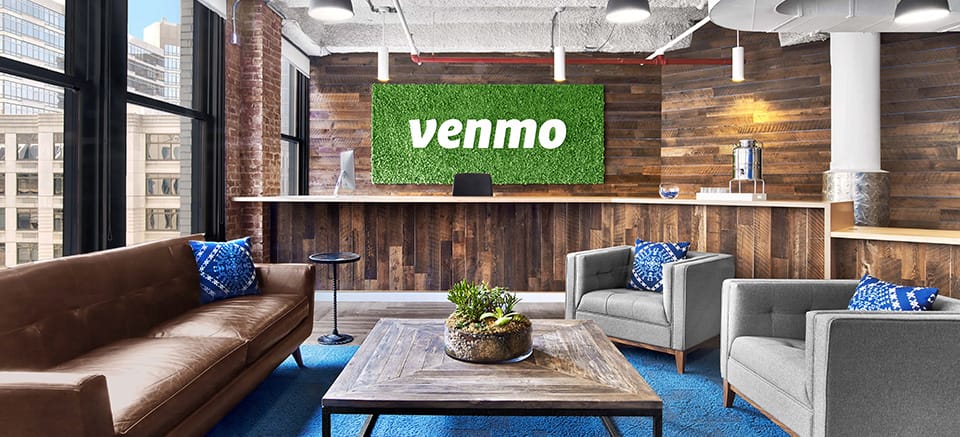 Venmo Fees
One of the attracting features of Venmo is that setting up Venmo account is free and there is no monthly charges. See the full Venmo pricing below.
| Venmo Service | Venmo Fee |
| --- | --- |
| Account set up | Free |
| Monthly charges | Free |
| ATM balance inquiry (in-network or out-of-network) | Free |
| ATM withdrawal | Free in-network/$2.50 out-of-network |
| Customer service (automated or live agent) | Free |
| Inactivity | Free |
| Cash reload | N/A |
| Electronic withdrawal (standard or Instant) | Free or 1%* (min. $0.25, maximum $10 fee for instant transfer) |
| Over-the-counter cash withdrawal (bank and other financial institution) | $3.00 |
| Receiving/withdrawing money into your Venmo account or using standard transfer to your bank account. | Free |
| Sending money from a linked bank account, debit card or your Venmo balance | Free |
| Sending money to people (using your credit card) | 3% |
* This fee can be lower depending on how this account is used.
Venmo Crypto Fees
| Cryptocurrency buy or sale amount: | Venmo cryptocurrency fees |
| --- | --- |
| $1.00 – $24.99 | $0.50 (minimum fee) | |
| $25.00 – $100.00 | 2.3% | |
| $100.01 – $200.00 | 2.0% | |
| $200.01 – $1000.00 | 1.8% | |
| >$1000+ | 1.5% |
Venmo vs PayPal
Venmo is owned by PayPal. Venmo and PayPal are both mobile wallets. However, Venmo is mostly used for personal accounts with most services being free while PayPal is ideal for small and big businesses and charges a fee for transaction and transfers. You can send money to PayPal from Venmo but you need a PayPal Cash or PayPal Cash Plus to do this.
Is Venmo Safe?
Venmo uses encryption technology to protect account information and monitor account activity for any suspicious transactions. Eligible purchases are covered by authorized merchant payment protection plan. Account information is stored in various servers in secure locations. If you have lost your phone or suspect unauthorized activity, you can prevent your phone from accessing your Venmo account.
Your funds are eligible for FDIC insurance if you are a Venmo card holder and you have set up Direct Deposit. Its cryptocurrency service is licensed by the New York State Department of Financial Services.
Final Thoughts on Venmo Account
Venmo is an ideal mobile wallet for sending money to family and friends as well as splitting bills without incurring exorbitant fees. The major drawback for this platform is that you need to be in the US to create your account and must have a US bank account.
More Information
Venmo customer service/Venmo phone number: 1-855-812-4430