What is iCard? iCard is a licensed e-money institution offering personal IBAN accounts, business IBAN accounts, Mastercard and Visa card with IBAN, multi-currency ewallet and payment solutions to over 30 European countries. In this article, we will show you how to open iCard account and review its services.
What is IBAN discrimination?: IBAN discrimination is when a bank or company doesn't accept your IBAN because it's not from the same country in which the bank or company is based. iCard's IBANs assigned to its ewallet belong to Bulgaria. If you experience IBAN discrimination, find out what to do about it.
How to Open iCard Account
iCard digital wallet offers a multicurrency account. Therefore, you can open up to three account in each of the 7 currencies, which are EUR, USD, GBP, CHF, HRK, BGN and RON. You can open your account using Android or iOS. Documents needed include your national ID, proof of address if your ID does not show proof of address. A proof of address can be a bank statement, utility bill isssued in the last 3 months (except mobile phone bills). If your country of origin is outside EEA, you need to provide residence permit. iCard may ask for alternative documents if your ID expires in less than 3 month or your ID is not a biometric document.
Identity verification is done via a video chat and it will be completed within 24 hours after the chat. You will be notified via email. Identity verification takes between 3 to 5 minutes.
Types of iCard Plans
iCard offer three types of plans, which come with zero monthly fee and different types of iCard limits, which you can view on "Limits and Fess" menu inside your account.
iCard Starter Plan
Starter plan has limited functionality which include iCard Messenger, GiftCards and digital loyalty and discount cards. You can digitize your loyalty and bonus cards that work with barcodes and store them in your phone instead of piling them up in your wallet.
iCard Standard Plan
The Standard plan gives you 3 multi currency IBAN accounts for each of the 7 supported currencies, 2 free virtual cards and iCard bank transfer facilities, in addition to all iCard features and services and transaction limits of up to 50,000.00 EUR per month. The plans has no minimum monthly requirements. iCard virtual card is a good option for safe online shopping.
iCard for Business
iCard Business plan operates in over 10 currencies. The plan gives you as many Visa and Mastercard business debit cards with IBAN as you want. You can give the cards to key employees and set individual limits over their spending. The plan supports mass payouts, free money transfers, SEPA and SWIFT transfers. This plan is ideal for functions such as affiliate payouts, ongoing subscription services and purchases from multiple suppliers.
iCard Premium
iCard offers premium subscription with its Visa Infinite card. The premium plan comes with add-on services and priviledges for 9.99 EUR a month.
Personal concierge. 24/7 concierge service
Airport lounge access. Fly comfortably through its LoungeKey program
Free iCard transfers and withdrawals. 5 free ATM withdrawals and free bank transfers a month
Travel insurance. Insurance covering up to €60,000
High iCard limits. Enjoy 10,000 EUR daily and 25,000 EUR monthly spending limit
Priority customer support. Receive premium assistance and skip the waiting
How to Add Funds to iCard Wallet
There are many options available to iCard customers to add funds to their cards. You can fund iCard from a debit or credit card. But you should first store the in your digital wallet and verify it. You are allowed to store up to 5 debit/credit cards with the Standard plan.
You can also order a bank transfer from any bank around the world to your iCard digital wallet IBAN. This option is only available to the Standard Plan. You can request money from family and friends who are iCard customers. Transfers are free for both sides. In addition, you can make ifund your ewallet from a bank account through Trustly.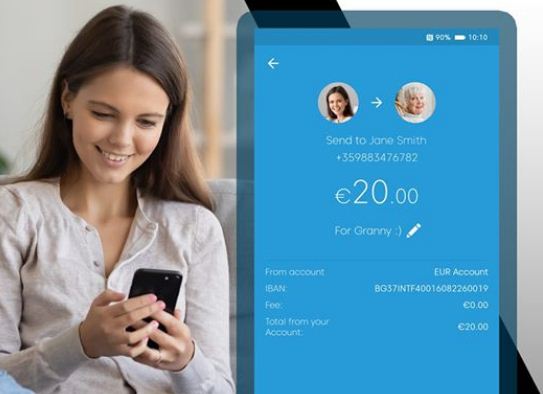 Sending and Receiving Funds With iCard
There is an array of options to send and receive money to and from your IBAN accounts in iCard. You can send and receive funds for free from other iCard users. You can also make iCard bank transfers in EUR via SEPA credit transfer scheme. You can send and receive international bank transfers in any currency via SWIFT.
iCard Transfer Period
Transfers between iCard users are instant. Funds between users can be transfered via iCard messenger or with QR codes. SEPA transfers take up to 10 seconds while SWIFT transfers may take between 2 to 5 business days.
iCard Visa/Mastercard
iCard offers both MasterCard and Visa contactless debit card that can be used for online and POS payments on any contactless POS terminals. The cards have zero monthly fees. There are no transaction fees for payments on POS and online payments. For 9.99 EUR monthly fee, you can also opt for iCard Visa Infinite, a premium class card.
iCard Supported Countries
iCard countries are: Austria, Belgium, Bulgaria, Croatia, Cyprus, Czech Republic, Denmark, Estonia, Finland, France, Germany, Greece, Hungary, Iceland, Ireland, Italy, Lithuania, Liechtenstein, Latvia, Luxembourg, Malta, Netherlands, Norway, Poland, Portugal, Romania, Slovakia, Slovenia, Spain, Sweden, Switzerland and the UK.
Is iCard Safe?
iCard undergoes annual external security audit in order to maintain PCI-DSS Level 1 certificate. The PCI Data Security Standard (DSS) is created by Visa, Mastercard and other debit/credit card providers. iCard is licensed under the European E-Money Institutions Directive. Customers funds are kept in "segregated" accounts at partner banks. This means the funds are never invested or traded as loans.
iCard Fees
| Service Fees: | |
| --- | --- |
| Open account | Free of charge |
| Monthly service fee | Free of charge |
| Annual service fee | Free of charge |
| Money transfers: | |
| --- | --- |
| Send money to other account within the system | Free of charge |
| Receive money from other account within the system | Free of charge |
| Account Funding Fees: | |
| --- | --- |
| Funding via Trustly | 1.5%, Min. 1.50 EUR, Max. 10.00 EUR |
| Funding via Bank transfer | Free of charge |
| Funding via consumer card MasterCard/VISA, issued in EU | 0.5%, Min. 0.10 EUR |
| Funding via other type card MasterCard/VISA/JCB | 1.5%, Min. 0.75 EUR |
| Outgoing transfers to bank accounts: | |
| --- | --- |
| Within the system | Free of charge |
| Transfers in BGN currency | 0.50 EUR |
| SEPA transfer | 1.00 EUR |
| International transfer in EUR outside the EU and EEA | 10.00 EUR |
| Outgoing transfer in CHF – 'SHA' | 4.00 EUR |
| Transfer in CZK currency | 4.00 EUR |
| Transfer in PLN currency | 15.00 EUR |
| Transfer in RON currency | 4.50 EUR |
| Transfer in GBP currency within EU and EEA countries | 4.50 EUR |
| Transfer in HRK currency | |
| (Amount of transfer in EUR or its exchange value in foreign currency at the date of transfer) | |
| ≤ 500.00 EUR | 2.50 EUR |
| > 500.00 EUR and ≤ 10,000.00 EUR | 7.50 EUR |
| International transfer – 'SHA' | 0.2%, Min. 5.00 EUR |
| International transfer – 'OUR' (includes the fee for 'SHA') | + 25.00 EUR |
| Request for cancellation / return of a payment – pending transfer | 10.00 EUR |
| Request for cancellation / return of a payment – executed transfer in BGN | 15.00 EUR |
| Request for cancellation / return of a payment – executed transfer SEPA & SWIFT | 75.00 EUR + any fees charged by the Correspondent Bank |
| Investigation of an executed transfer initiated by a Correspondent Bank | 50.00 EUR |
| SWIFT investigation commencing within 3 months of original transaction date | 75.00 EUR + any fees charged by the Correspondent Bank |
| SEPA investigation commencing within 13 months of original transaction date | 30.00 EUR + any fees charged by the Correspondent Bank |
| Other iCard fees: | |
| --- | --- |
| E-money redemption upon closing of an account | 15.00 EUR |
| SEPA Direct Debit Processing | 0.50 EUR |
| Refund of SEPA Direct Debit Payment | 1.00 EUR |
| Tax Payment | 0.25 EUR |
You can see the full list of iCard fees here.
iCard Alternative
In case iCard does not meet your needs, there are iCard alternatives in the market that you can consider.
More Information About iCard IBAN Card